David Letterman Takes Retirement Break, Mocks Donald Trump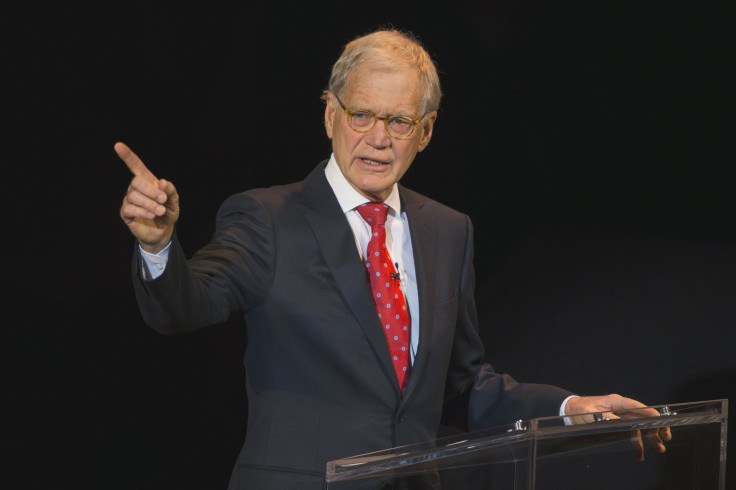 David Letterman took a break from his retirement and made a quick run through of the top-10 unknown things about Presidential Candidate Donald Trump. He was the surprise guest at Martin Short's and Steve Martin's "A Very Stupid Conversation ... With Music."
Short and Martin recently took their stage show to San Antonio where a bearded Letterman surprised the audience with a guest appearance, Rolling Stone reported. Former CBS "The Late Show" host mentioned he was enjoying life in retirement until he heard about Donald Trump's presidential campaign announcement.
"I am so happy to be out of the house," Letterman said. "I retired and I had no regrets -- none. I was happy. I was complacent. I was satisfied. I was content. And then a couple of days ago, Donald Trump said he was running for president. I have made the biggest mistake of my life, ladies and gentlemen."
The comedian pulled a paper off his jacket and said, "Every suit I own comes with a top-10 list." Letterman took the opportunity to reveal some interesting facts about the former "Celebrity Apprentice" star.
As he bantered through the list, Letterman gleefully mocked the presidential candidate. He started with No. 10: "The thing on his head was the gopher in 'Caddyshack.' No. 9: "During sex, Donald Trump calls out his own name." Letterman even joked about himself halfway through the list saying, "No. 6: Trump walked away from a moderately successful television show for some delusional bulls--- ... oh no, wait -- that's me." Finally, Letterman topped off the list with "Thanks to Donald Trump, the Republican mascot is also an a--."
Letterman's top-10 list was a famous segment of "The Late Show." Letterman, 68, took his last bow in the Ed Sullivan Theater in New York May 20. However, "The Late Show" will return in September with Stephen Colbert as the new host.
In further news, Trump filed a $500 million lawsuit against Univision. The broadcasting company refused to air the Miss USA and Miss Universe pageants due to Trump's anti-Mexican comments. In an excusive interview, Trump told Entertainment Tonight, "I don't have a racist bone in my body." He insisted his intention of clearing the country of illegal immigrants has been misinterpreted as racism.
The presidential hopeful announced his campaign for the 2016 elections June 16 at the Trump Tower in New York City. He will be running as a Republican.
© Copyright IBTimes 2023. All rights reserved.