'Days Of Our Lives' Spoilers: Can Gabi Convince Stefan To Keep Her Secret?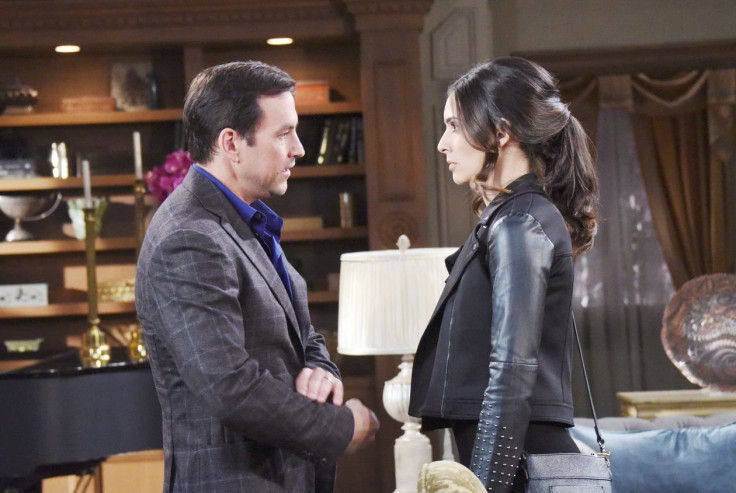 She's been working to set them both up out of revenge for sending her to jail for a murder she didn't commit. Now, with Stefan figuring out Gabi's plot, she will work to convince him not to share the truth with Abigail on the Tuesday, Nov. 13 episode of "Days of Our Lives."
Previously on the NBC soap, Stefan (Tyler Christopher) caught Gabi (Camila Banus) in DiMera mansion cleaning up the living room, where Kate (Lauren Koslow) had failed to drug Abigail (Marci Miller) and stage another scene which would make it appear as though her Alter, "Gabby" was back. He then confronted her about the scene, and after she realized she couldn't hide it from him anymore, Gabi confessed to what she was doing and why.
After admitting to Stefan that she was also setting him up to believe "Gabby" was back because of the love he felt for the personality, and admitting that her most recent plan was thwarted by Chad (Billy Flynn) kidnapping Abigail, Stefan then threatened to call the cops on her for everything she has done. Now, Gabi will have to work fast if she wants to keep him from sending her back to jail, and she will try to convince him to keep her secret.
Stefan isn't likely to want to listen to her, but could potentially be persuaded with the right offer. Still, there may be a catch if he is willing to help her out, and it could be one which may cost her.
Of course, if he does agree to inexplicably keep the truth from Abigail for now, Stefan would be doing so without knowing the whole story behind Gabi's plot. While he is now aware that she was trying to set Abigail up to seem crazy again, he doesn't know about the other part to Gabi's plan, which has more heartbreaking consequences for the not just the people she wants revenge on, but Chad as well.
Prior to enacting this portion of her revenge scheme, Gabi switched the paternity test results Abigail had conducted on her baby. While Chad is actually the father of the baby girl he has now helped her deliver while at the cabin, everyone believes that Stefan is the actual father. Gabi is still keeping that secret close, even though suspicions could begin to arise now that the baby is here.
"Days of Our Lives" airs weekdays on NBC.
© Copyright IBTimes 2023. All rights reserved.