Dell: Earnings Beat Estimates on Strong Enterprise Sales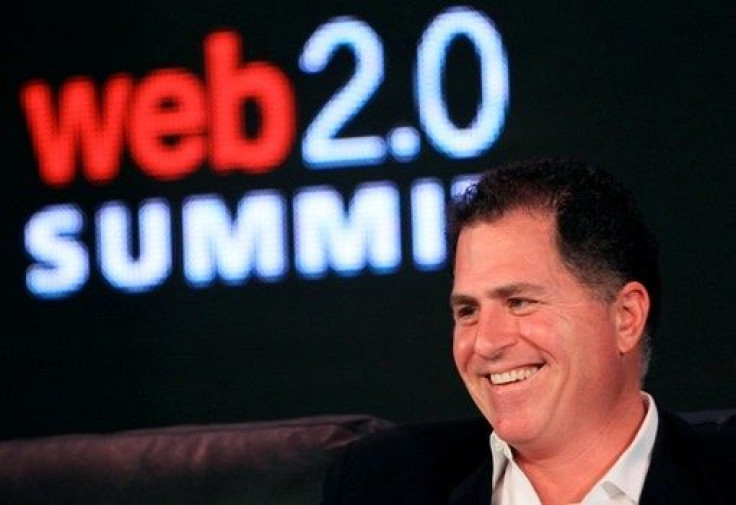 Dell, the No. 2 PC maker, reported third-quarter net income rose nine percent to 49 cents a share, ahead of estimates, largely due to stronger sales to enterprise clients.
The report further illustrates how the company has moved upscale from a consumer PC vendor into a total provider of computers and services for business. Enterprise sales accounted for 31 percent of revenue.
Dell said third-quarter net was $893 million, compared with $822 million a year ago, while revenue was flat at $15.4 billion.
Our results this quarter and over the past year reflect a new Dell, said founder and CEO Michael Dell, 49.
Dell shares fell about 1.5 percent after hours from their close at $15.63, up 4 percent in the past three months and 15.4 percent this year.
Analysts had expected the Round Rock, Texas-based direct-order PC pioneer to report earnings of 47 cents a share on revenue around $15.65 billion, compared with 2010's earnings of 45 cents on revenue of $15.4 billion, FactSet Research said.
Although the pace of PC shipments is easing compared to the sizzling arc for smartphones and tablets, there had been signs Dell's results may beat the estimates. Investors were dismayed about the revenue decline.
One is that its printers partner, Lexmark International, previously reported third-quarter results that exceeded estimates. CEO Paul Rooke told IBTimes the relationship between Lexmark and Dell was outstanding.
After it abandoned its own try to beat No. 1 PC maker Hewlett-Packard in printers, where it's also No. 1, Dell and Lexmark have focused heavily on enterprise sales.
During the third quarter, PC and server buyers may have hesitated while HP mulled the future of its PC business and switched to Dell. Only last month, just before closing its own fourth quarter, did new HP CEO Meg Whitman announce the PC business would be kept.
Also, several bellwether technology companies, such as IBM, Cisco Systems and Nvidia have also beaten estimates, which boded well for Dell.
Analysts generally expected a favorable report, watching for profitable outcomes including a boost in gross margins from last quarter's 23.3 percent cash flow and outlook for the fourth quarter, traditionally Dell's busiest.
In fact, third-quarter gross margins fell to 22.3 percent.
Peter Misek, analyst with Jefferies, said he believes the corporate cycle to upgrade PCs is slowing. Also, managers might want to defer orders until Dell partner Microsoft delivers Windows OS 8 next year.
But Misek and other analysts, like Mark Moskowitz, with JPMorgan Chase, think Dell's focus on services added earnings potential.
Dell acquired Perot Systems for $3.9 billion in 2009, to move more into the computer services business. Founded by Electronic Data Systems founder H. Ross Perot, the two-time presidential candidate, the former Perot unit competes against EDS, now a part of HP, as well as with IBM in the enterprise services sector.
Dell may also shed light on the impact floods in Thailand have had on Dell's incoming components, including disk drives in an investor call Tuesday night.
Because of its size and expertise with the supply chain, Dell may well have ordered and received ample stocks ahead of the flood. However, because its Asian factories in Malaysia and China, among others, run on lean inventories, they could be caught short.
Finally, another barometer will be Dell's cash and investments, which were $16.18 billion last quarter. They were $16 billion in the third quarter.
Besides repurchasing $600 million worth of shares, Dell makes acquisitions, having just completed the purchase of Force10 Networks for a reported $700 million, which bolstered its products in the data center and switching sector against Cisco and HP.
While its own tablet, the Dell Streak, has not been a hit in the market, investment bankers for months have suggested Dell might acquire Research in Motion, the BlackBerry and BlackBerry PlayBook developer, to get more into the market for portable devices and tablets.
Acquiring RIM, though, might be a monumental battle and put Dell into a different sector from the one it knows best.
RIM, based in Waterloo, Ontario, has already watched as activist investors including Toronto's Victor Alboini and New York's Leon Cooperman have bought into the company. RIM's market capitalization is now $9.6 billion and its enterprise value is $8.48 billion.
Meanwhile, Dell's market capitalization is now $28.5 billion. Its enterprise value is $20.6 billion.
© Copyright IBTimes 2023. All rights reserved.