'Destiny' Crucible Event For The Week Previews Rift And Mayhem; No Daily And Weekly Events As 2.0 Update Draws Near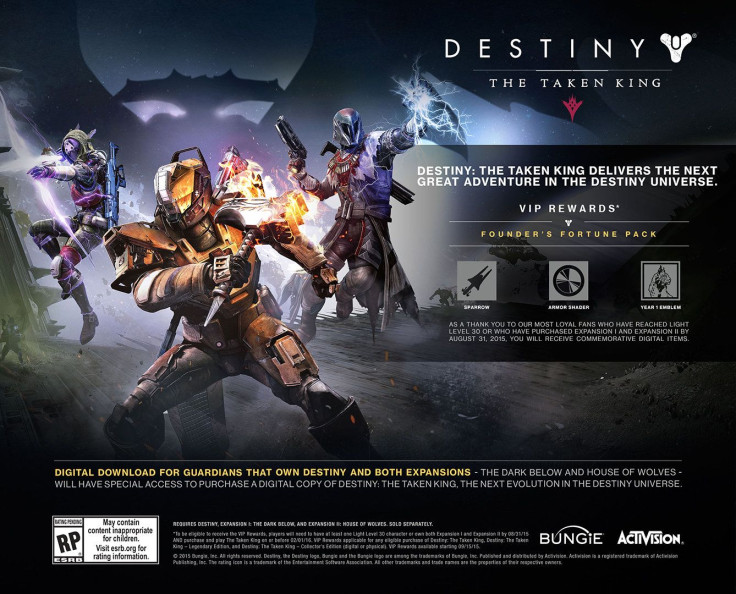 The week before the dawn of the "Destiny" The Taken King update will have a number of new events and changes coming up. Developer Bungie announced that the Crucible Preview event will be available from Sept. 8 to Sept. 14. This will be accessible to all players, regardless of a preorder for "The Taken King.
Since this is a preview, Guardians are not yet entitled to the Super abilities. This will happen once the players access the class Vanguard in the new expansion. The preview does let players see some new maps and modes, including Rift and Mayhem, Bungie announced via the official website.
The preview is something that players, especially those who have not bought The Taken King yet, should check out. According to Bungie's latest update, once the expansion hits, the contents of the Crucible will be exclusive to players who own The Taken King.
For the entire week from Sept. 8 to 14, however, players should be forewarned that there will be no Weekly or Daily events planned for "Destiny." Considering that this is the last week before The Taken King update hits, it is understandable that the "Destiny" 2.0 update is also expected sometime within the week.
"When 'Destiny' 2.0.0 update releases, there will be no Weekly or Daily events (Nightfall, Daily Heroic Story, Heroic Strike) available for the week of September 8 – September 14, 2015," said Bungie as quoted by GameSpot.
For fans, who may have been disappointed with this news, Bungie has previously announced extended activities that players can still participate in while waiting for the "Destiny" 2.0 update. One of these is the Moments of Triumph, which affects the character roster following the update.
"Destiny" players should also prepare the appropriate amount of space required to install the 2.0 update. PS4 and Xbox One players will need at least 18 GB of free space in their hard drive. Those on the PS3 will need 20 GB of hard drive space before the installation of the update. Following the full installation, the console will only need 10 GB free. Xbox 360 players will need 10 GB of hard drive space.
© Copyright IBTimes 2023. All rights reserved.