Deutsche Bank Posts Better-than-expected Profit; Flags Job Cuts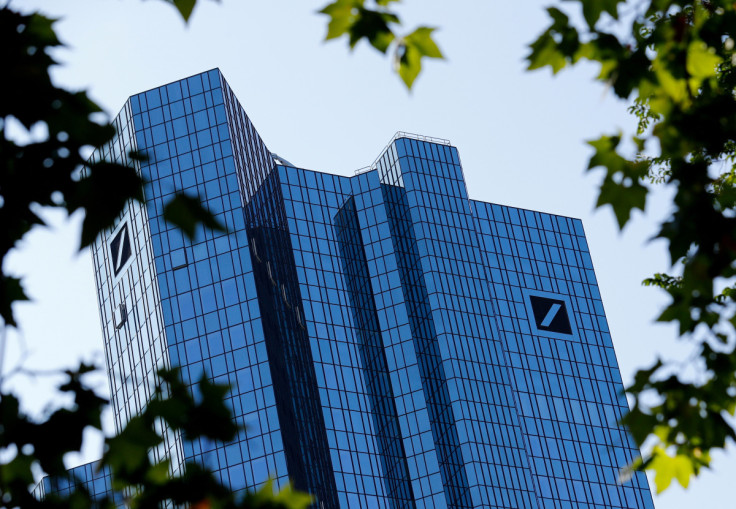 Deutsche Bank reported a better-than-expected 9% rise in first-quarter profit on Thursday as income from higher interest rates offset a slump in revenues at the investment bank, and flagged job cuts as it looks to further reduce costs.
Net profit attributable to shareholders was 1.158 billion euros ($1.28 billion). That compared with profit of 1.060 billion euros a year earlier, and was better than analysts' expectations for a profit drop to around 977 million euros.
The results marked the 11th consecutive quarter of profit at Germany's biggest bank, making for the longest streak in the black in at least a decade.
"We are well on track to meeting or exceeding our 2025 targets," Deutsche Bank Chief Executive Officer Christian Sewing said.
It reported a 19% drop in investment banking revenue that was worse than expectations. By contrast, revenue at the corporate bank and retail divisions beat expectations.
The bank said there would be an unspecified number of job cuts in non-client facing staff as it seeks further cost reductions in the years ahead.
Deutsche generated the earnings during an unsettling period for global finance, a quarter when banks were rescued on both sides of the Atlantic - in the United States and in Switzerland. The turmoil caused investors to panic and customers to withdraw deposits, and the aftermath is continuing.
In the wake of those rescues, Deutsche suffered a 15% decline in its share price during a single day as fears of contagion spread, spooking global markets and prompting rare support from Germany's Chancellor Olaf Scholz. "There's no reason to worry," he said. Shares have since stabilized.
GRAPHIC - Deutsche Bank shares
Still, analysts say the bank, which ranks as one of the world's most systematically important, is vulnerable to a slowing economy, high inflation, war on the continent, and regulatory issues that have plagued the bank over the years.
In recent days, Deutsche has announced a major revamp of its management board that includes changes of those overseeing its giant retail business and its U.S. operations, a critical hub for the sprawling global investment bank.
The aim of the reshuffle, according to Deutsche's chairman, is "sustainable profitability".
($1 = 0.9050 euros)
© Copyright Thomson Reuters 2023. All rights reserved.