'Devious Maids' Season 3 Spoilers: New Promo Video Teases Trouble For Naya Rivera's Character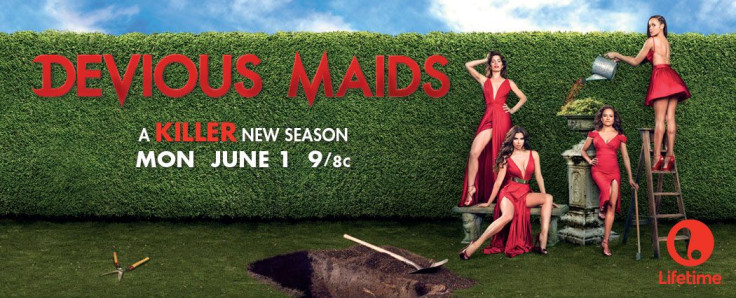 Fans of the hit Lifetime series "Devious Maids" may be bidding a character or two farewell in the Season 3 premiere (following Season 2's deadly finale). But with a potential death comes a new cast member! Viewers will be introduced to Naya Rivera's character Blanca, a young and ambitious maid who will get swept up in the brutal Beverly Hills drama in the forthcoming installment.
Viewers received a first look at the "Glee" actress' character in a sneak peek video of the new season. The clip kicked off with Marisol (Ana Ortiz) arriving late for lunch with her friends. In an attempt to earn their forgiveness, the tardy bombshell brought along delicious pot stickers to win over their tummies and their hearts.
"Leftover fish for leftover friends? Pass," Carmen (Roselyn Sanchez) says unimpressed with the offer.
But there was one person excited to see Marisol.
"You're Marisol, right?" Blanca eagerly says before introducing herself. "I've heard so much about you!"
"Nothing bad I hope," Marisol states, insinuating that Carmen might have divulged some unflattering comments about her. But Blanca assures her she's heard nothing but "good" things.
Throughout the girls' first meet and greet, Blanca reveals she just got fired from her job.
"I asked to change my hours so I could go to college part-time and next thing I know I don't have a job. And now I can't afford classes because I'm super broke. I don't know what I'm going to do," Rivera's character says desperately.
That's when Marisol reveals the Stappords have just moved back into town. "I bet you they're looking for someone!" she added.
Blanca is in disbelief the Stappords would be OK with her going to school part-time. However, Marisol confirms that her education wouldn't compromise her chances at becoming their new maid. "They're great. I'll call Taylor (Brianna Brown) tomorrow."
Could this gig be too good to be true? During an interview with "Good Day LA," Dania Ramirez teased that it might just be.
"[Blanca's] going to be working for a new family who seems to be picture perfect -- a family that was from Season 1. They have now adopted a Latina little girl," the actress who plays Rosie on the series said. But of course, nothing is ever picture perfect on "Devious Maids," now is it?
<script src="http://www.springboardplatform.com/js/overlay"></script><iframe id="sotv036_1527085" src="http://cms.springboardplatform.com/embed_iframe/677/video/1527085/sotv036/Spoilertv.com/10/1/" width="726" height="408" frameborder="0" scrolling="no"></iframe>
"Devious Maids" will air its Season 3 premiere on Monday, June 1, at 9 p.m. EDT on Lifetime.
© Copyright IBTimes 2023. All rights reserved.