10 Best Free Digital Signature Software
Paper clutters not only make you feel disorganized but make your productivity and efficiency evanesce into thin air. It is for this reason that many businesses are embracing software applications that can help them cut paper out of their workflow.
One such application is a digital signature software. Using such document signing apps, you can batch sign records and legal documents, sign petitions online and store these documents on the cloud. For best results, you should pitch your tent with reliable digital signing apps like CocoSign.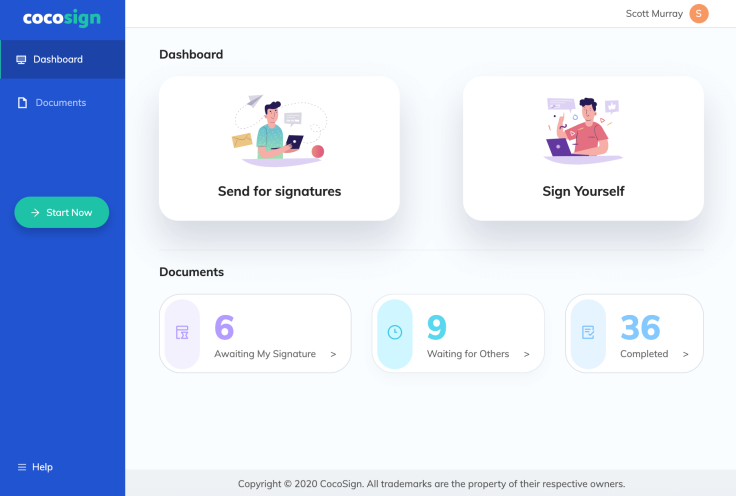 What Is a Digital Signature?
A digital signature is a sound, symbol, text or data in digital format adopted and attached to a digital document by an individual with the intent to sign. It is as legally binding as wet ink signatures.
In addition to being legally binding, it is convenient, cost-effective and secure. More than that, it improves productivity and fast-tracks transactions for nearly all sectors.
10 Best Electronic Signature Software
There's more to an e-signing app than attaching a digital signature with apps like CocoSign to a digital document. A well-designed online signing solution should also have provisions for tracking mails and paperwork collaboration. Here are some of the very best e-signing apps on the block.
CocoSign
Calling CocoSign the gold standard for e-signing apps isn't out of place. Though relatively new compared to some others on this list, they have become the vanguard for many online signing applications, thanks to their set of amazing features.
Trusted by a large quantity of users, CocoSign's security protocols, ease of use, seamless integration with emails, browsers and document tracking features are of top drawer quality.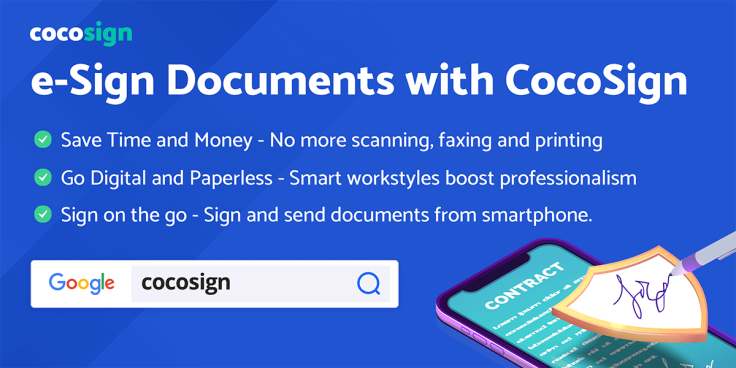 Here are some of the things that make CocoSign worthy of the best digital signature software tag.
Simple to use
CocoSign is well-designed, intuitive and arguably the simplest platform to use yet. Hence, you do not need any special form of training or tutorial to access any of its premium features.
You can also sign into it on the go, as long as you have an internet-enabled device and good internet connection. More than that, you can also create your own esignature with CocoSign's signature generator.
Customization
The platform is highly customizable and so are the signatures. You can easily create and save document templates for reuse. This is especially useful for employment contracts, legal documents and certain letters which may have the same format all through. The platform also allows you to save your signature for later and quick reuse.
Parallel and sequential signing
This feature enables users to send out their document to multiple recipients for their signature. The recipients have the options of signing these documents in parallel or to do so one after the other. You can also set from your end the order in which you want the recipients to sign the document.
Realistic wet-ink signatures
With this feature, signatures attached to a document look as real as freshly penned signatures with wet ink.
Wide range of supported formats
It supports signing of documents from PDFs to work, jpg and everything in between.
Security
Its secure storage system is designed to store documents for a certain period before they expire. This is very important for users who might not have the time to complete their signing process in one sitting. Users are also allowed to delete the documents from the cloud storage completely if they deem it too confidential to leave.
For the above-listed features, it is safe to say that CocoSign is the best among the best. Hence, why it is atop all others on our list.
For all of its many pros, CocoSign still comes with its own fair share of cons. Here are some of them:
No mobile application
There is no dedicated CocoSign mobile app either on Android or iOS platforms. Although the web-based interface is clean, responsive and easy to use, the non-availability of a mobile app may be a turn off for some users.
Some features are not accessible to non-premium users
Another con is that some of its important features like custom branding, payment collection and in-person signing can only be used by users who are subscribed to a premium monthly subscription.
Since the pros of the platform outweigh its cons, it's only natural that progressive businesses and individuals who want to reduce the bottlenecks in transactions, make their businesses more productive and cut down on administrative costs adopt CocoSign as their go-to online signing solution.
DocuSign
DocuSign is one of the most widely used electronic signing apps today. The reasons are not far-fetched. It is pretty easy to sign up and convenient to use. After signing up, you are prompted to upload a document, prepare the document for signing, sign, then forward the document to other signatories to the document.
The platform comes with a suite of APIs that allows you to integrate it into your everyday applications. Using its Quick View sidebar, users can continuously track the status of their documents. It updates users on what documents need immediate action, those that are waiting on other people and those that have been completed.
Pros
Its clean and optimized interface makes creating and managing document templates easy and enjoyable.
Very easy to access and use
Like CocoSign, it incorporates many security features in it and ensures that documents signed on it remain as confidential as possible.
Cons
Poor technical support
Pricey compared to some others on this list.
HelloSign
For users on a budget, HelloSign is the easiest way to collect digital signatures or sign documents online. It can be accessed via browsers using HelloSign extension or a mobile app available on iOS and Android app stores.
Rather than drawing a new signature using a touchpad, mouse or stylus pen each time you want to sign, you can create a signature, scan it and save it permanently for reuse. After signing, you can also mail the document to another signatory to sign online.
Hello Sign is however not a go-to option for brands that need access to analytics or want CRM integrations.
Pros
Allows multiple signatories on a document
Easy to create and use templates
It is cost-effective
Cons
UX needs improvement to be on par with more elite online signing solutions
No analytics or CRM integrations
Docsketch
This web-based platform offers a free plan for tracking signed documents and creating reminders. Also, users can configure their workflows, customize templates, audit reports, and share documents.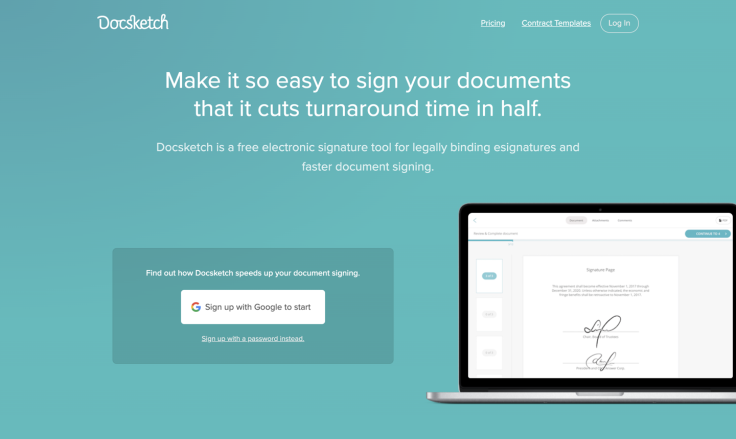 Businesses also use this online signing solution to create custom workflows. Hence, they can select team members who are responsible for signing documents and in what order. A sending order is created and a reminder is sent to each member of the team when it is time for them to sign. The audit trail feature is implemented when a user intends to track the progress of a document in real-time.
Pros
Platform is easy to use
Updates are regularly rolled out
Cons
Customization options are a little limited
Interface can be made a little more user friendly for newbies
Limited software integrations
Templates cannot be organized
AdobeSign
Adobe is well-known for their compliance with global standards and the AdobeSign solution is no different. It is one of the biggest game players in the online signing space and integrates systems that are in sync with global practices.
This feature-rich platform can be integrated with a wide range of third-party tools like Workday and Salesforce. One of the biggest perks of the platform is that recipients can open a document and sign even without opening an Adobe account.
However, for all these many features, it is pretty surprising to see that their customer support isn't as responsive as that of other signing solutions like CocoSign. The app interface is also a tad old-fashioned.
Pros
Quite easy to use
Great integration with Salesforce CRM
Cons
Its tech support isn't as vibrant as newer online signing solutions
App interface needs upgrade
Templates aren't really flexible
Customization options can be made even more flexible.
PandaDoc
Available on both Android and iOS platforms, this online software is one of the easiest to use. It supports audit trail, automatic workflow and one of the most cherished features for users, drag and drop tool for forms.
It also supports integration with payment platforms, CRM, storage and filing platforms. Its pricing plans are very competitive and are a good bang for your buck. Perhaps, most importantly, it makes use of strong encryption technologies both for storing documents and sending them to recipients.
Pros
Easy to follow up on signatories
24-hour customer support
Cons
Undo button can be really complicated to use
Page numbers are only available on PDF files
Poor presentation capabilities
Image library cannot be managed easily
OneSpan Sign
This is one of the premium choices for large enterprises. Indeed, big corporations like IBM and BMW use this electronic signing solution for signing documents. One reason why it has this enviable list of clients is its strong security features. All communications with the web servers and recipients are encrypted. Documents are also stored securely on the cloud.
Also, it can be integrated into the workflows of most businesses since it offers many APIs and integrations. Its mobile applications are also notably simple, intuitive and easy-to-use.
However, the mobile experience is not so responsive and the platform has no content library or payment integrations.
Pros
Cost-effective
Quick and easy to use
Cons
Mobile experience isn't great
Doesn't come with payment integrations
No content library
Interface needs a face lift.
SignNow
For small businesses, SignNow is an asset. For a budget-friendly price of $5 a month, a user can send unlimited documents and templates to various recipients. Talking about templates, users can make a custom template that suits their needs and reuse anytime they deem fit.
The application is also very mobile-friendly and easy-to-use for online signing newbies. It also comes with an audit trail to track changes, edits and other signing details like the date and time the document was signed.
Pros
Cons
Functionality isn't so flexible
Modifies the format of uploaded document
Only yearly subscription is available
SignEasy
SignEasy caters to the needs of many small businesses because of its branding feature. Users are given a 14-day free trial window within which they can use all features available on the platform. During this free trial, new users can test-drive their products and measure the results to see if getting a paid plan is worth it or not.
Some users however complained about fewer integrations and template options compared to alternatives.
Pros
Has integration with Zoho
Cons
Limited customization and template options
No content and image library
No payment integrations
SnapSign
Certified by US ESIGN and UETA, all documents signed using this online signer is legal binding. It also comes with some pre-built integrations that makes it easy to integrate it into your workflow seamlessly.
Users who use templates a lot will also find SnapSign very useful since its content library is filled with several NDA and sales contract templates.
Pros
Content library is well stocked
Has a handful of pre-built integrations
Cons
Not very user-friendly
Customer support isn't as efficient as other top dogs
Paper Signatures V.S. Digital Signature
Paper signatures mostly known as wet ink signatures are physical marks in the form of a name, mark or initials attached to a document as a sign of content or approval for the terms provided in that document.
They remain a popular form of signature, especially with legal and financial documents. However, they can be time consuming and straining when several documents are involved. They are also not budget-friendly, owing to high printing, scanning and faxing costs.
Digital signatures, on the other hand, are an improvement upon the cons of paper signatures plus security. Signing documents digitally can be a big game changer for any brand that chooses to adopt this method of signing documents.
Digital signatures make use of complex algorithms to verify the identify the signatories to a document. Each signatory needs to verify their identity using a passport or driver's license. For added security, users can trigger a two-factor authentication.
Once the contents of the digital document are modified, the digital signature becomes invalid.
Conclusion
E-signatures are a great improvement over wet-ink signatures because they help you save time, lower costs and can be done on-the-go. However, knowing what online signing solution to go by isn't so easy. It is for this reason that we have outlined the very best 10.
FOR FREE to continue reading
✔️ Unlock the full content of International Business Times UK for free
offer available for a limited time only
✔️ Easily manage your Newsletters subscriptions and save your favourite articles
✔️ No payment method required
Already have an account?
Log in