DIY Watch Club Signature Master Tourbillon Hands-on Review: Next Level DIY Watch Assembly
NOTE: This article is a contribution and do not necessarily represent the views of IBTimes.
When you truly love watches, there comes a point when simply owning them isn't sufficient. Or at least, that's how the story went for me. It might be the engineer in me speaking, but I yearned to understand every intricate detail within the engineering marvel of an automatic watch, or at the very least, to delve deeper than just observing the mechanisms ticking away from the exhibition backs.
The DIY Watch Club gave me my first taste of this with the D02 Diver Watch Kit, allowing me to relish the process of tackling the challenging task of assembling an automatic watch. I had the advantage of a detailed walkthrough video to 'guide me through every step of the way.' It was thoroughly enjoyable, but much like the satisfaction that follows assembling a complex LEGO set, I soon found myself itching for more challenges.
Enter the new DWC Signature Master Tourbillon, which notably comes with the warning: 'We strongly do not recommend attempting this tourbillon build as your first DIY watch.' Just gazing at that rotating cage and the oversized exhibition case back, I experienced a mixture of exhilaration and fear at the prospect of assembling this watch. Could I genuinely put it together to my satisfaction? Let's dive in and find out.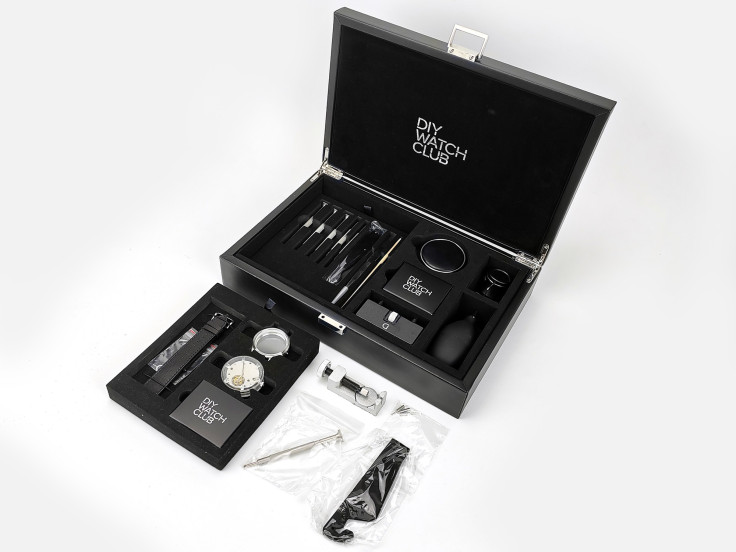 DWC Professional Watchmaker Tools with Box
While assembling the D02 Diver Watch Kit for the first time, I used the standard tools provided by DIY Watch Club. However, this time, I opted for the Professional Watchmaker Tool kit. The complete set arrived in an elegant jewelry box, adorned with faux leather and lined with velvet, featuring dedicated compartments for each of the tools and watch components. It unquestionably offered an upgraded experience and presentation. Nevertheless, from a practical perspective, the primary distinction between this kit and the standard one was the inclusion of a watch movement cushion.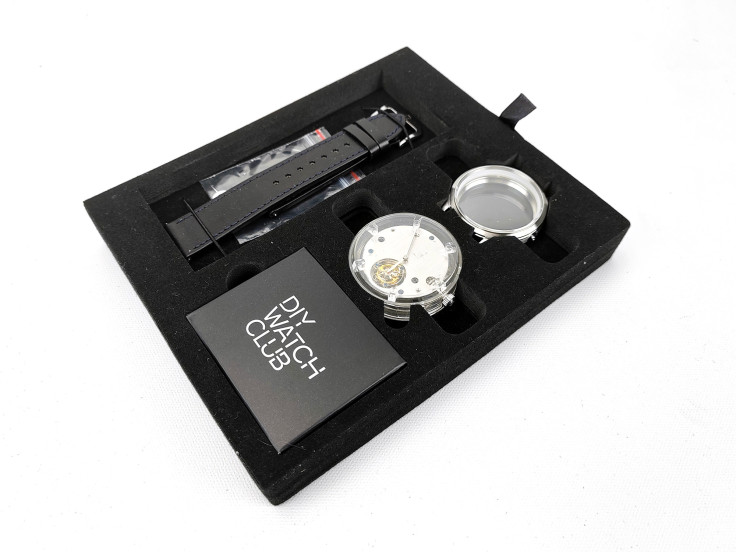 The tools included in the watchmaker kit are of higher quality than I initially anticipated and are perfectly suitable for novice watchmaking or watch modding enthusiasts. Whether you end up using these tools in your next project or not, due to the exceptional build quality of the toolbox, I would argue that you have the ultimate watch box for your new Tourbillon watch.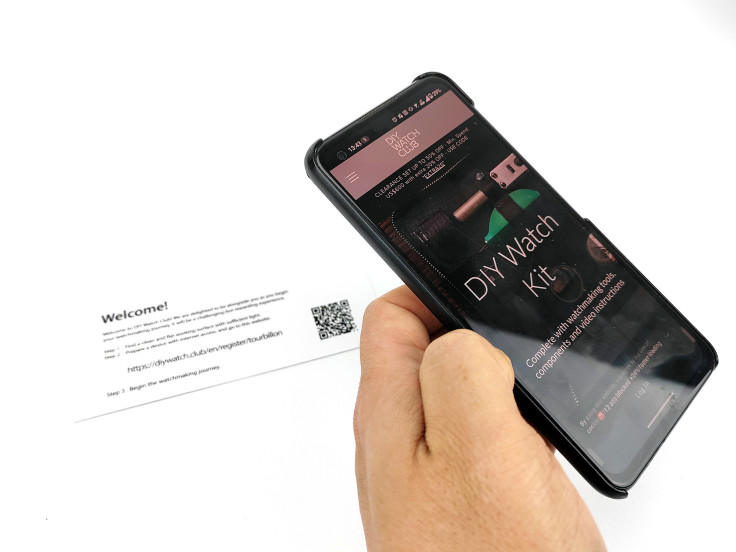 Detailed Instruction Video
Inside the box, you'll also discover a QR code that, once scanned, directs you to DIY Watch Club's exclusive video collection, providing a step-by-step guide on assembling the watch. Additionally, within the toolkit, there's a handy phone stand - almost like an assurance that a smartphone is all you'll require to put this watch together. Having assembled two of these watches, I can confidently attest that it's indeed true.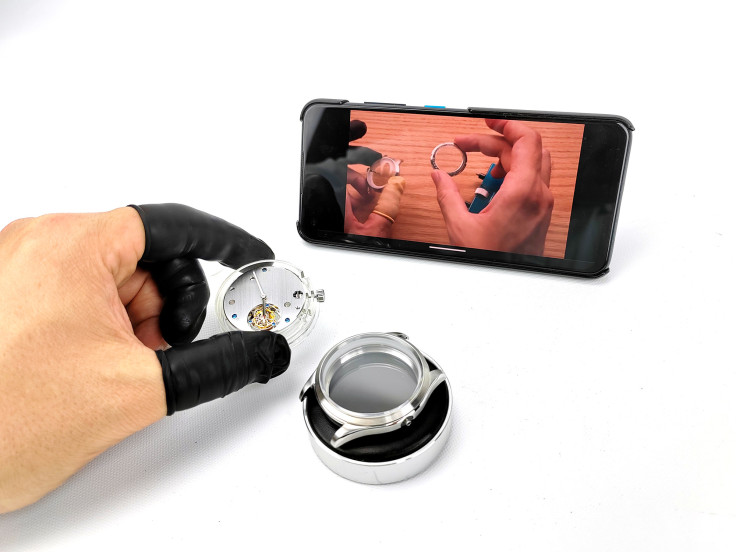 The care and passion invested in the well-crafted videos are evident, and it truly feels like learning the art of watchmaking from a fellow watch enthusiast. It goes beyond mere instruction; it's a genuine education.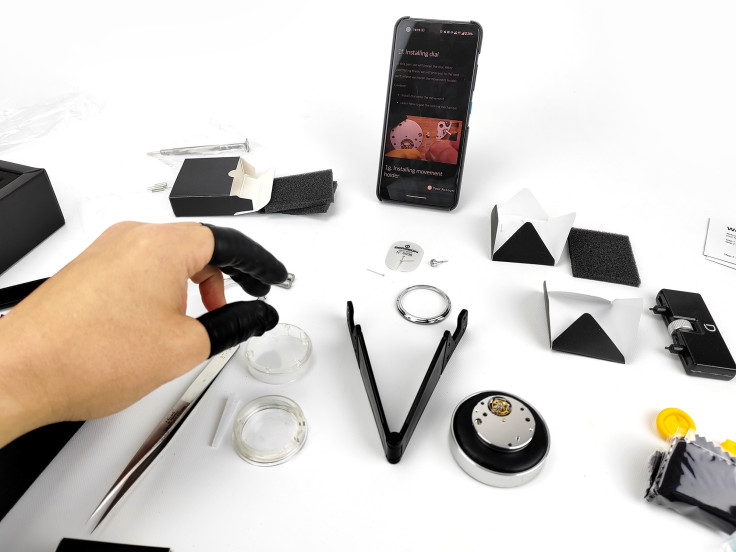 Putting the Watch Together
While DIY Watch Club kits are considered automatic watches that require 'some assembly,' you're not actually assembling the watch from individual gears and springs. Essentially, what you're doing is fitting the watch face onto the pre-assembled movement, attaching the hands, and then placing the entire assembly into the watch case before sealing it all up. This process provides an experience and knowledge base that allows a layperson to perform some modifications to their watch without necessitating a full-fledged apprenticeship with a watchmaker.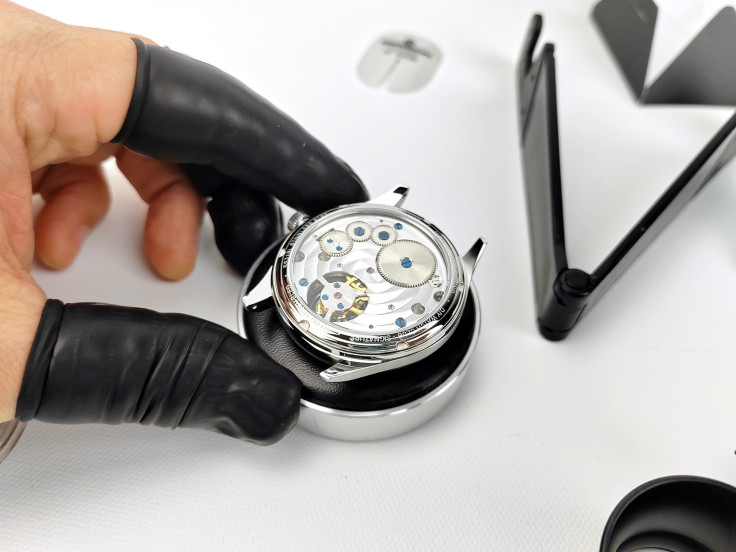 However, this doesn't mean it's an easy task. All in all, it took me approximately two hours to assemble this watch. The intricacy of what appears to be a straightforward assembly process can only be truly appreciated when you attempt to put one of these kits together. Personally, I managed to assemble the watch with no visible dust or fingerprints inside the completed timepiece, ensuring the watch face was perfectly flush and secure, and aligning the hands precisely without any obstructions. After undergoing the meticulous process of putting the watch together, I can confidently say that I have developed a significantly deeper appreciation for the watch. Yes, I'm a proud watch daddy!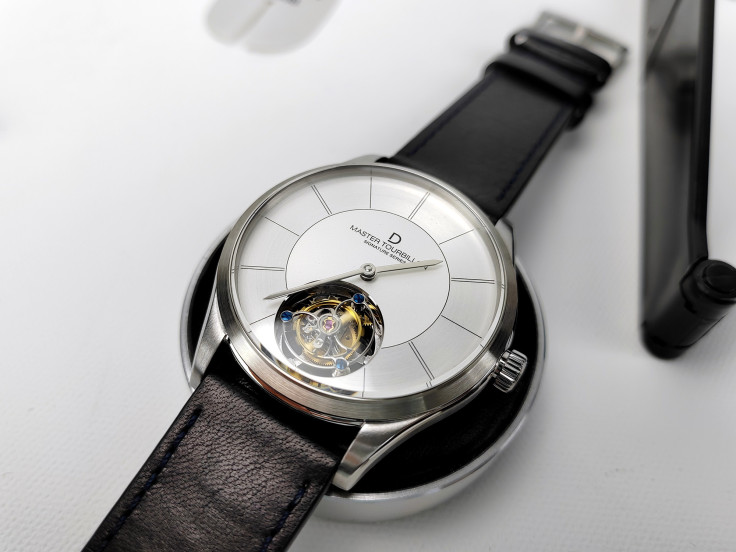 Quality Tourbillon
Those who closely follow the watch market are likely aware that the global manufacturing hub, often referred to as the "world factory", has recently achieved mass production of the highly sought-after Tourbillon movement. However, it's crucial to note that not all Chinese Tourbillons are created equal. In one of the DWC videos, there's a tutorial that educates you on how to distinguish between genuine and counterfeit Tourbillon watches, with the authentic rotating 'cage' being a key feature to look for. Additionally, by watching a few YouTube videos, you can quickly learn to identify what a low-quality Tourbillon movement looks like, often featuring tiny debris hidden inside and fingerprints scattered throughout.
After delving deeper into my knowledge of the new Chinese Tourbillon movements, I could discern that the Flying-Tourbillon SL-5200 included with the DWC Signature Master Tourbillon is undoubtedly one of the highest quality movements among them. Even with thorough scrutiny using the provided loupe magnifying glass during the assembly process, there was no indication of any shortcuts or unprofessional manufacturing. Once more, the passion for watchmaking shines through, right down to the selection of the movement.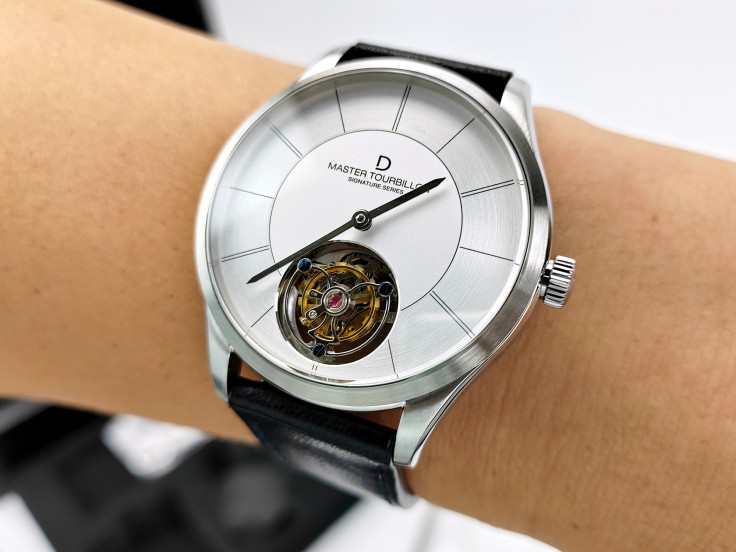 The Assembled Watch
With a quality LEGO set, the process of putting it together can often be 80% of the enjoyment. The wonderful aspect of the DWC Signature Master Tourbillon is that after experiencing all the fun of assembly, you can now savor it every day on your wrist.
At first glance, the watch design itself is undeniably minimalist. You won't find any luminescent elements, just a silver brushed dial devoid of numbers, and simple minute and hour hands with no sweeping second hand. Instead, it boasts a straightforward design that effectively directs all your attention to the stunning window showcasing the rotating Tourbillon cage - a window that is, in fact, transparent.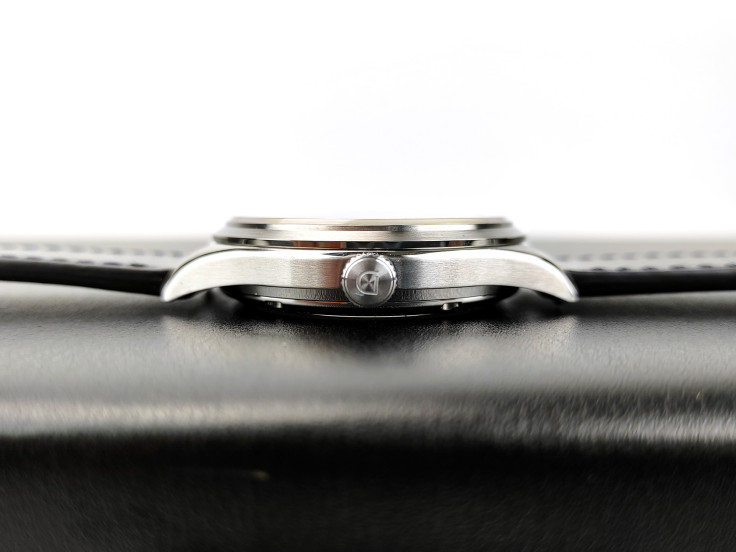 Upon closer examination, this watch reveals more details than it initially suggests: the brushed and polished hybrid finish on the 40mm SS316L case strikes a balance between being neither overly flashy nor dull, imparting a sense of sophistication to the overall design. Additionally, there's a captivating interplay of color tones within the Tourbillon gears, resembling a palette featuring various hues of jewels, polished brass, and silver-toned components. Furthermore, the sapphire crystal lens on the front and the K1 glass exhibition case back offer commendable scratch resistance, ensuring the watch remains in pristine condition with proper care.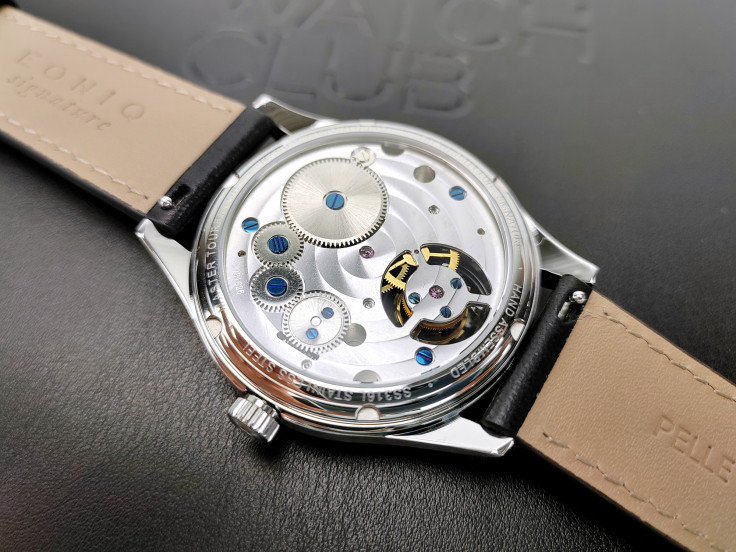 The overall appearance of the watch exudes a sense of elegance, and its size is ideal if you desire a timepiece that is conspicuous yet doesn't snag on your shirt cuffs.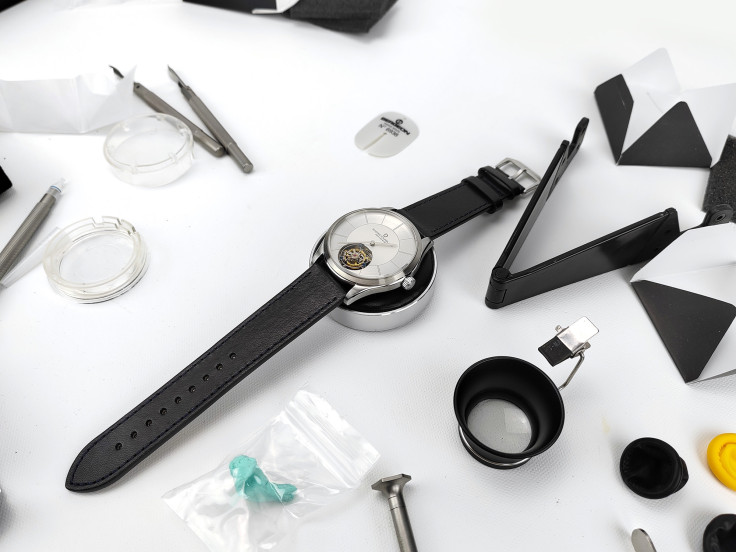 Final Verdict
In simple terms, the new DWC Signature Master Tourbillon is not only a delight to assemble but also a pleasure to wear, particularly on dressier occasions. However, as DWC itself has cautioned, it's not suitable for beginners. The exposed Tourbillon rotating movement is rather delicate, and a single mishap could lead to catastrophic damage. I would recommend that anyone interested in tackling this watch first attempt a simpler timepiece from DWC's catalog to gain experience and confidence.
For those seeking the zen-like experience of meticulously assembling a watch and desiring a Tourbillon dress watch that offers both quality and affordability, I wholeheartedly recommend the DWC Signature Master Tourbillon.
© Copyright IBTimes 2023. All rights reserved.