Donald Trump Cabinet: Elizabeth Warren, Bernie Sanders Critical Of Wall Street Vet For Treasury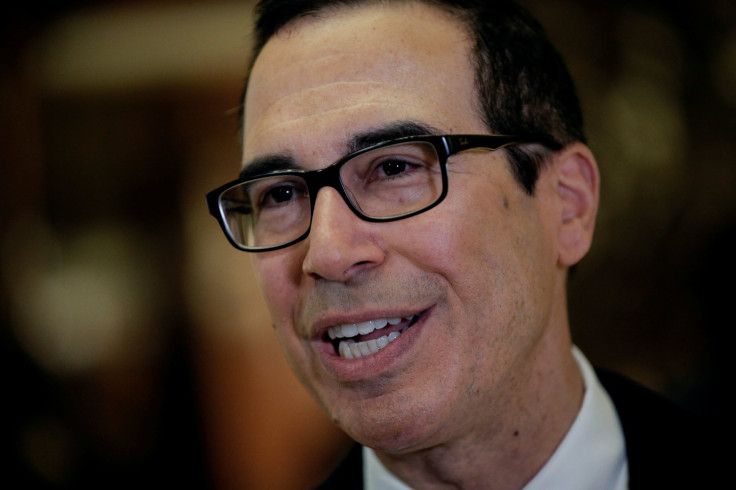 Sens. Elizabeth Warren, D-Mass., and Bernie Sanders, D-Vt., Wednesday attacked President-elect Donald Trump's choice for treasury secretary, calling the nomination of Steve Mnuchin "hypocrisy at its worst."
During the campaign, Trump pledged to "drain the swamp," meaning he planned to put an end to business-as-usual in Washington where cozy relationships involving officials, lobbyists and Wall Street.
Mnuchin, who started his career at Goldman Sachs, and went on to establish his own hedge fund, Dune Financial, was also a principal at OneWest, which was accused of aggressive foreclosure tactics and illegally denying mortgages in minority neighborhoods.
"During the campaign, Donald Trump told the American people that he was going to change Washington by taking on Wall Street," Warren and Sanders said in a joint statement. Donald Trump's choice for treasury secretary, Steve Mnuchin, is just another Wall Street insider. That is not the type of change that Donald Trump promised to bring to Washington — that is hypocrisy at its worst."
The senators added: "This pick makes clear that Donald Trump wants to cater to the same Wall Street executives that have hurt working families time and again."
Mnuchin is a proponent of trickle-down economics, the theory that cutting taxes on the rich and corporations will have benefits that trickle down to Main Street — a theory that failed in its first incarnation under the Reagan administration.
Mnuchin said Wednesday Americans can look forward to the "largest tax change since Reagan," promising cuts for the average worker in addition to businesses, and limits on deductions, including for mortgages and for state and local taxes.
"There will be a tax cut for the middle class," the banker, movie producer and former Goldman Sachs partner told CNBC's "Squawk Box." "Any tax cuts that we have for the upper class will be offset by less deductions to pay for it."
He predicted the plan would lead to 3-4 percent growth in the gross domestic product.
Some tax experts cautioned, however, tax cuts of the size Mnuchin is proposing could lead to explosive growth in the deficit, just as they did during the Reagan era, USA Today reported.
Mnuchin also supports privatizing Fannie Mae and Freddie Mac, which bundle bank mortgages and sell them as debt securities. He told Fox Business Network eliminating government control of the two mortgage finance companies, which have been in conservatorship since the 2008 financial crisis crippled their finances, is among his top priorities.
© Copyright IBTimes 2023. All rights reserved.