Who Is Elaine Chao? Donald Trump Cabinet Pick Is Mitch McConnell's Wife And Establishment Republican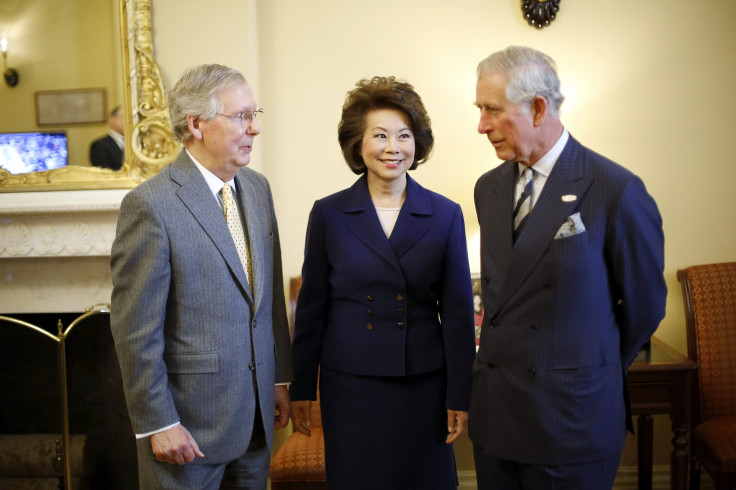 Former Secretary of Labor Elaine L. Chao has been chosen to head up the Department of Transportation by President-elect Donald Trump, according to multiple reports Tuesday.
Chao, 63, is definitely a part of the so-called "Republican establishment." She served in the administrations of both President George H.W. Bush and President George W. Bush. She's also been married to Senate Majority Leader Mitch McConnell since 1993.
Chao, who was labor secretary under the second Bush administration, was the first Asian-American woman to serve in a cabinet-level job. She was the sole cabinet member to serve the entire eight years with Bush.
Chao met with Trump last week to talk labor and transportation policy. Other candidates for the position had included Rep. Lou Barletta of Pennsylvania, a staunch opponent of immigration, and Rep. John Mica of Florida, who chairs the House Transportation Committee.
While Chao is an experienced politician, unlike outsider Trump, her political career is not without controversy. Critics, chiefly labor unions, said her tenure as labor secretary was marred by favoritism for big business and a lax attitude to worker safety, the New York Times reported in January 2009, just ahead of President Barack Obama's inauguration.
Chao has remained involved in politics, even if not directly holding a job in Washington. She's been described as a trusted adviser to her husband, with a Time article in 2014 describing her as McConnell's "secret weapon."
Chao had previously attended Harvard Business School, served as a fellow in the Reagan White House and as deputy secretary of transportation in the administration of President George H.W. Bush.
Chao was born in Taiwan and came to the United States as a child, fleeing China's communist revolution. Her family, in turn, started a shipping company that grew into a massive business.
As transportation secretary, Chao may have to oversee massive spending on infrastructure, as Trump has promised to spend $1 trillion on roads, bridges and other similar projects. The New York Times' Maggie Haberman posted on Twitter that Chao's selection is perhaps a bit surprising since a transition official had told her Chao was a "dark-horse candidate" as recently as Monday.
© Copyright IBTimes 2022. All rights reserved.
FOLLOW MORE IBT NEWS ON THE BELOW CHANNELS