Dow Jones Industrial Average Pares Losses After Plunging 200 Points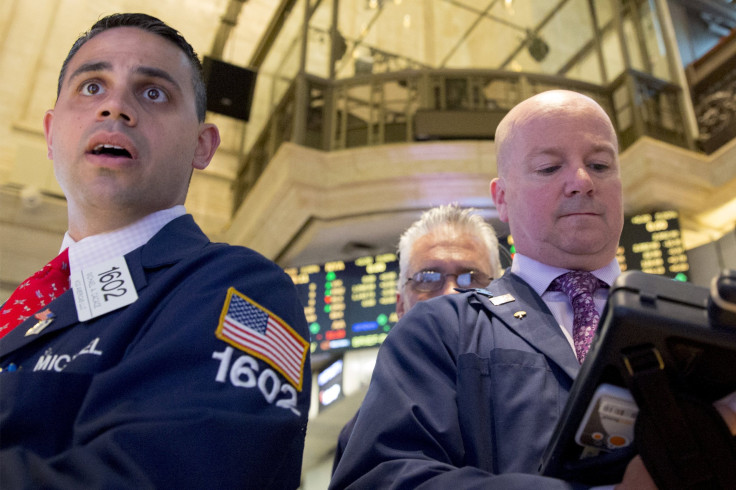 UPDATE: 4 p.m. EDT
U.S. stocks rebounded Tuesday, with the Dow Jones Industrial Average closing up nearly 100 points. In morning trading, the Dow had tumbled as much as 219 points after Greece failed to submit new proposals in a meeting with Eurogroup finance ministers.
Tuesday's gains were driven by the utilities and consumer staples sectors.
The Dow (INDEXDJX:.DJI) gained 93.33 points, or 0.53 percent, to close at 17,776.91. The Standard & Poor's 500 index (INDEXSP:.INX) added 12.58 points, or 0.61 percent, to end at 2,081.34. The Nasdaq Composite (INDEXNASDAQ:.IXIC) rose 5.52 points, or 0.11 percent, to 4,997.46.
Dow Components Coca-Cola Co. (NYSE:KO) and Procter & Gamble Co. (NYSE:PG) led the index higher, both gaining more than 2 percent. Chemical maker DuPont Co. was the biggest decliner, shedding 1.5 percent.
Meanwhile, the S&P 500 utility sector gained 2.5 percent, boosting the overall index after it briefly turned negative in morning trading.
Original post: U.S. stocks extended losses Tuesday in a volatile session, with the Dow Jones Industrial Average tumbling as much as 200 points in early trading, only to pare most of its losses after noon. Greece's fate hangs in the balance as eurozone leaders meet Tuesday ahead of an emergency summit to discuss the struggling country's bailout program. The gatherings come days after a resounding majority of Greeks voted on Sunday against the austerity demands of international creditors.
The S&P 500 index traded higher after briefly turning negative for the year.
In afternoon trading, the Dow (INDEXDJX:.DJI) had fallen 12.03 points, or 0.07 percent, to 17,671.55. The Standard & Poor's 500 index (INDEXSP:.INX) ticked up 1.81 points, or 1.46 percent, to 2,069.97. The Nasdaq Composite (INDEXNASDAQ:.IXIC) dropped 32.27 points, or 0.66 percent, to 4,959.13.
The Dow plunged as much as 219 points in morning trading following reports that Greece did not submit new written proposals to its creditors, but the index eased in afternoon trading. Dow components UnitedHealth Group Inc. (NYSE:UNH), JPMorgan Chase & Co. (NYSE:JPM), and Intel Corporation (NASDAQ:INTC) led the blue-chip index lower, all falling more than 2 percent.
Six out of the 10 S&P 500 sectors traded lower, led by declines in materials, while the utilities sector was the biggest gainer.
U.S. Treasury yields tumbled Tuesday, with the yield on the benchmark 10-year note falling to a five-week low amid fears a "Grexit" could ensue where Greece would leave the eurozone if Athens and its international creditors do not reach an accord. The 10-year dipped to 2.2118 percent, a level last seen on June 2.
Typically, if market professionals foresee a risk environment, investors seek a flight to safety and buy U.S. Treasurys. When the yields on those notes fall, that helps interest rate-sensitive sectors, such as utilities and telecommunications.
The S&P 500 utilities sector gained more than 2 percent, led by a 3 percent gains from Duke Energy Corp. (NYSE:DUK), while the S&P 500 telecommunication services sector ticked up 0.1 percent.
Meanwhile, the Nasdaq composite briefly lost more than 1 percent in morning trading, driven by sharp losses in biotechnology as Alder Biopharmaceuticals Inc. (NASDAQ:ALDR) tumbled more than 7 percent.
U.S. stocks ended trading Monday largely where they began, largely unaffected by the Greek referendum. Stocks didn't see the heavy selloff predicted by many analysts. "We fear that the markets have been complacent about the potential near-term uncertainty and disruption," Jonathan Loynes, chief European economist at Capital Economics, warned in a note Tuesday.
Leaders of France and Germany called on Greece to deliver "serious and credible proposals" Monday to allow a deal to be struck that would keep Greece within the euro region. However, Greece did not submit new written proposals Tuesday, but instead made an oral presentation, with a written version to come on Wednesday, Reuters reported.
"There is a great sense of urgency. ... We all know how very difficult the situation in Greece is as we speak, and time is very short and more so as we go on," Eurogroup President Jeroen Dijsselbloem told the media following Tuesday's meeting with Greece's new finance minister, Euclid Tsakalotos, who replaced Yanis Varoufakis on Monday.
There are no new proposals for eurozone leaders to discuss at Tuesday's emergency summit at 7 p.m. local time in Brussels (1 p.m. EDT). "The lack of urgency is surprising," James Nixon, chief European economist at Oxford Economics, said of the Greek approach to Tuesday's meetings in a research note Monday.
The European Central Bank tightened its collateral requirements for Greek banks Monday while keeping the overall ceiling for Emergency Liquidity Assistance unchanged at 89 billion euros.
Greece imposed capital controls last week, including daily limits on cash withdrawals and restrictions on monetary transfers, on fears that its citizens would withdraw all their cash and stash it under mattresses. However, expectations that capital controls will be lifted soon "continue to be misplaced," Nixon said, adding that he still believes the banks will remain closed until a new agreement is reached.
Greek Prime Minister Alexis Tsipras announced on Twitter Tuesday he would address the European Parliament in France on Wednesday.
© Copyright IBTimes 2023. All rights reserved.
FOLLOW MORE IBT NEWS ON THE BELOW CHANNELS