Dow Jones Industrial Average Plunges 350 Points As Greek Exit Fears Rise, S&P Slashes Greece's Credit Rating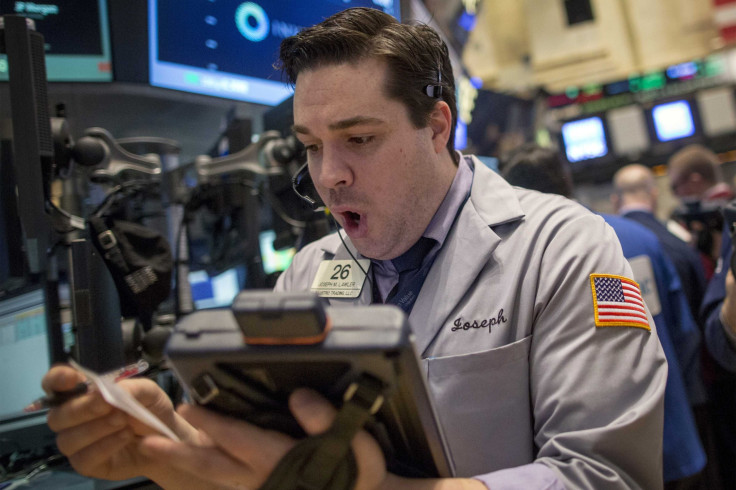 U.S. stocks closed sharply lower Monday, with the Dow Jones Industrial Average plunging 300 points after Standard & Poor's slashed Greece's credit rating -- again -- amid the country's ongoing debt turmoil. The rating agency estimated there's a 50 percent chance of a Greek exit from eurozone, sending U.S. stocks spiraling 2 percent lower in the last hour of trading.
The Dow (INDEXDJX:.DJI) plunged 348.73 points, or 1.94 percent, to close at 17,597.95. The Standard & Poor's 500 index (INDEXNASDAQ:.IXIC) dropped 43.78 points, or 2.08 percent, to end at 2,057.70. The Nasdaq composite (INDEXSP:.INX) tumbled 122.04 points, or 2.40 percent, to finish at 4,958.47.
All 10 sectors in the S&P 500 traded lower Monday, led by declines in the financial sector, after Greece announced bank closures and capital controls to prevent a run on the country's banks. All 30 stocks in the Dow closed lower, led by declines from chemical company DuPont, which dropped 3 percent. JPMorgan Chase & Co., Goldman Sachs Group Inc. and American Express Co. shed more than 2 percent.
The Standard & Poor's Ratings Services downgraded Greece's credit rating to triple-C-minus with a negative outlook, adding that Greece will likely default on its commercial debt within the next six months, unless the country's debt crisis changes.
"This is really getting serious," said Jeff Kravetz, regional investment director at U.S. Bank Wealth Management. "As we go forward there are going to be a lot of surprises, both good and bad, because we are in uncharted territory."
The Greek government announced Monday that it would not be able to make a loan repayment due Tuesday to the International Monetary Fund. A meeting over the weekend between Greece and its creditors offered one of the last opportunities for the country to reach a deal before it must repay 1.6 billion euros ($1.8 billion) to the IMF this week.
Despite the turmoil, economists say the Greek outlook is now only moderately worse than what experts had expected last week. "While I believe a Greek default is all but assured, the probability of a Greek exit from the eurozone and European Union remains quite low," Bill Adams, senior international economist at PNC Financial Services Group, said in a research note Monday.
Greece failed to secure additional funding for its bailout program over the weekend, sparking fears Athens will default on its debt and leave the 19-member currency bloc. After last-ditch negotiations collapsed Saturday, the European Central Bank capped emergency funding to the country's banks at current levels. Greece announced bank closures and capital controls Sunday to prevent a run on the country's banks.
Adams predicts there is a less than 5 percent chance that Greece will leave the eurozone. Athens is scheduled to hold a bailout referendum on July 5.
© Copyright IBTimes 2023. All rights reserved.
FOLLOW MORE IBT NEWS ON THE BELOW CHANNELS