What Are Capital Controls? 5 Things To Know About The Restrictions Imposed By Greek PM Alexis Tsipras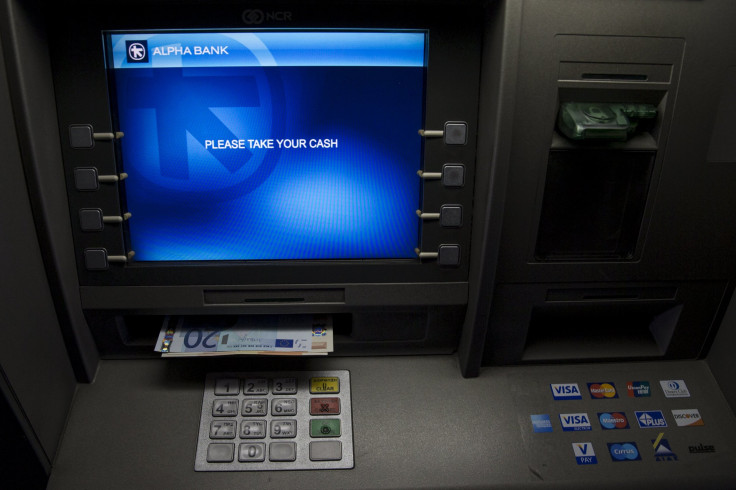 Greece imposed so-called capital controls this week on fears Greek citizens would withdraw all of their cash and stash it under mattresses. After last-ditch negotiations between Athens and its European creditors broke down Saturday, the European Central Bank (ECB) froze funding support to Greece's banks. In response to the ECB's halted funding flow, Greek Prime Minister Alexis Tsipras announced Sunday that Greek banks would close this week and capital controls would be imposed until July 7.
Here are five important things to know about Greece's predicament.
1. What are capital controls?
The controls include daily limits on cash withdrawals and restrictions on monetary transfers and overseas credit card payments to prevent euros from flowing out of Greek banks.
ATM withdrawals are limited to 60 euros ($66) a day for this period and Greeks cannot transfer money to accounts abroad. The restrictions are aimed at trying to keep the banks active while minimizing hardship for those who need to use the banking system.
2. Are Greeks hurting?
In short, yes. The capital controls will have a disproportionate impact on the population and on smaller businesses, says Clem Miller, Portfolio Manager at Wilmington Trust.
"Many large companies in Greece have already taken their money out of Greek banks and put them into German, Italian and French banks. So they'll be able to operate their businesses using funds that are already outside of Greece," Miller said.
However, there's still so much at stake, especially for Greek citizens because they're the ones who are really feeling it most right now. "When you go to the ATM and you can't take euros out, that's a scary thing," said Jeff Kravetz, regional investment director at U.S. Bank Wealth Management.
But experts say the capital controls may put pressure on Greek citizens to vote in favor of working out a compromise with the country's international creditors. Athens is scheduled to hold a bailout referendum on July 5.
3. How do the capital controls affect summer tourists in Greece?
There are no restrictions. Foreign tourists can withdraw any amount of cash from ATMs in Greece without worry-- as long as they are tapping into accounts they hold at non-Greek banks based in their home nations or anywhere outside Greece.
4. Has this ever happened before?
Yes. The most recent imposition of capital controls came in Cyprus during the country's banking crisis in 2013. Cyprus capped daily withdrawals at 300 euros, much higher than the current 60 euro limit at ATMs in Greece.
However, Greece is unlikely to be allowed to impose capital controls and remain in the eurozone. The controls contravene European Union law, says Jessica Hinds, European economist at Capital Economics.
"Cyprus was only able to use them because they were tied up with the bailout agreement and they complemented the reform program agreed with its creditors," Hinds said in a research note.
Iceland and Argentina also imposed capital controls during their conomic crises in 2008 and 2001, respectively. Iceland and Argentina have their own currencies. Cyprus' situation was similar to Greece's, says Wilmington Trust's Clem, as both countries are part of the eurozone currency union with 17 other countries.
5. How long will the capital controls last?
Economists say the bank holiday could last a few days or a few weeks, but the capital controls could take weeks or months before they're lifted. In the case of Cyprus, capital controls were in place for roughly two years.
"As long as there's uncertainty and no backup from the ECB, Greece will keep these capital controls in place," said Bart van Ark, chief economist and chief strategy officer at the Conference Board.
If a new deal is on the table within two weeks, it might be possible for Greece to take the capital controls away. "Basically, the ECB would be a backup for that kind of uncertainty that Iceland or Cyprus wouldn't have had," van Ark said.
© Copyright IBTimes 2023. All rights reserved.