Dow Jones Industrial Average, S&P 500 Index Near Record Highs Following Janet Yellen's Speech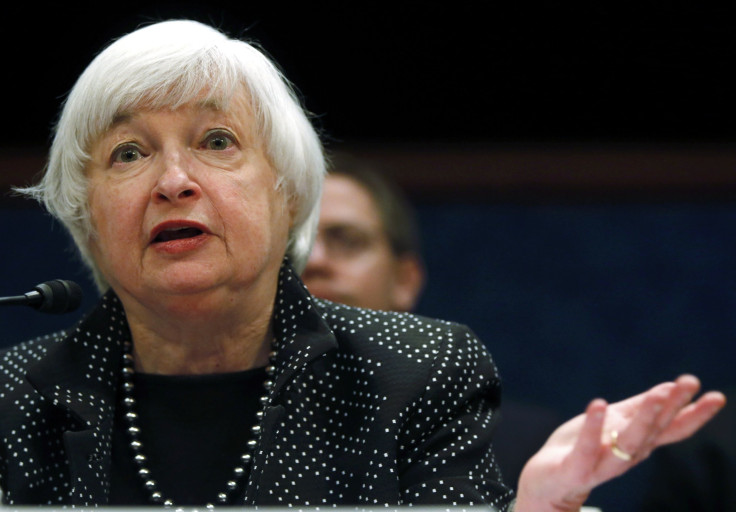 U.S. stocks hovered near record highs Wednesday morning, following the previous session's record-breaking rally, as economists continue to listen to U.S. Federal Reserve Chair Janet Yellen's second day of testimony before the House Financial Services Committee. Yellen announced Tuesday the central bank will not raise interest rates for the "next couple of FOMC meetings," which sent the blue-chip Dow Jones Industrial Average and S&P 500 Index to all-time intraday and closing highs.
In Wednesday afternoon trading, the Dow, which measures the share prices of 30 large industrial companies, gained 11.14 points, or 0.06 percent, to 18,220.33, and the S&P 500 stock index added 0.30 points, or 0.02 percent, to 2,115.81. The Nasdaq Composite edged up 5.34 points, or 0.11 percent, to 4,973.18.
Tuesday, the Dow and S&P 500 broke all-time intraday highs of 18,231.09 and 2,117.94, respectively.
Yellen: Fed To Consider Rate Hikes On A "Meeting-By-Meeting Basis"
Yellen continued her two-day semiannual testimony in Washington, D.C., Wednesday to discuss the U.S. economy's health and the monetary policies the central bank plans to use this year to boost the economy. The Fed chair continued to warn that a hike in interest rates would come later rather than sooner.
"If economic conditions continue to improve as the committee anticipates, the committee will at some point begin considering an increase in the target range for the federal funds rate on a meeting-by-meeting basis. Before then the committee will change its forward guidance," Yellen said in prepared remarks to the House Tuesday. "However, it's important to emphasize that a modification of forward guidance should not be read as indicating that the committee will necessarily increase the target range in a couple of meetings."
Yellen warned removal of the "patient" wording in an upcoming Federal Open Market Committee (FOMC) statement would not mean the Fed "will necessarily increase" interest rates within two meetings. The Federal Reserve replaced "considerable time" from its monetary policy in December, promising to be "patient" when hiking rates. The move signaled the central bank could raise interest rates sometime this year.
New-Home Sales Flat In January
Sales of new single-family homes in the U.S. declined last month to a seasonally adjusted annual rate of 481,000, the U.S. Census Bureau said Wednesday, mostly due to bad winter weather in the Northeast. New-home sales fell 0.2 percent last month from December's revised rate of 482,000, but sales of new single-family homes rose 5.3 percent from a year-earlier estimate of 457,000. The median sale price of new houses sold in January was $294,300, while the average sale price was $348,300.
Crude Inventories Rise, Signaling Supply Buildup
Oil prices traded higher Wednesday despite data that revealed U.S. crude inventories hit another record high for the seventh straight week. U.S. commercial crude oil inventories rose by 8.4 million barrels last week, to a record 434.1 million barrels, the U.S. Energy Information Administration said Wednesday. U.S. crude oil inventories are at the highest level for this time of year in at least the last 80 years.
Following the report, West Texas Intermediate crude, the benchmark for U.S. oil prices, edged up 0.61 percent, to $49.58 a barrel, for March 15 delivery on the New York Mercantile Exchange. Meanwhile, Brent crude, the benchmark for global oil prices, edged up 0.97 percent, to $59.23 a barrel, for April 15 delivery on the London ICE Futures Exchange.
Target Earnings Beat Estimates, Driven By Holiday Sales
Retail giant Target Corporation (NYSE:TGT) posted quarterly earnings that beat Wall Street forecasts, driven by a 3.2 percent boost in foot traffic as well as a jump in digital sales during the holiday quarter.
Target reported a fourth-quarter loss of $2.6 billion, or earnings per share of $1.49, in fourth quarter, compared with a profit of $520 billion, or earnings per share of $1.22, a year ago. Sales rose 4.1 percent last quarter, to $21.75 billion from $20.89 a year ago.
Following the earnings report, shares of Target edged down 0.30 percent, to $76.72, as the retailer prepares to close 133 stores in Canada after losing more than $2 billion on the failed expansion.
© Copyright IBTimes 2023. All rights reserved.
FOLLOW MORE IBT NEWS ON THE BELOW CHANNELS