Dr. Seuss Birthday: Facts, Text For The Author's Top 5 Best-Selling Books On Read Across America Day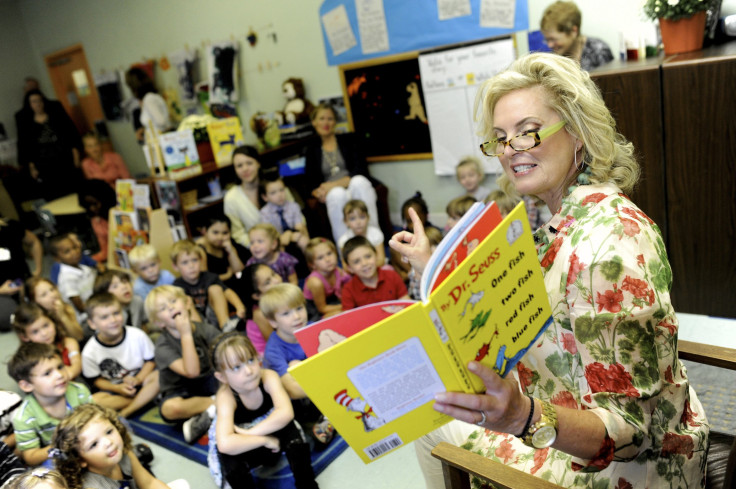 Thousands of United States students will spend Monday celebrating the life and legacy of Dr. Seuss, née Theodor Geisel, as part of Read Across America Day 2015. The famous author is seen as a pioneer of children's literature -- between his birth on March 2, 1904 and death by oral cancer on Sept. 24, 1991, he wrote and illustrated 44 books.
In honor of his would-be 111th birthday, American youth, librarians and bookstores will revisit some of Dr. Seuss' greatest works. If you want to join them, don't get overwhelmed by the options. Here are the top five best-selling Dr. Seuss children's books on Amazon:
"Oh, the Places You'll Go!"
This book was the last Dr. Seuss work published before he died. It came out on Jan. 22, 1990, and follows a protagonist -- the reader -- as he explores a world outside his small town. Today, the book is a popular gift for graduating high school and college seniors. Here's the full text.
"Green Eggs and Ham"
Dr. Seuss used only 50 words in "Green Eggs and Ham" as part of a bet with his publisher, Bennett Cerf. The book came out in 1960 and encourages readers to try new things. In 2012, Scholastic Parent and Child magazine named it the No. 7 greatest children's book of all time. Here's the full text.
"The Lorax"
This story recently inspired a 2012 movie that starred Danny DeVito, Zac Efron, Ed Helms and Taylor Swift. The 1971 book is seen as statement about the environmental impact of the logging industry and is said to be Dr. Seuss' favorite of his books. Here's the full text.
"One Fish Two Fish Red Fish Blue Fish"
This 1960 poem features two siblings as they meet, count and compare colorful fish-like creatures. More recently, "One Fish Two Fish Red Fish Blue Fish" was quoted in a U.S. Supreme Court opinion about whether fish could be considered tangible objects. Here's the story's full text.
"Happy Birthday To You!"
The central character in this 1959 work is the Birthday Bird, who along with the town of Katroo celebrates the reader's birthday. Themes include getting older and self-actualization. Here's the full text.
Bonus: "What Pet Should I Get?"
This just-announced book hasn't been released yet, but its plot follows a brother and sister in a pet store as they try to pick an animal. It shows kids that although making decisions can be tough, "sometimes you just have to do it," according to Seussville. The story will be released in July.
© Copyright IBTimes 2023. All rights reserved.