Drake-Meek Mill Feud: Nicki Minaj's Boyfriend Draws Drake Beef Comments After Billboard No. 1 Post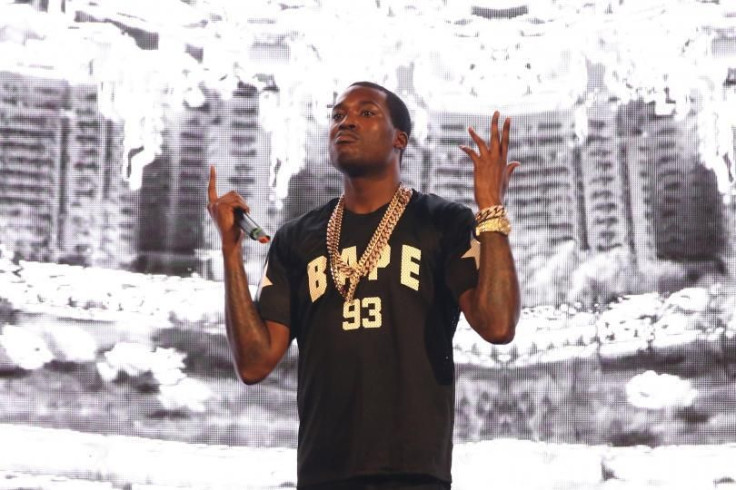 Meek Mill once again drew social media comments about his ongoing feud with Drake following an Instagram post that mentioned the Philadelphia rappers album units in July. Several social media users took to the comments section of the post writing that Mill made its big at the Billboard 200 albums chart because of rival Drake.
"Numbers on boards....," Mill captioned the photo of screenshot late Tuesday, that read: "The first Billboard 200 albums chart has been released since the new global release day. Friday now serves as the release day for most albums, so the tracking period will cover Friday through Thursday, instead of Monday through Sunday. Meek ushers in the new chart at No.1, moving 307,000 album units in the 11-day period ending July 9. That number combines the 246,000 units it earned in the previous week with the 61,000 units collected between July 6 and July 9."
Just after Mill posted the message on Instagram, users started comparing Minaj's boyfriend with Drake.
"Drake gets that in a day," one user wrote, while another said: "Drake buried you in ... cant even make it near wining a rap battle and yet posting s--- like that here."
A third user wrote: "Drake killed you, surprised youre still in the rap game and not back in the trap."
Mill and Drake's public spat began in July after the "All Eyes on You" rapper took to Twitter and told people not to compare him with Drake because he doesn't write his own rap songs. Drake responded with two diss songs, "Charged Up" and "Back to Back." Mill later fired back at Drake with "Wanna Know."
Their feud intensified after some songs in Drake's mixtape with Future, titled "What a Time to Be Alive," took aim at the "House Party" rapper and his girlfriend Minaj. Drake had previously confessed his love for Mill's girlfriend.
Recently, reports surfaced that Mill was planning to slam Drake in his latest "Dreamchasers 4" mixtape, with a "Back to Back" remix.
Drake did not directly respond to the reports, but a crew member of October's Very Own, a record label founded by the Canadian rapper, came out to diss Mill.
Last week, Mill conducted a listening session for his upcoming mixtape. DJ Akademiks posted videos of the listening session on Twitter hinting that Drake's Grammy-nominated diss track for Mill will possibly get a remix.
© Copyright IBTimes 2023. All rights reserved.