Drake-Meek Mill Feud: Nicki Minaj's Boyfriend Gets Slammed By Drake Fans After Instagram Posts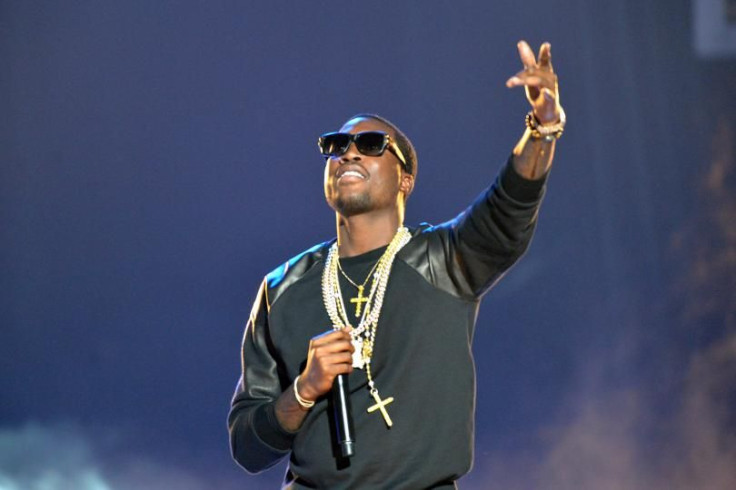 Meek Mill's latest Instagram post has once again drawn Drake beef comments with the Canadian rapper's fans slamming Nicki Minaj's boyfriend. Mill, who is currently under house arrest, took to his Instagram account late Sunday to post a photo of his gold and diamonds accessories, but the post didn't go down well with some social media users.
The photo, which was not captioned, received several comments that took shot at Mill. In the comments section of the post, several fans compared Mill with Drake, saying that the "Back to Back" rapper is way more worth than the former. Some users also wrote that Drake is capable of buying more diamond and gold accessories than Mill.
In another post, Mill shared a photo of his legs wearing flip-flops and socks. The socks covered his ankle monitor. This post also received several comments slamming the 28-year-old.
"He still a bigger downgrade than drake," one user wrote. "Why u hiding ya ankle bracelet f---boy ??? Drake catch ya tongue," another user wrote.
The Philadelphia rapper was targeted by Drake fans just days after Quentin Miller, who Mill accused to be Drake's ghostwriter, alleged that the "House Party" rapper and his Dream Chasers crew of beating him inside a Nike store over the social media spat.
Mill and Drake have been feuding with each other since July last year. The fight began with Mill slamming Drake for ghostwriters for his songs. As the feud heated up, the two rappers released songs dissing each other.
Last month, Miller confirmed reports that he was beat up by Mill and some of his friends. Miller told VladTV that Mill was upset he denied being a ghostwriter for Drake, but did not mention when the incident took place.
After Miller's interview, Mill posted a cryptic message that read: "Haters coming faster Den I ever seen them come b4." He also shared a Russell Westbrook meme with the words, "What??" written on it.
The ongoing battle between Mill and Drake had reignited in January after they released their new tracks taking shots at one another.
Drake released his latest single, "Summer Sixteen," following which Mill dropped the second installment of his "4/4" mixtape during the stream of OVO Sound Radio.
Even though the two rappers have not taken direct shots at each other over the last few weeks, several fans believe that their cryptic posts are in most cases aimed at each other.
© Copyright IBTimes 2023. All rights reserved.