Drone Security Update: SkySafe Can Disable, Fly Rogue Drones Near Airports, Critical Locations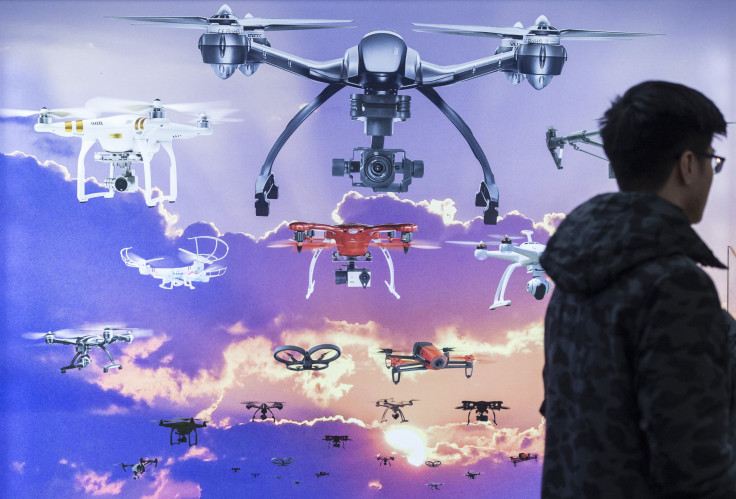 A new drone security startup says it can disable or fly rogue drones that get too close to airports, military bases, stadiums or other other sensitive areas. SkySafe is one of several startups looking to stake a claim in the burgeoning drone enforcement industry.
Headquartered in San Diego, SkySafe is showing off its technology, but offers few details of how it is able to detect, hack into and commandeer a drone in midair. It is speculated that SkySafe uses radio frequencies to take over the unmanned autonomous vehicles. "We fully take control of the drone from the operator, it sees us as the legitimate controller, and we can move it to a safe location and land it," said Grant Jordan, founder of SkySafe, in an interview with the Verge. SkySafe raised $3 million in a recent round of funding led by Andreessen Horowitz, a venture capital firm that's previously invested in Airbnb, BuzzFeed, Facebook, FourSquare, Groupon and Lyft.
Most drone enforcement companies focus on detection of malicious UAVs. Drone Shield, for example, uses a range of sensors to detect a potentially rogue drone. Once identified, Drone Shield will collect evidence and report it to their client. Among the situations it can deal with are drones flying contraband into prisons or threatening the personal safety of executives or celebrities.
Aside from a brief About section, and a call to interested parties to send their resume, SkySafe's website provides only a few more details about the company, along with a video of a drone being taken down by the technology. "With detailed event history and real-time notifications, SkySafe offers an unprecedented level of airspace security," the company writes underneath a screenshot of a map and the potential interface of the SkySafe system.
The startup states that its technology can detect drones, notify clients and provide enterprise management in addition to its takeover capabilities. The website indicates a second half of 2016 launch for the service, with another call for test opportunities for interested organizations. A blog post also discusses how SkySafe can be a part of the process to regulate the industry.
Not all companies are accepting SkySafe's claims at face value. "We can't respond to particular claims from a company we don't know, with technology we haven't seen, from a video we haven't verified," a repesentative from drone manufacturer DJI told the Verge.
© Copyright IBTimes 2023. All rights reserved.