Drones, Lasers Help Archaeologists Study Ancient Mayan Ruins Hidden In Guatemala Jungle [VIDEO]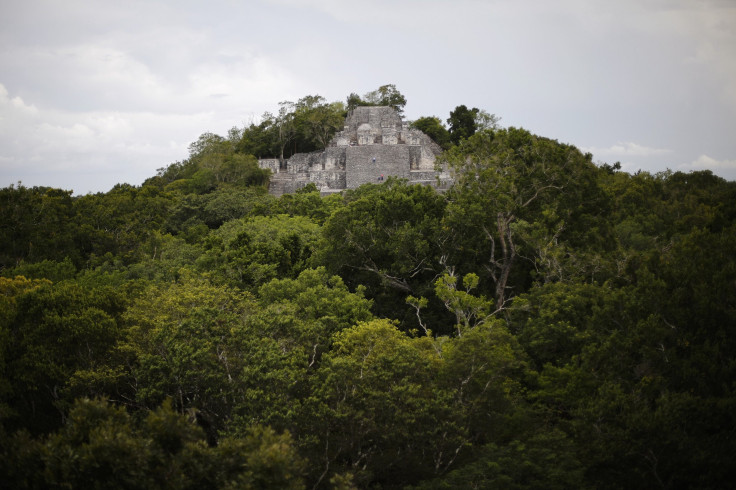 Archaeologists studying Mayan ruins have taken inspiration from nocturnal bats flying above, using drones to scan the ancient temples from an entirely new viewpoint. The remote-controlled quadcopters have proven so useful, in fact, that researchers have assembled enough footage to create a 3-D model of the site hidden deep in the jungle.
Researchers from the University of California San Diego's Qualcomm Institute coordinated with a team of archaeologists and drone experts to document the Mayan archaeological site of El Zotz in northern Guatemala. Remnants from the pre-Columbian civilization are still largely unexcavated in part because the best way to view the large stone structures in humid, forested jungle is by air. It's no coincidence that the area isn't best known for the Mayan ruins, but for the large bat population that thrives in the cliffs and caves dispersed throughout.
The aim of the El Zotz Archaeological Project, according to Phys.org, is to examine how the city's 1,600-year-old architecture helped it become an influential seat of power, according to the science news site Phys.org. To do so, researchers are using drones equipped with LIDAR, a new kind of technology that fires laser pulses from an aircraft to measure the distance between objects on the ground. Perhaps most important for this case, LIDAR is also able to penetrate dense levels of vegetation and sweep across areas of land faster than is possible on foot.
"While people have found a lot of the big sites in this area where there are large temples, we know there are structures that are not tall enough to easily be found," added Ryan Kastner, a UC San Diego professor of computer science. "Up until now, exploration has mostly been done on foot, but that's difficult because the jungle is so thick. Most of this civilization is buried under the tree canopy, and some of these trees are more than 200 feet tall."
The team previously struggled through the jungle, fending off rats, snakes, heavy rain and other difficulties including "kamikaze bugs" while attempting to chronicle hidden tombs. Perhaps it shouldn't be a surprise then that the researchers have found more success by avoiding the jungle floor entirely, instead opting to use multiple remote-controlled unmanned aerial vehicles.
"There remains a lot about the Maya that people don't know," Kastner told Phys.org. "How did the regular people live? How did the Maya cultivate land? How did their road system work? What was the political interplay between city-states? Archaeologists can derive a lot of information from roads and how societies interacted."
Archaeology is just the latest way drones are being employed. Privacy advocates have deemed the rapidly evolving technology "Orwellian," and drone technology has been portrayed as the new way of waging war. Yet scientists have only begun to tap drones' scientific potential.
Like the researchers studying the former home of the ancient Mayans, historians on the other side of the world are still investigating what life was like at Angkor Wat. LIDAR-equipped aircraft flew over the famous temple complex in Cambodia and, for the first time ever, produced a detailed map of the city, including roads and previously unknown temples.
"No one had ever mapped the city in any kind of detail before, and so it was a real revelation to see the city revealed in such clarity," Damian Evans, an archaeologist at the University of Sydney, told the Guardian in June. "It's really remarkable to see these traces of human activity still inscribed into the forest floor many, many centuries after the city ceased to function and was overgrown."
Guatemala UAV Structure From Motion from Albert Lin on Vimeo.
© Copyright IBTimes 2023. All rights reserved.