Dubai Police To Use Flying Motorcycles While Patrolling, First In The World
The cash-flush Dubai Police Force, the only one in the world using Aston Martins, Bentley Continentals, Bugatti Veyrons, Ferraris, Mercedes-Benzes and Porsches as patrol cars, will become the first to use flying motorcycles to patrol the skies.
The "Hoversurf Scorpion 3 Hoverbike (S3 2019)" is an electric Vertical Take-off and Landing (eVTOL) aircraft that looks much like a terrestrial motorcycle but without the wheels. It can hover five meters above the ground and can fly at speeds reaching 400 km/h, making it faster than any motorcycle or car.
This eVTOL was developed by California-based Russian start-up, Hoversurf. The company unveiled a prototype of this hoverbike in 2017 to the Dubai Police Force at the Gitex Technology Week held in Dubai, and drew immediate interest. Hovercraft signed a deal with Dubai that same year.
Living-up to its end of the deal, Hoversurf has now presented the Dubai Police Force with the first serial production unit of the S3 2019 Hoverbike and has begun training police officers to fly it.
S3 2019 is technically a single-seat hovering aircraft that combines a motorcycle seat with quadcopter drone technology. This combination results in speed, agility and stability in flight. Hoversurf claims both amateurs and professional pilots can fly this machine.
Brigadier Khalid Nasser Alrazooqi, general director of Dubai Police Force's artificial intelligence department, described S3 2019 as a first responder unit that will access hard to reach areas. He said the force aims to have the S3 2019 on patrol by 2020.
"Currently we have two crews already training (to pilot the hoverbike) and we're increasing the number," he said.
Hoversurf COO Joseph Segura-Conn said ideal candidates to pilot the S3 2019 will have to know how to ride a motorcycle and drone operating experiences. He said the Dubai Police Force has exclusive rights to order as many units as they want.
"They're going to let us know in the next month or two if they'd like any more ... If they would like 30 or 40, we'll make it happen for them."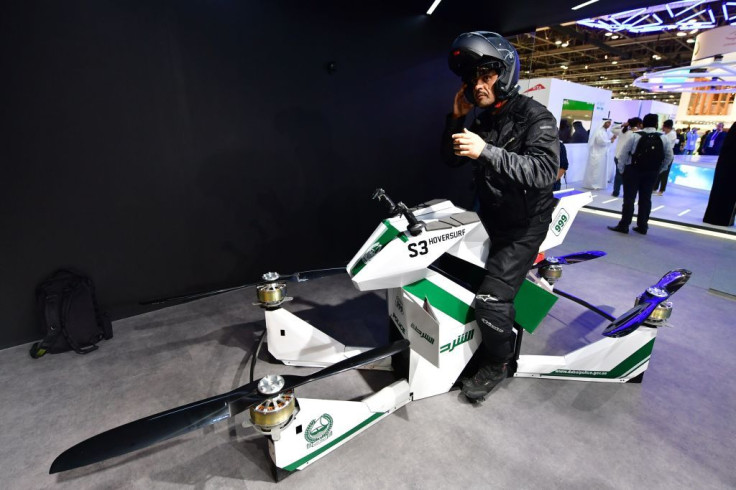 Video of one Dubal police officer learning to pilot the S3 2019 was posted online in February.
Hoversurf will also sell a civilian version of the S3 2019 to the public over the next few years. The civilian model is expected to retail at $150,000. Hoversurf is now accepting orders.
Segura-Conn, however, warns buyers will be screened to ensure they can handle the potentially dangerous new flying machine. In the U.S., a hoverbike meets Federal Aviation Administration guidelines. That means anyone that wants to fly the Hoversurf hoverbike in these United States won't need a pilot's license.
© Copyright IBTimes 2023. All rights reserved.