Egyptians Break off D.C. Visit in Confrontation over NGOs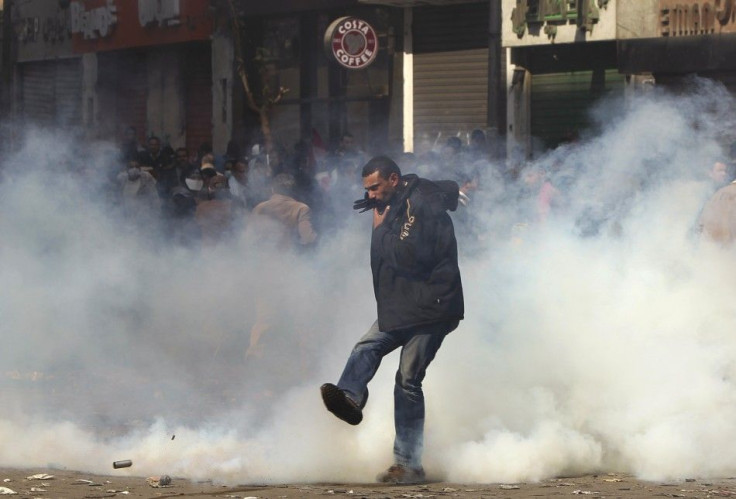 (Reuters) - An Egyptian military delegation abruptly cancelled its meetings with U.S. lawmakers to return to Cairo Monday after warnings from both Congress and the White House that Egypt's crackdown on non-governmental groups could threaten its $1.3 billion in annual U.S. military aid.
A spokesman for the Egyptian Embassy confirmed that the delegation had cancelled its meetings this week with U.S. lawmakers, but gave no reason.
Last week, the Egyptian army delegation met State Department officials who outlined both the U.S. position on the pro-democracy non-governmental groups and the new conditions that Congress recently imposed on American military assistance.
Nineteen Americans are among 40 foreign and Egyptian activists whose cases have been referred to criminal court by Egypt's army-backed government. A number of the U.S. citizens involved have sought refuge in the American Embassy.
The resulting dispute has strained ties between Cairo and Washington, which backed the overthrow last year of Egypt's longtime ruler Hosni Mubarak, upon whom it relied for decades to uphold a peace treaty with Israel vital to U.S. strategy in the Middle East.
The Egyptian delegation had been scheduled to see Sens. Carl Levin and John McCain, the Democratic chairman and ranking Republican on the Senate Armed Services Committee, among others in Congress this week.
Senate aides said they did not know why the meetings were cancelled.
The U.S. senator who wrote the conditions placed on U.S. military aid to Egypt this year warned that things will be a lot worse for Egypt when Congress makes aid decisions for 2013 if Cairo does not demonstrate a commitment to democracy.
Sen. Patrick Leahy, D-Vt., chairman of the Senate foreign aid subcommittee, suggested that he would not favor continuing U.S. military aid to Egypt, even with conditions, if it continued its crackdown on local and U.S.-funded pro-democracy groups.
I'm not going to ... say, keep on funding this, funding money that reflects the assumption that they are committed to democracy, if they are not, Leahy told Reuters at the Senate.
If they think I took a strong stand this year - if things don't improve, next year will be a lot worse, he said.
The White House said earlier on Monday that the Egyptian crackdown on pro-democracy non-governmental groups could threaten the country's $1.3 billion in annual U.S. military aid.
These actions could have consequences for our relationship and for our assistance programs, White House press secretary Jay Carney told reporters.
LEAHY'S CONDITIONS
Under the conditions written into the fiscal 2012 spending bill that Congress passed in December, Secretary of State Hillary Clinton must certify that Egypt's military-led authorities are meeting benchmarked steps toward democratic reform before the $1.3 billion in military aid -- the usual amount Washington has provided in recent years -- is released in fiscal 2012.
The conditions say that Clinton must certify that Egypt is holding free and fair elections; implementing policies to protect freedom of expression, association, and religion, and due process of law.
Leahy said he had to really fight the administration to get those conditions placed on the aid for fiscal 2012, which began last October and ends Sept. 1.
Now everybody is glad it was done that way because it gives us, to the extent we have any leverage, that's where the leverage is, Leahy told Reuters.
At the White House, Carney said the administration continued to communicate to the Egyptian government its grave concerns about the crackdown on pro-democracy groups.
The individuals involved have done nothing wrong. Their only assignment is to support Egypt in its transition to democracy.
Egyptian authorities say the NGOs broke the law by accepting foreign funds without government approval.
Several U.S. citizens and others involved have been barred from leaving Egypt. They include Sam LaHood, the country director of the International Republican Institute and the son of U.S. Transportation Secretary Ray LaHood.
Many of these groups have worked in Egypt for several years, and so their activities are not new. Moreover, they also served as observers for the recent parliamentary elections at the request of the government of Egypt, Carney said.
(Reporting by Laura MacInnis, Alister Bull and Andrew Quinn; Editing by Bill Trott)
© Copyright Thomson Reuters 2023. All rights reserved.