Egypt's Missing Christians: A Year After ISIS Beheadings, Human Rights Group Demands Answers On Kidnapped Copts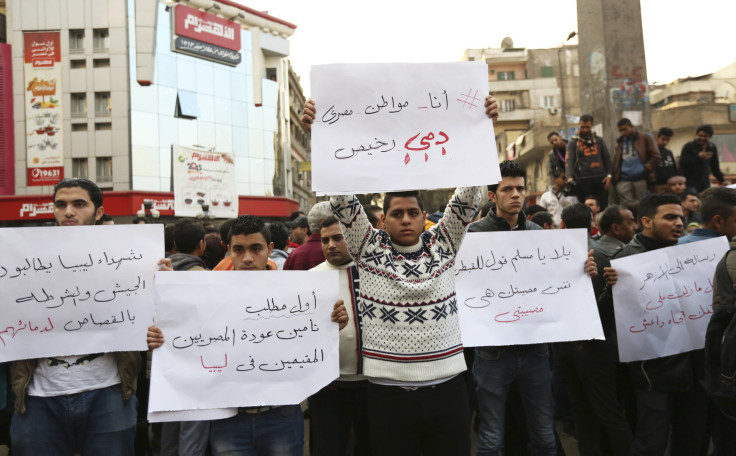 A year has passed since the Islamic State group released a video purportedly showing the beheadings of 21 Egyptian Christians in Libya, and now Egyptian activists are demanding answers. In a public call, the Egyptian Commission for Rights and Freedoms, a human rights group, demanded that Libyan authorities investigate the whereabouts of at least eight Christians who remain missing and chided the Egyptian government for remaining quiet, Middle East Eye reported Tuesday.
Appealing to Libyan and Egyptian authorities, the group recounts the events that led to the kidnappings. In one case, some of the victims were on their way back to Egypt, but were stopped at a checkpoint controlled by the extremist group, also known as ISIS, in their stronghold of Sirte, Libya. After asking them their religion, ISIS took the four Christians, while releasing an Egyptian Muslim colleague.
ISIS militants have managed to gain a foothold in Libya, which has been ravaged by civil war since an uprising, backed by Western countries, ousted and killed longtime dictator Moammar Gadhafi in 2011. Since then, a power struggle has erupted between two main factions, allowing militant and extremist groups to gain a grip on lawless parts of the country.
Copts, as Egypt's Christians are known, are among the world's oldest Christian communities. The mass execution last February of Egyptian Copts who were working in Libya sent shivers throughout Egypt's Coptic community, which has also been on the receiving end of violence in recent years. The extremist group's propaganda wing, Al-Hayat Media, released video of the alleged killings. Egyptian warplanes struck ISIS targets in Libya following the alleged executions, shortly after President Abdel-Fattah el-Sisi vowed revenge for the deaths.
The European Parliament unanimously backed a resolution earlier this month characterizing ISIS' targeting of religious minorities as genocide. The resolution states that those responsible for committing atrocities against minority religious or ethnic groups should be brought to justice. In Syria and Iraq, ISIS has taken aim at Christians as well as Yazidis, who adhere to an ancient religious tradition considered heretical by the extremists. Muslims remain the primary victims of ISIS violence, but thousands of religious minorities have fled its rule.
Christian communities across much of the Middle East have seen their numbers drop sharply in recent decades.
© Copyright IBTimes 2023. All rights reserved.