Egypt's President Meets Saudi King On His Inaugural Foreign Trip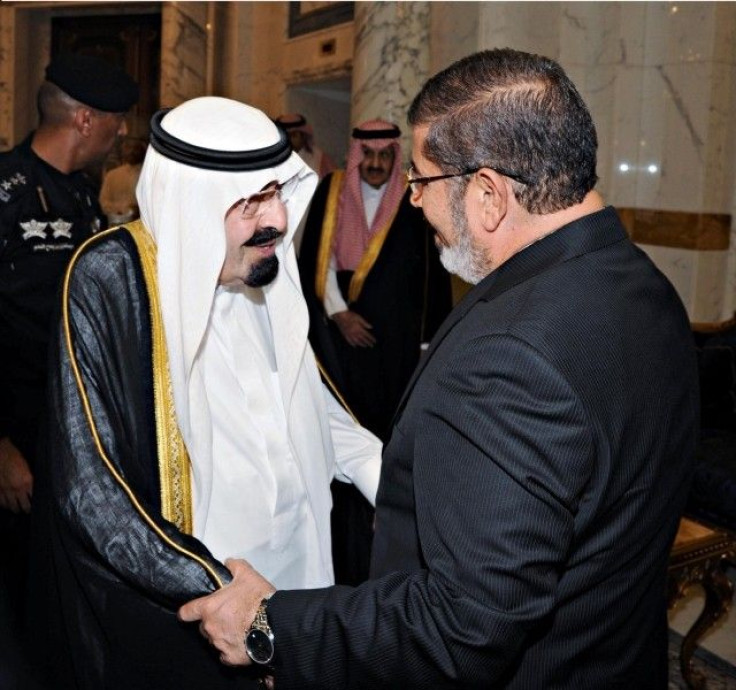 Egyptian President Mohamed Morsi arrived in Saudi Arabia Wednesday on his first foreign trip since taking office late last month, said the official Saudi Press Agency (SPA).
The President and the accompanying delegation was received by the Saudi Crown Prince Salman bin Abdulaziz Al Saud, who is also the Deputy Premier and Minister of Defense.
The Saudi envoy to Egypt had earlier said that King Abdullah had invited Morsi on a state visit to strengthen relations between both countries in all areas, including trade and investment cooperation, and that Morsi was careful to make Saudi Arabia his first visit abroad.
Egyptian-Saudi relations cannot be reduced to just economic ties. They are more encompassing than that, said the Saudi ambassador Ahmed Qattan earlier this week. He is also the kingdom's permanent representative in the Arab League.
King Abdullah and Morsi discussed means of enhancing cooperation between the two countries in various fields to serve the interests of the two countries and their peoples. The talks also dealt with regional and international developments, SPA reported.
The Muslim Brotherhood's Freedom and Justice Party candidate Morsi's choice for his inaugural foreign visit has sent a strong indication that the post-Mubarak Egypt is keen on reestablishing ties with the oil-rich Gulf kingdom, abating fears that Islamists in Cairo may shift the regional power balance in favor of Iran.
Though Islamists everywhere hailed Morsi's victory, Saudi Arabia, whose relations with the Brotherhood have been poor, had remained silent.
The Saudi King supported Hosni Mubarak during the Egyptian revolution last year, saying No Arab or Muslim can tolerate any meddling in the security and stability of Arab and Muslim Egypt by those who infiltrated the people in the name of freedom of expression, exploiting it to inject their destructive hatred, and condemned the people who tried to destabilize the security and stability of Egypt.
However, in February, signaling a reconciliation, Saudi Arabia had said that it will honor the commitment of the $3.75-billion financial aid to Egypt, in response to complaints from Egyptian Prime Minister Kamal Ganzouri.
Prince Saud Al Faisal, the Saudi Minister of Foreign Affairs, said that Riyadh had already paid $500 million of its total commitment to Cairo in May last year, when the aid was promised. Saudi Arabia had also sent a delegation from the Saudi Development Fund (SDF) to Egypt to discuss the developmental elements of the second tranche of the aid package, totaling $1.45 billion.
Saudi Arabia transferred $1 billion to Egypt's central bank in May in a move that could help Cairo secure a $3.2 billion IMF loan.
By inviting Morsi for a visit, the Saudi leadership has indicated that they are open to working with Morsi, regardless of his Brotherhood background.
Iranian President Mahmoud Ahmadinejad too has invited Morsi to a summit of the Non-Aligned Movement (NAM) nations to be held in Tehran in late August to promote undeniable and constructive cooperation between the nations, an Iranian government statement said.
Morsi replied that he hoped to meet Ahmadinejad during the summit.
Bilateral ties between Egypt, a predominantly Sunni Muslim country, and Iran with its Shiite majority, have been almost non-existent for the past 30 years, ever since the Egyptian President Anwar Sadat signed the peace deal with Israel following the 1978 Camp David Accords. The ties were further strained in the 1980s when Egypt supported Iraq in its war against Iran.
Any future ties between Egypt and Saudi Arabia are likely to depend largely on Egypt's approach to Iran as the Kingdom vehemently opposes Iran for providing support to Syria, and any sign of reconciliation between Cairo and Tehran is bound to anger the Saudi King.
© Copyright IBTimes 2023. All rights reserved.