'Elder Scrolls Online' DLC: 'Flames Of Ambition' Release Date, New Location And Gears Revealed
KEY POINTS
The "Flames of Ambition" DLC will feature a new character, more gear and two new dungeons
The DLC is the first chapter in the year-long Gates of Oblivion event in "Elder Scrolls Online"
It will release Monday for PC and March 16 for consoles
"Elder Scrolls Online" fans have a lot to look forward to this year, with new DLCs and a year-long event to top them off. The first DLC, dubbed the "Flames of Ambition," just got its release date revealed, along with a few tidbits surrounding its story and new equipment that players can aim for.
"Flames of Ambition" is the first chapter of the year-long Gates of Oblivion event for "ESO" that will have players scrambling to deal with the possibility of a Daedric invasion of Tamriel 800 years before the events of "The Elder Scrolls IV: Oblivion."
The Daedric prince Mehrunes Dagon will serve as this adventure's main antagonist, and the story will expose his many schemes and ambitions that eventually led to the Oblivion Crisis.
The "Elder Scrolls Online" DLC will introduce two new areas: The Cauldron and the Black Drake Villa. Both areas are four-player dungeons that are directly tied to the story. This will also introduce a new character: Eveli Sharp-Arrow, a Wood Elf scout with a big heart and an appetite for adventure.
Black Drake Villa will have three bosses and its own Hard mode, Bethesda says. The dungeon is set inside the eponymous estate and will have players hunt for a mysterious tome.
She can be seen in the Gates of Oblivion trailer that Bethesda released back in January along with Lyranth, the fan-favorite Dremora outcast.
The new dungeons will reward players with new weapons and armor as well as new collectibles.
Bethesda hasn't revealed much about the new equipment sets, but it did reveal the Kinras's Wrath set from the Black Drake Villa, a medium gear armor set that grants Major Berserk to the wearer and Minor Berserk to allies around them.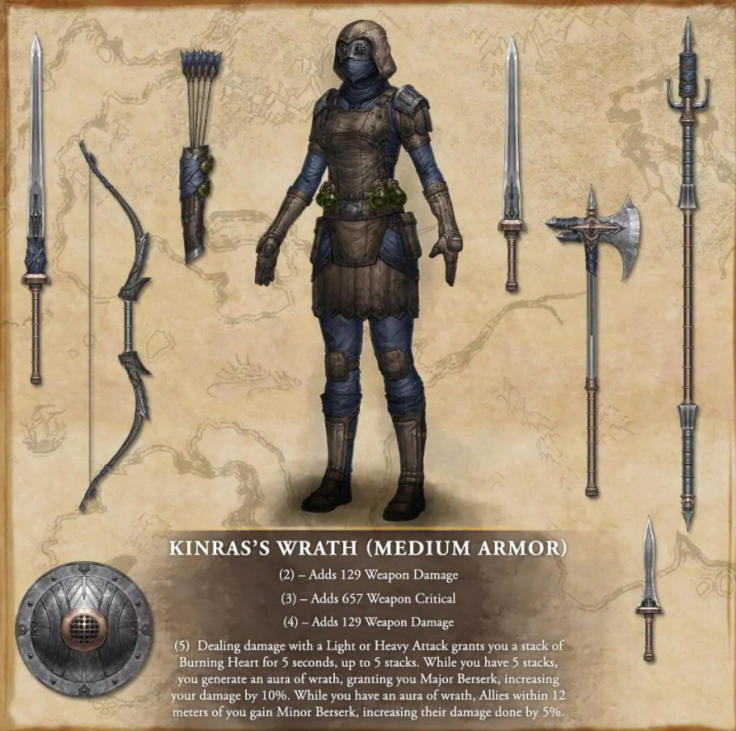 Meanwhile, The Cauldron may reward players with the Dagon's Dominion medium armor set that adds massive damage to area-of-effect attacks and abilities.
Bethesda also mentioned a new monster mask called "Encratis's Behemoth" that increases a party's flame resistance while making enemies more vulnerable to fire damage that drops from the Black Drake Villa. The Cauldron may reward players with the "Baron Zaudrus" mask that enhances Ultimate gain for every time a status effect is applied to enemies.
"Flames of Ambition" launches Monday for PC and Linux and March 16 for PS4 and Xbox One.
© Copyright IBTimes 2022. All rights reserved.
FOLLOW MORE IBT NEWS ON THE BELOW CHANNELS