Election 2016: Hillary Clinton, Madeleine Albright And The 'Place In Hell' Fight For Women's Votes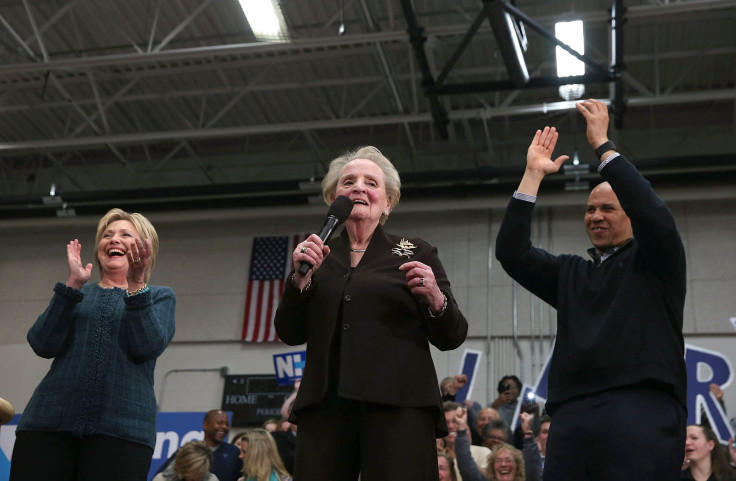 An op-ed piece in the New York Times might well be one of the most public ways to admit you have misspoken. The newspaper published such a piece Friday by Madeleine Albright, a past U.S. secretary of state and current Hillary Clinton supporter, who attempted to explain her controversial remark — made while campaigning for presidential hopeful Clinton in New Hampshire — that there is "a special place in hell for women who don't help each other."
The former diplomat is now moderating her tone.
"I absolutely believe what I said, that women should help one another, but this was the wrong context and the wrong time to use that line," Albright wrote in a piece titled "My Undiplomatic Moment."
"I did not mean to argue that women should support a particular candidate based solely on gender."
Describing herself as "an aging feminist," Albright said she has used the phrase about hell for almost 25 years, since she served as the U.S. ambassador to the United Nations. She also maintained her view on the importance of women continuing to help one another, especially when women still make less on the dollar than men and paid family leave is not a right across the country.
The scrutiny of Albright's statement underscores the closeness of the race for the Democratic presidential nomination between former Secretary of State Clinton and Sen. Bernie Sanders of Vermont and their battle for female voters. During their debate Thursday night, both candidates spoke about the importance of women's rights.
Clinton was specifically asked during the debate what women were "missing" about her after Sanders carried 55 percent of women voters in the New Hampshire primary election this week.
"I have spent my entire adult life working toward making sure that women are empowered to make their own choices, even if that choice is not to vote for me," Clinton replied.
Experts have listed many reasons why Clinton is not at the top of opinion polls among female voters, Politico reported. They include not realizing the "breadth of her vision" and "tone-deaf messaging."
While Clinton leads in the polls heading into the South Carolina primary election and the Nevada caucuses this month, women voters will be a key to victory for either Clinton or Sanders.
© Copyright IBTimes 2023. All rights reserved.