Elon Musk's Tesla Model Y Best Electric SUV In The Market?
If the recent reveal of Elon Musk's Tesla Model Y last March 14 was any indication, the newest electric crossover SUV is bound to become one of the best-selling vehicles in its segment.
For one, the Tesla Model Y is definitely a "sexy" vehicle, a statement Tesla CEO Elon Musk himself gave during its recent reveal at the Tesla Design Studio in Southern California.
"We are bringing sexy back quite literally," Musk said of the mid-size SUV, which completes the Tesla line of Models S, 3, and X.
The sleek and modern design of the latest Tesla vehicle has garnered a lot of interest in both consumer and motoring media. But it is definitely the overall features of the SUV that are bound to make it a hit in the SUV market.
Much like how the Model 3 was to Tesla's Model S, the crossover SUV is poised to become a more affordable and friendlier version of the Model X. It is designed to use around about 70 percent of the Model 3's parts so ramping the production of this model is already established and won't be as difficult. This also makes the Model Y more affordable.
The Model Y and Model 3 will share a similar panoramic glass roof and dashboard design and is set to have a semi-autonomous driving system. The Tesla CEO also assured that the Model Y will have full self-driving features by the end of 2019, a promise he earlier made during a podcast.
In an earlier report, Musk predicted that Model Y is bound to be Tesla's best-selling vehicle yet.
"The demand for Model Y will be maybe 50 percent higher than Model 3, could be even double," Musk said during a conference call with investors last February.
The Model Y will also be able to hold its own compared to other electric SUVs in the market today. According to a report, compared to more affordable models like the Hyundai Leaf and Kona, the Tesla crossover vehicle is significantly larger in terms of length and volume. This is a plus, especially in the American market which prefers a larger vehicle.
The new Tesla SUV is bound to perform well in the U.S. as motorists are seen to slowly veer away from purchasing sedans. This trend is seen as American car brands like General Motors, Ford and Fiat Chrysler are seriously considering plans of stopping their production of sedans in the near future.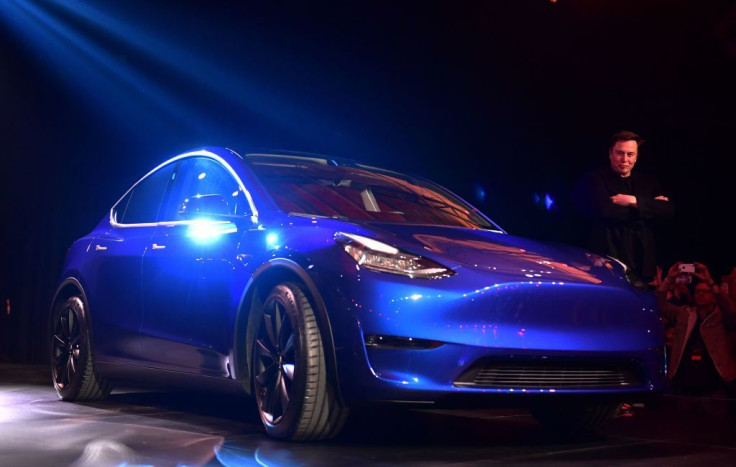 © Copyright IBTimes 2023. All rights reserved.
FOLLOW MORE IBT NEWS ON THE BELOW CHANNELS