Elon Musk's Twitter DAU Chart Agitates Users, Fueled After Chaotic Layoffs
KEY POINTS
Musk tweeted an uptick chart of Twitter's daily active users
He says "Twitter feels increasingly alive"
Per Statista, Twitter's monetizable daily active users (mDAU) showed a slight increase compared to Q1.
Elon Musk, the new Twitter boss, seems to be celebrating over barely bullish signs of Twitter's daily active users (DAU). It is raining bad news for crypto after the FTX collapse, but there is a sliver of hope for Dogecoin (DOGE) as an uptick in Twitter DAUs could help it.
Musk, on Tuesday, tweeted a chart showing an uptick in Twitter's DAU, in the last 180 days. Per the image, active Twitter users increased from 243.2 million to over 245.6 million within a span of three months. Musk said Monday that Twitter feels "increasingly alive."
With Doge's price tied up in one person's whims and tweets, who also now controls Twitter, it could be argued that the value of the memecoin could possibly see an increase, given the slight surge in Twitter's DAU.
However, Doge price hasn't moved much after Musk's tweet this morning at 2.50 am. The built-as-a-joke coin was seen trading at $0.087, a slight increase from $0.086, following his tweet.
The tweet attracted mostly negative comments from users, who were agitated by the mass layoffs and chaos at the social media giant.
The CEO of Tesla Inc. and SpaceX, and now Twitter, culled its vast rank of contract staff on Saturday, after booting half its employees earlier this month.
One Twitter user wrote to Musk's DAU chart, "not a big change despite all the drama. Could be seasonal too." Another noted that a 1.2% rise in DAU seems "small compared to the fantastic drama show that is twitter intermittent updates and failures."
Twitter Internal Document Says Decline in Heavy Users
However, the news seems to contradict what Twitter's internal documents stated.
A report last month stated that Twitter is struggling to keep its most active users, who are crucial to the business. Per a Reuters report, "heavy tweeters" – the most active users - generate 90% of all tweets and half of global revenue. However, they account for less than 10% of overall monthly users.
According to an internal document compiled by a Twitter researcher and seen by Reuters, there has been an "absolute decline" in these heavy tweeters since the pandemic.
The research, dubbed "Where did the Tweeters Go?", also found a shift in the interests of Twitter's active users over the past two years.
"We regularly conduct research on a wide variety of trends, which evolve based on what's happening in the world. Our overall audience has continued to grow, reaching 238 million mDAU in Q2 2022," a Twitter spokesperson told the publication, mentioning the acronym for monetizable daily active users.
Data from Statista also noted that the second quarter (Q2 2022) had 238 million Twitter users worldwide, a 9% increase compared to the first quarter (Q1 2022).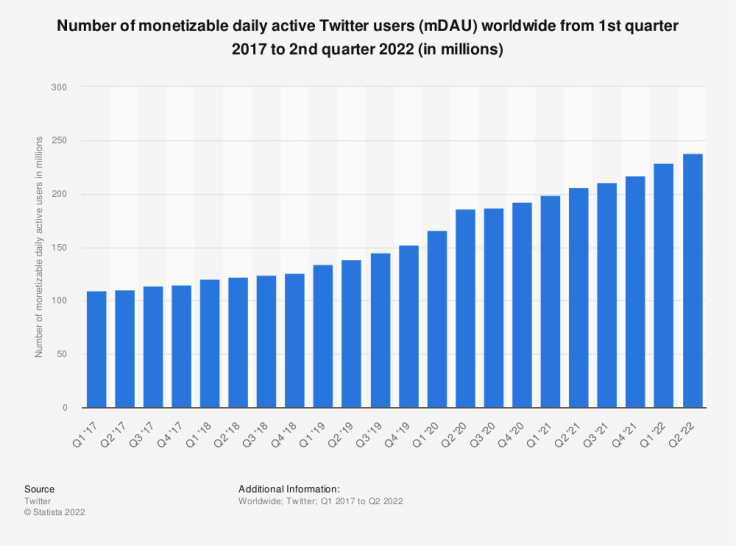 However, the surge slowed down soon after Musk's Twitter acquisition, given that heavy users shifted to rival platforms like Meta's Instagram and Mastodon.
Mastodon, the decentralized social networking platform, which has been circling hogging the headlines recently as an alternative to Twitter, reported a spike in its monthly active users. Last week, the company's 29-year-old CEO and lead developer Eugen Rochko posted that the platform has eclipsed 1 million users.
The German-based social network especially saw a rapid spike in active users since Musk's Twitter acquisition. Wiki states that as of 12 November 2022, there are a total of 6.63 million accounts in Mastodon when compared to 5.65 million on October 28.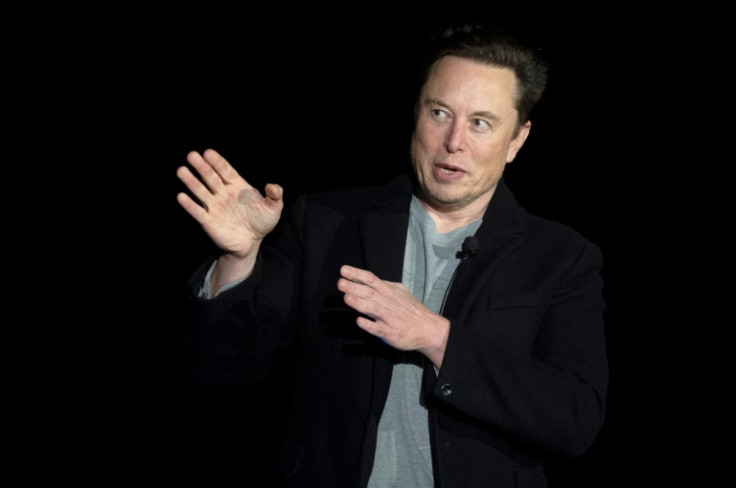 © Copyright IBTimes 2023. All rights reserved.
FOLLOW MORE IBT NEWS ON THE BELOW CHANNELS