Emerging Powers Ready To Give Billions To IMF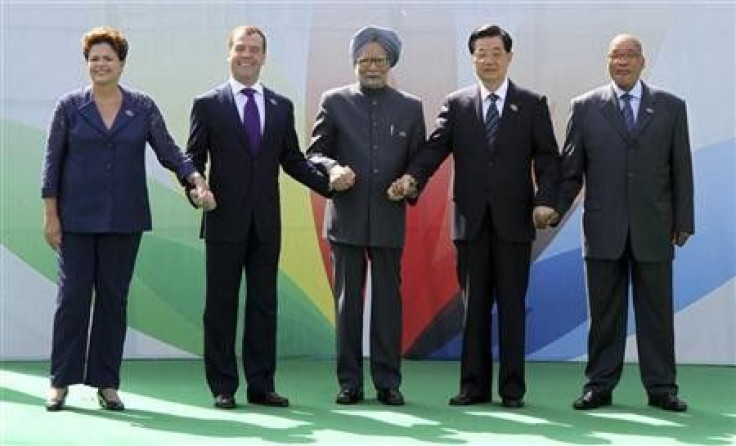 (Reuters) - Major emerging powers stood ready on Friday to pledge money to bolster the International Monetary Fund's crisis-fighting war chest, though Brazil was holding out for promises that their voting power at the global lender would increase.
Russia said that G20 advanced and emerging countries were ready at a meeting on Friday to commit enough new funds to fulfill IMF chief Christine Lagarde's request for at least $400 billion to draw a line under the euro-zone crisis. Russia itself, he said, would offer $10 billion.
Trust me that the G20 will announce the final amount. This will be an amount that will satisfy the management of the International Monetary Fund, said Sergei Storchak, Russia's deputy finance minister.
Support from Russia, China and Brazil is crucial to achieve the doubling of the IMF's war chest the global lender is seeking. Europe and Japan already have pledged $320 billion. An international diplomat said that in all, emerging nations have lined up at least $100 billion.
The IMF has warned that the euro zone's debt crisis presents the gravest risk to the global economic expansion, and financial markets worry that Spain and Italy may next require bailouts, following Greece, Ireland and Portugal.
Enlarging the IMF's coffers could offer solace to nervous investors that any widening of the crisis could be contained. Lagarde said on Thursday she expects to seal a deal on fresh funds at the World Bank/IMF meetings this weekend.
But Brazil said that as a condition for funds, emerging powers want fresh pledges to recognize their fast-growing global economic weight written into the G20 communique. They are frustrated over delays - particularly by the United States - in implementing an agreement to lessen Europe's sway at the IMF and lift China into the No. 3 voting slot.
What we want and demand in every meeting is that this commitment be reaffirmed, Brazilian Finance Minister Guido Mantega said Thursday after a meeting of officials from the so-called BRICS nations - Brazil, Russia, India, China and South Africa.
Mantega drove the point even more forcefully in a speech prepared for delivery on Saturday to the IMF's steering committee, saying it was no longer enough to simply repeat that voting reforms are crucial for the effectiveness of the IMF.
Progress on this front has been limited and slow, he will say, according to the text.
Canada, meanwhile, is pushing against Europe's dominance on the IMF's 24-member board. It wants to hold two votes when the IMF decides on how to use its new resources - one by euro zonecountries and another by others. The idea would be to dilute Europe's power on euro-zone-related issues.
This drive reflects growing concern among non-European countries over the fairness in the global lender's dealings with Europe. The region has the largest single bloc on the IMF board and the Fund is headed by a French woman.
Given that the major challenge here is a sovereign debt challenge in euro-zone countries, and that euro-zone countries are asking non euro-zone countries to contribute to resources at the IMF, our view is that there ought to be two votes, said Canadian Finance Minister Jim Flaherty.
He has gained a sympathetic ear, South Korean Finance Minister Bahk Jae-wan, who said: Their recommendation merits some consideration.
Still, funds were near to being sealed. The international diplomat said some countries may need to get final approval from their capitols, so any firm deal may have to await a meeting of G20 leaders set for June and that final sums remained unclear.
China could contribute $60 billion, matching Japan's pledge, although Beijing had not finalized the number. Saudi Arabia would chip in a little less than China, while Russia and Brazil were likely to contribute between $10 billion and $20 billion each, the diplomat said.
This would easily reach the marker of at least $400 billion set by Lagarde. The firewall would complement the $1 trillion in emergency funds for Europe agreed upon by the EU leaders last month, which was another precondition for countries bolstering the IMF resources.
© Copyright Thomson Reuters 2023. All rights reserved.