The End Of Julia Gillard: Australian Prime Minister Loses Party Leadership, Quits Politics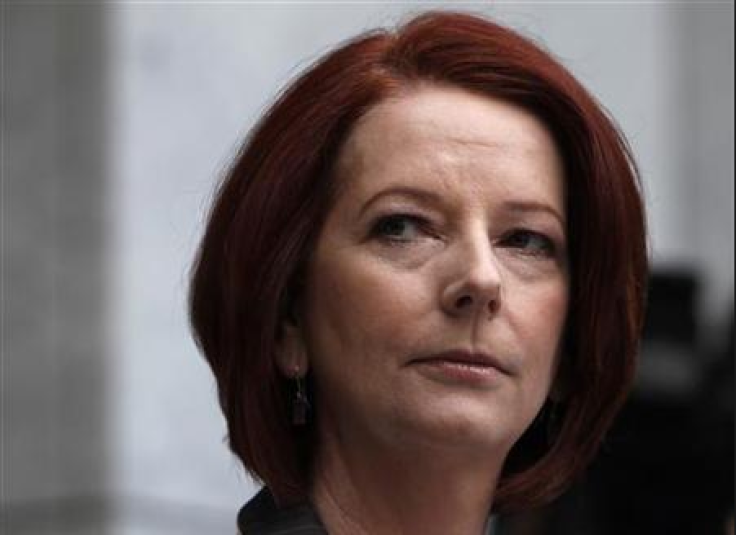 Julia Gillard, Australia's first female prime minister, has withdrawn from politics after she was ousted Wednesday as the leader of the country's Labor Party by her principal rival, Kevin Rudd (the man she replaced as PM only three years ago). In a leadership ballot held at a special caucus meeting of Labor MPs and senators, Rudd won handily, 57 votes to 45 for Gillard.
"Three years ago I had the very great honor of being elected as Labor leader. ... This privilege was truly humbling," she said in a farewell statement. "I will not re-contest the federal electorate ... at the forthcoming election." Referring to internal divisions within her party as well as a lack of majority control in parliament during her tenure, she lamented, "It has not been an easy environment to work in."
Gillard also alluded to the ill treatment she has been subjected to due to her gender, but remained confident that her breakthrough will make it easier for women in the future to enter and prosper in high-level politics. "What I am absolutely confident of is it will be easier for the next woman and the woman after that and the woman after that, and I'm proud of that," she declared.
A number of senior ministers who supported Gillard, including Treasurer Wayne Swan, Climate Change Minister Greg Combet, and Trade Minister Craig Emerson, have also resigned.
As for Rudd, he praised Gillard, telling reporters in Canberra that she did her job with ''humility, with honor, and with an important sense of energy and purpose'' and also called her a ''remarkable reformer." But he also cautioned that Gillard had largely failed as a leader. ''There has just been too much negativity all round,'' he added. "'I simply do not have it in my nature to stand idly by and to allow an Abbott government to come to power in this country by default,'' referring to chief opposition leader Tony Abbott.
The Sydney Morning Herald reported that Rudd could call an election as early as Aug. 3, although Gillard's original schedule had envisioned a Sept. 14 poll.
Not surprisingly, Abbott criticized the musical chairs played by Labor. "Yet again the power brokers of the Labor Party have changed the prime ministership of our country," he said. "I want to say directly to the people of Australia, you deserve better than this. … In 2007, you voted for Kevin and got Julia. In 2010, you voted for Julia and got Kevin. If you vote for the Labor Party in 2013, who knows who you'll end up with."
Rudd will not officially become interim prime minister until he is commissioned by the governor-general, Quentin Bryce, who is the British queen's representative as head of state. Bryce also must sanction Gillard's resignation.
Christine Milne, the leader of the Green Party, commented on the unusual constitutional issues raised by Rudd's sudden re-emergence. "Clearly there will have to be visits to the governor-general," she said. "[Bryce] will have to make decisions in these circumstances. And we will be observing and considering what happens in the next 24 hours."
But Rudd's victory may be hollow and short-lived – polls suggest Labor will lose the general election, even though Rudd is more popular than Gillard.
Nick Bryant, a BBC correspondent, commented that Rudd has nonetheless "exacted revenge" because Gillard, his one-time ally and deputy, deposed him in 2010. "Ever since he was removed from the prime minister's office, he has sought to destabilize her leadership," he wrote. "This has been a very personal feud."
Michael Gordon, the political editor for The Age newspaper, remarked that this latest imbroglio represented the "most poisonous, inglorious chapter" in modern Labor Party history.
© Copyright IBTimes 2023. All rights reserved.
FOLLOW MORE IBT NEWS ON THE BELOW CHANNELS