Peddlling Rumors: Australian Radio Host Fired For Suggesting Julia Gillard's Hairdresser Boyfriend Is Gay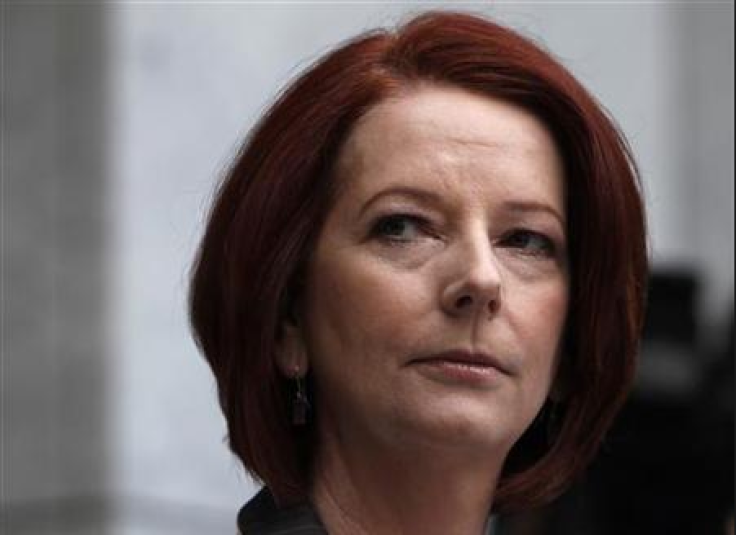 Less than three months ahead of national elections, Australian Prime Minister Julia Gillard has found herself in the middle of another maelstrom -- a local radio host has been fired after he asked Gillard if her boyfriend was gay. On a live broadcast on Thursday, Howard Sattler, a longtime 'shock jock' at 6PR Perth radio, asked Gillard if her partner of seven years, Tim Mathieson, is homosexual since he has worked as a hairdresser. Gillard maintained her decorum, but noted the question was absurd.
According to Agence France Presse, the exchange went like this:
Sattler: "Tim's gay. That's not me saying it, that's a myth."
Gillard: "Well, that's absurd."
Sattler: "Yeah, but you hear it, he must be gay, he's a hairdresser."
Gillard: 'It's absurd, isn't it? To all the hairdressers out there, including the men who are listening, I don't think in life one can actually look at a whole profession full of different human beings and say, 'Gee we know something about every one of those human beings.' I mean it's absurd, isn't it?"
Sattler: "You can confirm that he's not [gay]?"
Gillard: "Oh, Howard, don't be ridiculous, of course not."
Some observers in Australia cite this latest episode as the kind of sexist and chauvinistic treatment that Gillard -- the nation's first-ever female Prime Minister -- has received from the press and opponents during her three tumultuous years in office.
The Sydney Morning Herald reported that the general manager of 6PR Perth radio, Martin Boylen, terminated the Sattler's contract on Friday, one day after he was suspended. The station read a statement on air in which it apologized "unreservedly" to Gillard for allowing Sattler to ask questions about Mathieson's sexuality.
Sattler was shocked by his sudden dismissal and may take legal action against his former employer. "I've given 28 years of my life to this station," Sattler told WAtoday, an online newspaper in western Australia. "I don't want a medal or anything for it but I've done a lot of good for a lot of people. I'd like to think I could have done more good."
But the general public and other broadcasters have largely condemned Sattler, who later apologized. Derryn Hinch, a former broadcaster and commentator, called Sattler a coward. "This is just low-life stuff and Howard is being a coward on this," he said. "This was low life and it diminished the office of prime minister." Hinch added: "I thought the prime minister showed a lot of class, a lot of style. She should have leaned across the desk and slapped his face."
Ray Hadley, Sydney radio hoist, also blasted Sattler. "Of all the things ... I could ask her, [her boyfriend's sexuality] would be the last thing I would choose to ask the prime minister," Hadley told Australia's ABC radio.
Even Kevin Rudd, Gillard's principal rival in the ruling Labor Party, came to her defense. "Sattler should hang his head in total shame," Rudd said. "What base attitude gives rise to questions like that? It's just wrong."
On a broader scale, the incident reflects the double standards women in high political often face. Elizabeth Broderick, Australia's Sex Discrimination Commissioner, told the Australian Broadcasting Corporation that women in public office have to endure "significant demeaning attitude, sexist questions [and] invasive questioning." "It's got to stop because we want women in public office, we want women to step up and be part of a decision-making of this country ... [but] women and young women are put off by what they see," she said.
Gillard herself suggested that such treatment may dissuade young women from seeking careers in politics. "I don't want to see a message like that sent to young girls," she told reporters. ''I want young girls and women to be able to feel like they can be included in public life and not have to face questioning like the questioning I faced yesterday."
Gillard, who is 51 years old and has never been married, has long been the subject of rumors and innuendos, while suffering negative comments about her appearance, hair, clothes and other superficial aspects of her persona.
Stephanie Peatling, a columnist for the Herald, asked rhetorically: "Would male PMs face the same treatment?" And she wrote: "We inhabit a landscape where people feel it is okay to appear at protests holding signs calling the Prime Minister a 'witch,' a 'bitch' and a liar. Imagine what would happen if … a radio host asked Opposition Leader Tony Abbott if his wife was a lesbian? Or if a television interviewer asked Treasurer Wayne Swan about his sex life? Would they even try? I suspect not because men don't do that to other men."
Peatling added: "This is just another example of a man [Sattler] unable to cope with the idea of a powerful woman and subjecting her to treatment he would never dream of meting out to a man."
Other prominent female politicians and public figures -- including Hillary Clinton, Janet Napolitano and Elena Kagan -- have also been gossiped about with respect to their sexual orientation. Ironically, despite ongoing rumors that she might be a lesbian, Gillard has publicly opposed same-sex marriage.
© Copyright IBTimes 2023. All rights reserved.
FOLLOW MORE IBT NEWS ON THE BELOW CHANNELS