'Enlisted' Cast Talk About New Fox Pilot, Hanging Out Naked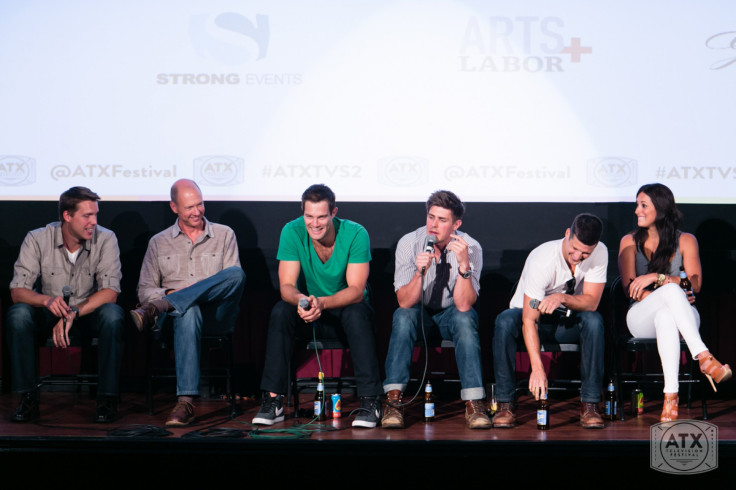 I'm calling it right now -- "Enlisted" is going to be THE new comedy to watch this Fall. How can I be so confident? The creator, Kevin Biegel, bought the ATX Television Festival crowd off with a round of drinks.
Biegel, who also brought us "Cougar Town," joked with the audience before the screening of "Enlisted's" pilot, saying that the free booze will make everyone laugh harder. Well, since I never got my drink (I think the waiter thought my ID was fake … it wasn't), I can tell you dead sober that it's completely hysterical without getting juiced.
"Enlisted" centers around Sgt. Pete Hill (Geoff Stults), who, after doing a slightly unprofessional stint in Afghanistan, is sent to a rear detachment unit in Florida. There he reunites with his goofy brothers, Randy (Parker Young), and Derrick (Chris Lowell), and leads their dysfunctional ragtag squad.
With a great supporting cast, "Enlisted" gives an "Office" type of feel, complete with quick one-liners from a bunch of bizarre characters. (Can they recruit Creed Bratton?) Hilarious lines from the pilot include, "I'll put my privates up against your privates any old day," and, "I'm going to go watch 'The Hurt Locker' to cheer myself up."
The cast and executive producers Kevin Biegel and Mike Royce sat down with reporters after the screening to talk about pilot and what it was like working together.
Angelique Cabral, who plays Sgt. Jill Perez, an overall badass and potential love interest for Sgt. Pete Hill, explained that part of their campaign for the new series will be visiting bases. "We want to connect with the army," she explained. "It's a huge audience and we want to make sure that we are making them proud." "It's definitely important to Mike [Royce] and Kevin [Biegel] and the rest of us that we're doing something the people in the service can watch and be proud of and enjoy."
To do that, the cast worked with a military consultant, who, Lowell explained, made sure "we weren't making complete fools of ourselves." Stults added that "Basically everybody knows that actors, we're just idiots, so they don't let us screw things up. We have a baby-sitter to make sure we do the military right."
But besides getting the military logistics down, Stults, Lowell and Young, who had never met before, had to pull together to convince the audience that they are three brothers -- something that definitely comes off on-screen and off-screen.
"These guys, for better or for worse, think that they're actual brothers," Biegel laughed. "They want to hang out with each other, get in fights and give each other hugs. Jeff's the oldest brother, Chris, is the middle brother, Parker is the youngest brother. Parker follows Jeff around like a puppy dog, Chris is the one in the middle making fun of them."
To give an idea of how close the guys got on set, Stults told a story that when they were on break from filming he was in his home doing laundry -- naked -- when he turned to find Young walking out of the guest room. "He was like, 'What's up dude,'" Stults said. "I was like, 'This is my f***ing house. What are you doing here?'" He laughed, saying that Young just didn't want his character to end. "This was 3 a.m., we were both butt naked," Young chimed in. "Not together, that can be misconstrued."
A hilarious comedy about brothers and the military, there is also a little something in "Enlisted" for those looking for romance. "Originally we butt heads," Stults said of his character and Cabral's Sgt. Jill Perez. "But I think she's going to take a run at every brother," he joked. "It will be interesting to see how it evolves. She's just part of the family, whether it's a love interest or not. She's either going to be a love interest or a sister. And even if she's a sister we can still go love interest, it depends how you want to go."
"Jeff's character comes into the show being this straight-laced, hard working, successful soldier," Lowell continued about Hill and Perez's relationship. "Just being in the proximity of his two brothers, he digresses and talks about being a kid in a lot of ways. So what's nice about having Angelique around, her character really stands out as being the actual stand-up, do-right, sort of most-successful, most committed, focused soldier -- role model."
You can catch "Enlisted" on Fridays this fall on Fox. As Royce explained, "It's such an amazing untapped workplace." We suggest you check it out!
FOR FREE to continue reading
✔️ Unlock the full content of International Business Times UK for free
offer available for a limited time only
✔️ Easily manage your Newsletters subscriptions and save your favourite articles
✔️ No payment method required
Already have an account?
Log in
© Copyright IBTimes 2023. All rights reserved.