EPA Says It Will Stop Sponsoring Annual Climate Leadership Awards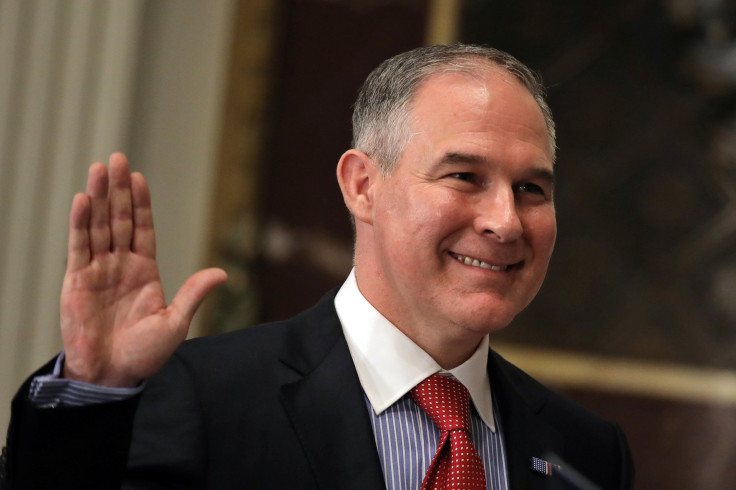 The U.S. Environmental Protection Agency (EPA) announced it will no longer sponsor the 2018 Climate Leadership Awards program, an annual event that honors those who take action towards combating climate change. The agency also said it will no longer sponsor the Climate Leadership Conference, which leads up to the awards ceremony.
The announcement comes as climate change skeptics in President Donald Trump's administration dismantle solutions imposed by President Barack Obama's administration to decrease humans' carbon footprint. Trump and other Republicans, including EPA head Scott Pruitt, have continuously denied climate change. Trump previously said global warming was a hoax invented by the Chinese, promised to bring the coal industry back and pulled the U.S. out of the Paris Climate Agreement in June.
The EPA has previously co-sponsored the event with NGOs Center for Climate and Energy Solutions (C2ES) and the Climate Registry (TCR). The event is a national awards program that honors corporate, organizational, and individual leadership in response to climate change. The program was established in February 2012 during the Obama presidency and has recognized more than 115 recipients.
On the 2018 awards' page, the EPA statement read in bright red letters:
"The Agency has decided to discontinue the U.S. Environmental Protection Agency's (EPA) involvement with the 2018 Climate Leadership Awards program. This includes canceling the 2018 Climate Leadership Awards as well as EPA's sponsorship of the Climate Leadership Conference."
An EPA spokesman told Reuters the move to back away from the awards shouldn't be a shock.
"It shouldn't be a surprise to anyone that we don't plan to fund an awards ceremony on climate change," EPA spokesman Jahan Wilcox said.
The Trump administration's proposed budget for 2018 will cut funding for the EPA by 31 percent, which directly impacts climate change initiatives. Given the cuts, the EPA won't spend money on the awards. The agency spent nearly $25,000 a year to sponsor the event, not including travel and staff time for managing the program.
In a statement, Ann McCabe, executive director of The Climate Registry, and Bob Perciasepe, president of the Center for Climate and Energy Solutions, said the were "disappointed" about the EPA's decision to drop out of the awards and thanked the agency for its participation in previous years.
"We believe it's more important than ever to encourage and recognize climate action by businesses, organizations, local governments, and individuals to reduce the man-made emissions that are causing our climate to change," McCabe and Perciasepe said. "We're eager for opportunities to build new partnerships to ensure the 2018 Climate Leadership Conference and Awards are better than ever."
The organizations said they "will be stepping up to ensure both events continue to thrive." The conference and awards program will kick off Feb. 28, 2018, in Denver.
© Copyright IBTimes 2022. All rights reserved.
FOLLOW MORE IBT NEWS ON THE BELOW CHANNELS