Europe Refugee Crisis: How Retirees In Germany Are Helping Syrians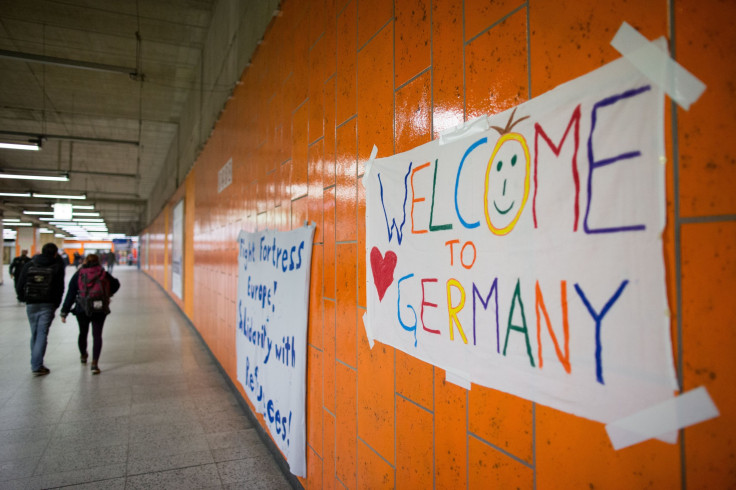 Arabic music and shisha smoke mingle in the air in Georg Altenkamp's apartment in the northwestern German city of Gelsenkirchen every weekend. As the foreign beats linger in the background, Altenkamp alternates between cooking halal food, discussing the differences between Islam and Christianity, and teaching German to Mohammad, a 16-year-old Syrian refugee he welcomed into his home this fall after the 67-year-old retired from his job as a school principal.
"For me, I had the question of: What shall I do when I retire? I decided to stay here and help other people just like Mohammad," Altenkamp said. "This was a good situation for me personally. I am very happy about it. It is something I am proud about."
As Germany continues to grapple with an influx of over 1 million refugees in 2015 and the potential for similarly high numbers this year, retirees are stepping in to volunteer and fill the gap. Free time, financial security with pensions, German language skills and life experiences have all factored into retirees' making up more than a quarter of the country's volunteers, and some organizations would like to see more of them help out.
"They make up an important part of the volunteers," said J. Olaf Kleist, a research fellow at the Institute for Migration Research and Intercultural Studies at the University of Osnabrück in Lower Saxony, who has been studying Germany's volunteer population and what motivates them. "Often people try and continue to provide their expertise, and retirees often try and do the same things they used to do now for refugees."
Over 20 percent of Germany's population of 80 million is 65 or older, according to Eurostat. Kleist's research, based on online surveys, has found that the majority of volunteers in Germany say they are financially secure, but the largest group of volunteers is young women in their 20s and 30s.
"It is not a fully tapped [resource]; you have to reach out more to the community to early-retired and retired people," said Sven Lager, 50, who runs Refugio Berlin, a program that provides housing and integration services to refugees. He said one of his most successful volunteers is a woman in her early years of retirement who helps with language courses.
For Altenkamp, volunteering his time has meant helping Mohammad learn German so the two no longer have to communicate using broken English and the occassional aid of an Arabic translator.
Mohammad's journey to Germany is typical of many refugees who have fled Syria amid the civil war that began in 2011, which has displaced millions and left over 250,000 dead. The tall boy, who looks older than 16, fled Damascus in July 2015, leaving behind his parents, two sisters and two brothers.
Mohammad met Altenkamp in October when he was staying at a camp for refugees, a place he never expected to leave with so many people arriving in Germany and a shortage of available housing. Altenkamp was looking to volunteer when the two encountered each other and soon formed an easy relationship.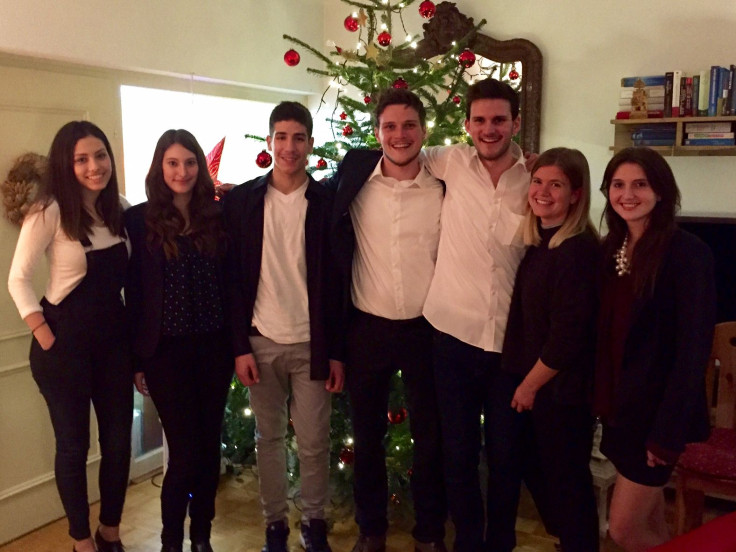 "Georg is not my father, but he is a real friend," Mohammad told International Business Times in an email.
Mohammad describes Germany in simple terms as a country with no war — a place where he wants to build a future. He speaks with his family in Syria regularly over Skype and hopes to someday be reunited, but for now they are happy with his living situation. Altenkamp and his girlfriend, Stefanie, have introduced Mohammad to both of their families to help him adjust to life and build a community of friends and contacts. Mohammad has been making friends at school and said his new best friend is Altenkamp's dog, Tinto.
At the Berger Feld Comprehensive School where Mohammad is now a student and Altenkamp was headmaster for 23 years, teachers have come out of retirement to help as additional classes have been created for new arrivals. The school, in the North Rhine-Westphalia city of Gelsenkirchen, with 1,400 students and a strong sports focus, has welcomed refugee students from conflicts such as the Yugoslav wars in the 1990s.
"There is a lack of teachers, and this is why retired teachers said, 'OK, I will come back for another six months or year, and I will have a part in the situation.' This is what people do and what they love to do," Christian Krabbe, a Berger Feld English teacher, said.
Germany's Ministry for Family Affairs launched a 10 million-euro program — Menschen Stärken Menschen (People Support People) — at the end of last month looking for guardians, mentors and host families for refugees. The ministry estimates 59,000 children arrived in Germany last year without their parents, and Federal Family Affairs Minister Manuela Schwesig has argued that mentors and host families, including retirees, will help young refugees better adjust to life in a new environment.
"The quality of guardians varies a lot depending on who you end up with," said Victoria Rietig, a policy analyst who specializes in child migration flows for the Migration Policy Institute, a think tank headquartered in Washington, D.C. She said the German government has sped up the time it takes to process asylum applications, but social workers can still be overstretched and responsible for several minors at once.
Asylum-Seekers from Syria in Germany by Month | FindTheData
Amid the growing crisis, pressure is building on German Chancellor Angela Merkel to reverse or curtail her open-arms refugee policy. A recent poll found almost 40 percent of Germans thought Merkel's policy was reason enough for her to step down, Deutsche Welle reported. Right-wing parties espousing anti-refugee and closed-border stances have also gained support in recent months. But despite the heated debate over whether Germany should keep accepting refugees, many retirees remain eager to volunteer, aid groups said.
"Germany's political environment has changed quite a bit since summer, many people being quite resent[ful] — and fearful of the recent developments. However, while we have seen a decrease in donations and rooms offered to us, the number of volunteers has remained steady," said Sophie Mirow, a project coordinator in Germany for Refugees Welcome, a volunteer effort matching refugees with people who have rooms to offer or can help refugees navigate their lives in a new country.
Of the program's approximately 300 volunteers, Mirow estimated 20 percent are retirees. She has observed the patience they bring to their interactions and the connection some have to memories of past refugee crises because of Germany's history with World War II and communism.
While many of Altenkamp's colleagues and friends are volunteering with refugees, he said he is the only retired person he knows of in his area who has opened his home. He said fear and media reports after the New Year's Eve attacks in Cologne, in which hundreds of women were robbed and sexually assaulted by men, allegedly including refugees, are holding people back.
"I feel a little bit of shame about it. We are all in good situations here in Germany, and I can't understand why more people don't do like I did," Altenkamp said. "OK, it's a personal decision always, but I can't understand it. It was a good decision for me and for Mohammad."
© Copyright IBTimes 2023. All rights reserved.