European Commission Wants Punitive Tariffs Placed On Solar Panels Made In China, But At Least 15 Member States Oppose The Measure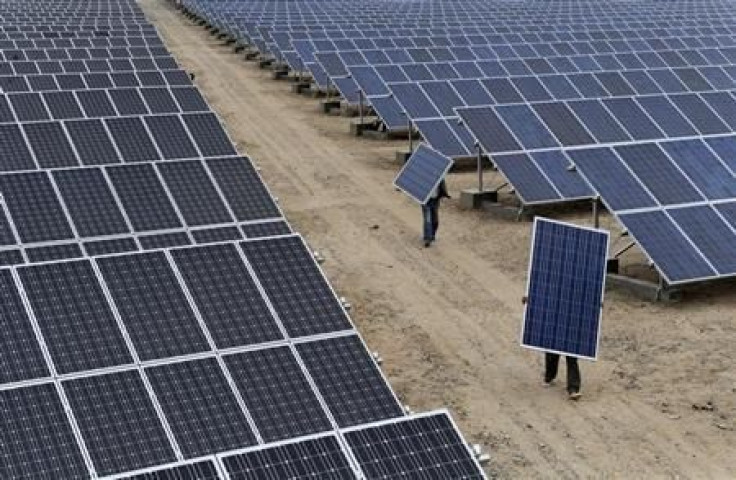 Most European Union member states oppose a European Commission plan to slap China with import tariffs on its solar panels, a move the EU's executive branch claims is necessary to combat unfair competition in green technology from the Asian giant.
The EC, which is the administrative arm of the 27-member European Union, is accusing China of dumping its cheaper panels in the European market. It says it'll retaliate by imposing from June 6 a large tax on $27 billion worth of Chinese solar panel imports, averaging 47 percent above the current price. Chinese trade officials say the move would sully relations with Europe and could lead to retaliatory measures. China commands about 80 percent of the European solar panel market.
European Commission Trade Minister Karel De Gucht met informally with Chinese Vice-Minister of Commerce Zhong Shan on Monday in Brussels to discuss the issue as well as a separate dispute involving mobile telecommunications companies Huawei Technology Co. Ltd. (SHE:002502) and ZTE Corporation (SHE:000063), which have also been accused of dumping their products on the EU market.
Despite Brussels' strong-arm approached to what it says are unfair trade practices, at least 15 of the EU's member states oppose the EC's attempts to start a trade war with China, according to a survey conducted by Reuters.
Leading the way against the move is Germany, whose SolarWorld AG (FRA:SWV), a Bonn-based solar panel manufacturer, initially raised the dumping complaint. The EU initiated an anti-dumping investigation in September at the request of EU Pro Sun, an industry association. Chinese Premier Li Keqiang and German Chancellor Angela Merkel met Sunday in Berlin and called for an end to the solar panel and the mobile telecom dumping disputes.
"There is no need for more sanction measures," German Economy Minister Philipp Roesler told the press on Monday.
The issue has pitted Germany against France, which insists China should be subjected to retaliatory measures for selling solar panels in Europe for less than the cost of producing them in China.
"Countries that use protectionism, and China is one of them, should accept reciprocal rules," French Industry Minister Arnaud Montebourg told reporters on Monday.
Meanwhile, the EC trade commissioner suggested that European opposition to imposing tariffs on Chinese solar panels is coming after China exerted pressure on certain member states.
"Commissioner De Gucht . . . made it very clear to the vice-minister [Zhong Shan] that he was aware of the pressure being exerted by China on a number of EU member states which explains why they are positioning themselves as they are in their advisory positions towards the European Commission," the EC said in a statement.
Among the EU states opposing the move to impose tariffs include the U.K.
"What's going on here is that solar is being used as a pawn in this whole political process and the precedent that is set here is likely to be followed through with other antidumping cases," Paul Barwell, chief executive of the U.K. Solar Trade Association, told the BBC. Italy has joined France in supporting the tariffs.
© Copyright IBTimes 2023. All rights reserved.