European Markets Fall As Economic Concerns Persist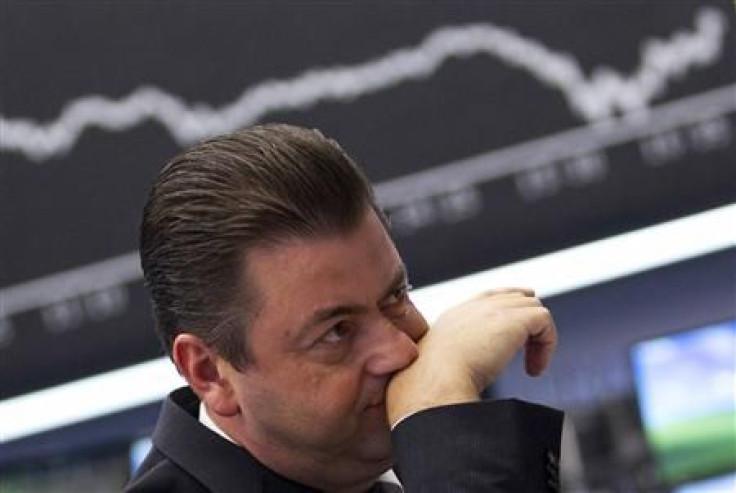 Most European markets fell Wednesday due to persisting investor concerns on the worsening economic conditions in the euro zone.
The German DAX 30 index was marginally down 0.07 percent or 4.50 points to 6385.91. Shares of Deutsche Bank AG dropped 1.47 percent and shares of Linde AG fell 0.47 percent.
The French CAC 40 index marginally fell 0.03 percent or 0.98 points to 3073.70. Shares of Cap Gemini SA dropped 1.12 percent and shares of Lafarge SA declined 0.71 percent.
London's FTSE 100 index declined 0.29 percent or 15.92 points to 5483.31. Shares of BT Group PLC dropped 4.60 percent and shares of Shire PLC were down 0.74 percent.
Spain's IBEX 35 rose 0.91 percent or 54 points to 6010.30. Shares of Enagas SA climbed 2.45 percent and shares of Iberdrola SA advanced 1.35 percent.
Market players are worried about Spain as the gross domestic product projections show that the country's economy will not register growth before 2014. Investors worry that a banking sector bailout and an empowerment of the EU's bailout funds cannot solve Spain's underlying economic problems.
With the European Stability Mechanism (ESM) not due to be operational until at least September, a bailout before then would presumably be funded by the European Financial Stability Facility (EFSF).
"A bailout of the Spanish sovereign – which is looking more likely day by day – would significantly deplete the resources of the EFSF/ESM and leave little in the pot to provide further assistance to Portugal and Ireland and, much more crucially, to deal with serious problems in Italy," Capital Economics said in a note.
The euro zone crisis is also taking its toll on the rest of the world with activity slowing down in all major economies in the second quarter, including the U.S., China and Japan. Market players, hoping for an announcement of the monetary stimulus policy by the U.S. and China so far have been disappointed. Investors feel that bold measures, including easing in the monetary policy, will give a much-needed thrust to boost liquidity in the financial system.
© Copyright IBTimes 2023. All rights reserved.