European Stocks Hit Highest Level Since August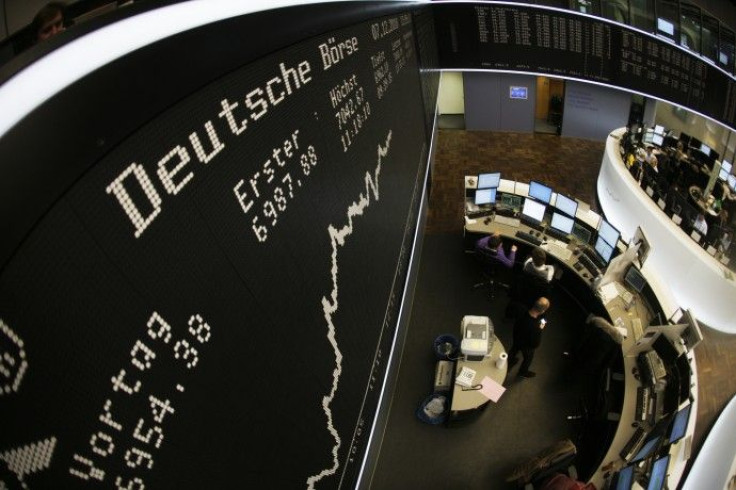 (REUTERS) -- European stocks hit their highest close since early August on Monday, with euro zone banks gaining sharply following a report that France and Germany were calling for a relaxation of global bank capital rules to prevent a credit crunch.
The STOXX Europe 600 Euro Zone Banking Index rose 3.9 percent. Major gainers included Commerzbank, Societe Generale and UniCredit up 13, 8.6 and 10.4 percent respectively. Commerzbank is up more than 49 percent in 2012.
The FTSEurofirst 300 index of top European shares rose 0.5 percent to 1,048.21 points, the highest close in more than five months.
The Financial Times said French finance minister Francois Baroin and his German counterpart Wolfgang Schaeuble will say elements of Basel III guidelines on capital requirements should be watered down to mitigate any negative effect on growth.
Schaeuble denied the FT story, telling journalists in Paris that the two countries would implement Basel III rules.
The regulators now realise that with a price-to-book value of less than 0.4 it was uneconomic for the banks to go out en masse and raise equity capital, said Bob Parker, senior adviser at Credit Suisse.
But Parker said he was still cautious on European banks. There are still a lot of risks out there in terms of potential debt writeoffs in a recessionary environment in Europe.
Equities also gained on optimism that the euro zone sovereign debt crisis could be contained, including Greece averting a disastrous default.
Germany and France said they were committed to a sealing a new bailout for Athens by March and pressed for a rapid deal between Greece and its private creditors that cuts its soaring debt to sustainable levels.
The euro gained, and yields on Italian bonds fell. The markets are starting to get it that Italy is serious about its austerity programmes. And the correlation between yields and equity movements remains high, Parker said.
Italy's benchmark FTSE MIB was a strong performer, up 1.8 percent; Greek stocks rose 5.1 percent.
The FTSEurofirst 300 index is up nearly 23 percent from a 2011 low it hit in September. Parker said positives for equities had included the reduced risk of a hard landing in China, as well as better growth prospects in the United States and the benefits of the ECB's LTRO (Longer Term Refinancing Operations), giving banks cheap funding.
Some strategists were cautious. The benchmark's 14-day Relative Strength Index was nearing 70, considered in technical terms to be overbought territory.
It has been quite a nice rally. We have turned positive on stocks in December, and we are starting to book profits now ahead of the outcome from the Greek debt deal, said David Thebault, head of quantitative sales trading at Global Equities.
The market might have gotten a bit ahead of itself, rallying despite the absence of real positive news. We will wait for the deal before coming back into equities.
UBS OVERWEIGHT
UBS said in a note on Monday it had upgraded its stance on global equities to 'overweight' from 'neutral' as risks to economic growth and the stability of the financial system have abated, and recommended using any pullback in share prices as an opportunity to add risk.
As double-dip and financial risks fade, risk premiums should fall to reflect a more stable backdrop, allowing higher PE (price-to-earnings) multiples, even as earnings growth slows, UBS strategists wrote in a note.
But shares in sectors seen as defensive were being sold off by investors. Utilities GDF Suez and E.ON fell 3.6 and 2.2 percent respectively. Drugmaker Novartis fell 0.9 percent, adding to a 4 percent decline on Friday, on doubts about a multiple sclerosis drug.
© Copyright Thomson Reuters 2023. All rights reserved.