Europe's Markets Firm Tuesday at Mid-Day Despite S&P Warning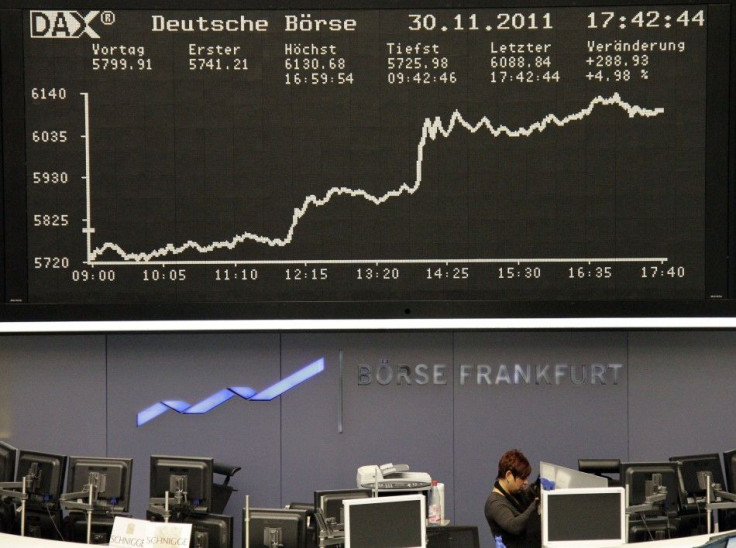 (Reuters) - European shares were flat on Tuesday at mid-day as strategists said they were optimistic policymakers would make progress on a solution for the region's debt crisis, though Standard & Poor's warned it might downgrade top-rated Germany and other Eurozone countries.
S&P placed the ratings of 15 euro zone countries on credit watch negative, including the region's two biggest economies Germany and France, and said systemic stresses are building as credit conditions tighten in the 17-nation region.
The agency said it would downgrade ratings if no credible plan for theeuro zone debt crisis emerged at an EU summit this week.
But investors remained optimistic about a solution, after French president Nicolas Sarkozy and German chancellor Angela Merkel on Monday outlined a plan on which they had agreed.
If I were a conspiracy theorist, I'd say S&P are trying to put pressure on European politicians. I don't think it's negative at all. I think it's irrelevant. No one's really seriously saying Germany's going to default on bunds, said David Coombs, fund manager at Rathbone Brothers, which has 15.2 billion pounds ($23.7 billion) under management.
The market is taking a pause for breath after the strong rally last week. We think they (politicians) will finally get their act together in the next week. And we think the central bank action (on cheaper dollar funding For European banks last week) was a bit of a game changer.
At 1212 GMT, the pan-European FTSEurofirst 300 index of top shares was flat at 993.26 points after hitting a five-week closing high on Monday.
The STOXX Europe 600 Banking Index fell 0.7 percent, having gained more than 14 percent in the last two weeks. The banking sector is among those most directly exposed to the euro zone crisis, with several banks having suffered large writedowns on euro zone peripheral debt.
The drugmaking sector featured amongst the top performers as investors moved out of the cyclical sectors into defensives, with the STOXX Europe 600 Health Care index up 0.9 percent.
The S&P move heightens how important the EU summit is and highlights the consequences if there is no agreement by policymakers at it, said Joshua Raymond, Chief Market Strategist, City Index.
Investors are on edge, we are seeing some diversification away from the riskier sectors to the more defensive like drugmakers.
RWE, METRO FALL
The utility sector traditionally also seen as defensive, was however, among the heaviest fallers.
RWE fell 8.5 percent after the German utility group said it is selling shares equivalent to 15 percent of its outstanding stock to boost its balance sheet. By midday, trading volumes were more than triple the 3-day average for an entire session.
We would stay sidelined, Sebastian Zank, analyst at Silvia Quandt Research, said. Investors would not like the idea of the significant dilution and the uncertain outlook on the company's dividend payments in 2013, he added.
Metro, the world's No.4 retailer, fell 10.7 percent after issuing a profit warning that sent shockwaves through the sector, saying Christmas trading had started slowly with the euro zone debt crisis undermining consumer confidence.
The STOXX Europe 600 Retail Index fell 1.4 percent.
© Copyright Thomson Reuters 2023. All rights reserved.