Ex-Brazil, Ghana presidents honored for fighting hunger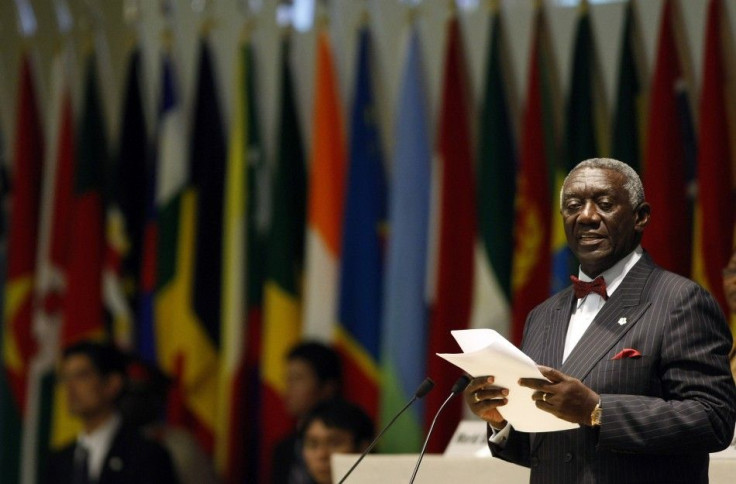 Two former presidents have been awarded the World Food Prize for their efforts in reducing hunger and poverty in their nations.
Ghana's John Agyekum Kufuor and Brazil's Luis Inacio Lula da Silva were honored in Washington Tuesday. They will split a $250,000 prize established by Nobel Peace Prize winner Norman Borlaug.
Kufuor served as president of Ghana from 2001-2009. Under Kufuor, the number of people suffering from hunger in Ghana dropped from 34 percent to 9 percent, while the number of impoverished people dropped from over 51 percent to 26.5 percent.
Ghana was the first sub-Saharan country to achieve the United Nations' Millennium Development Goal (MDG) concerning hunger.
The MDGs were created in 2001 to assist impoverished nations and were agreed to by all of the 192 member states. Goal 1 is devoted to eradicating extreme poverty and hunger, and Target 1C of the seeking to cut the number of people who suffer from hunger by half.
Countries were required to reach the UN goals by 2015, and Ghana's speed is not only impressive, it is a productive indicator that the goals can be achieved. Progress toward the goals has been uneven and often slow, and many counties will fail to reach the requirements in the time span if they proceed on their current trajectories.
Kufuor told the BBC that developing his country's cocoa industry was instrumental in his successes. The president doubled the cocoa production in Ghana during his first three years in office by modernizing and commercializing the industry.
The government of Ghana congratulated its former chief, saying in a statement that his award made all Ghanaians proud.
Luis Inacio Lula Da Silva was Brazil's president from 2003 until 2010. He stated the Zero Hunger Program, which included a school food iniative that now serves 47 million students in the public school system. Under Da Silva, malnutrition in Brazil fell by almost 62 percent in six years.
Additionally, poverty rates fell from 12 percent to 4.8 percent during his presidency, thanks largely to economic aid that often took the form of food and basic goods.
I am convinced that what was important during my administration was the result of the partnership with the Brazilian population, Silva said in a statement.
I am really moved to know Brazil was chosen as a country that achieved good policies regarding agriculture and hunger.
Both politicians will officially receive their prizes at the World Food Symposium in Des Moines, Iowa in October.
© Copyright IBTimes 2023. All rights reserved.