'A Fabled Holiday' Hallmark Movie Premiere: Trailer, Synopsis, Cast
Hallmark Channel's merry holiday season continues with the newest "Countdown to Christmas" holiday premiere, "A Fabled Holiday." The film, starring Brooke D'Orsay and Ryan Paevey, premieres Saturday night.
The film will certainly be a treat for fans, as they certainly recognize the film's stars, who are both Hallmark staples—but have yet to star together. D'Orsay is best known for her roles in the films "Miss Christmas," "Christmas in Love," "Nostalgic Christmas," "A Godwink Christmas: Second Chance, First Love," "Beverly Hills Wedding," "A Dickens of a Holiday!" and "Wedding of a Lifetime."
Paevey is even more recognizable from his countless titles on Hallmark. His recent roles have included the films "Harvest Love," "Marrying Mr. Darcy," "Hope at Christmas," "From Friend to Fiancé," "A Summer Romance," "Christmas at the Plaza," "Matching Hearts," "A Timeless Christmas," "Don't Go Breaking My Heart," "A Little Daytime Drama," "Coyote Creek Christmas" and "Two Tickets to Paradise."
John Prowse ("Christmas for Keeps"), David Attar ("Autumn in the City"), Carmel Amit ("Wedding Every Weekend"), Rochelle Greenwood ("The Chronicle Mysteries") and John Murphy ("Martha's Vineyard Mysteries").
So what can fans expect from the film? Let's find out.
"Talia (D'Orsay) and her childhood best friend Anderson (Paevey) delight in the pages of A Wunderbrook Christmas Story, in which a town full of Christmas spirit restores its visitors during their times of deep turmoil," a synopsis for the film reads. "Years later, Talia is a stalled writer who's given up her pen, and Anderson is a doctor, shaken after a patient's passing. They unexpectedly reunite in a curiously similar-looking town depicted in the book they loved, along with widower Charles (Prowse) and soon-to-be-divorced couple, Keith (Attar) and Diane (Amit)."
The town and its magic may prove to be exactly what every visitor, especially Anderson and Talia, needs this holiday season.
"The local townspeople, led by Judy (Greenwood) and Miles (Murphy), worry they may not fulfill their mission in time for the closing Night of Wunder event this year, putting access to the secretly magical town in jeopardy," the synopsis continues. "Nonetheless, as these visitors enjoy the town's Week of Wunder festivities, with the clock ticking, each person is slowly starting to heal."
"A Fabled Holiday" premieres Saturday, Dec. 3 at 8 p.m. EST on Hallmark Channel.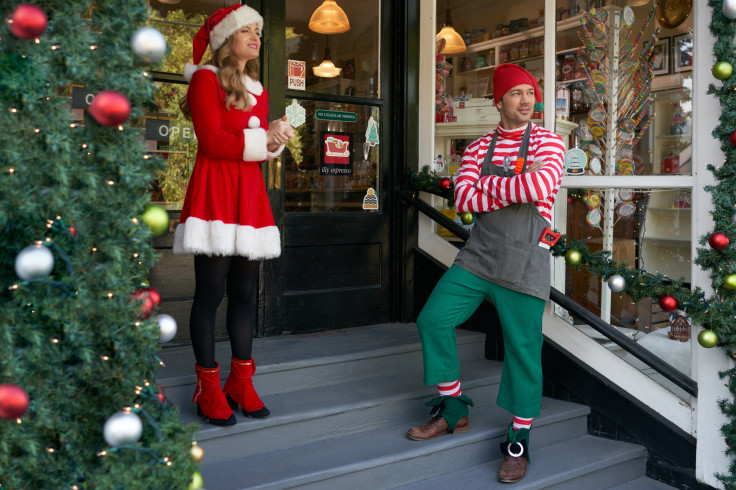 © Copyright IBTimes 2023. All rights reserved.
FOLLOW MORE IBT NEWS ON THE BELOW CHANNELS