Facebook IPO Date Is May 18, 2012: Why Mark Zuckerberg's Social Network Is Worth $100 Billion (And Then Some)
OPINION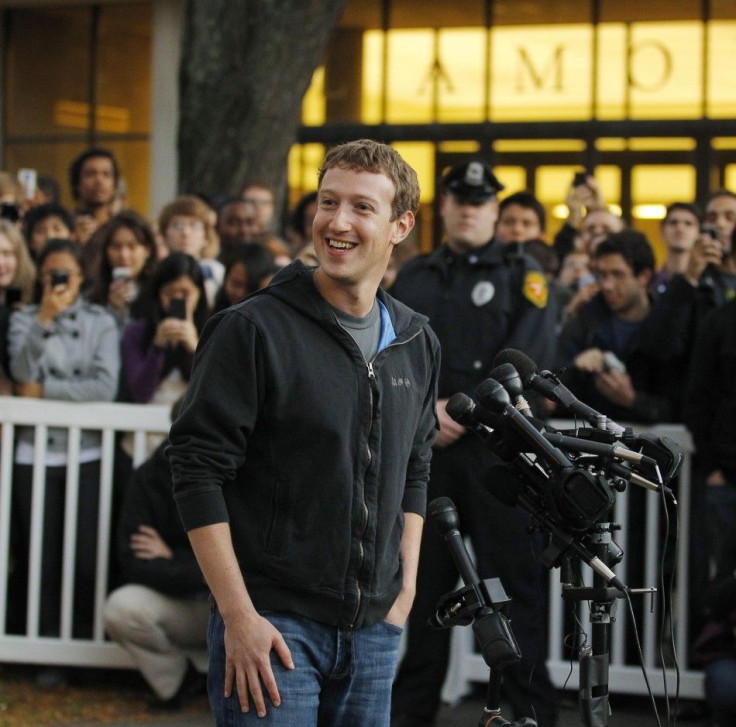 The IPO on everyone's minds for the past few years -- and possibly the biggest one in history -- is upon us: Facebook will finally make its Wall Street debut on Friday, May 18, 2012. The report comes from The Wall Street Journal, citing sources familiar with the process.
Sources also say Facebook will begin its IPO roadshow on Monday, May 7. Roadshows are traditionally when companies decide to meet with banks, mutual funds and other major investors that want a multi-million dollar stake in the company, giving them a chance to present their business and growth strategies going forward. Facebook will surely have no problem attracting some big players before May 18 hits.
According to The New York Times, Facebook will also follow in the tradition of Apple and Google, having reportedly chosen to list its shares on the Nasdaq under the ticker symbol FB. Even though the New York Stock Exchange (NYSE) successfully wooed new social technology companies like Pandora and LinkedIn for their IPOs, Facebook will reportedly be traded on the rival exchange.
Facebook is expected to have the largest IPO since Google's Wall Street debut in 2004. The Palo Alto, Calif.-based company hopes to raise anywhere from $5 billion to $10 billion during its roadshow next week to achieve a $100 billion valuation, which would make it one of the biggest IPOs of all-time.
Facebook has reportedly chosen Goldman Sachs, Morgan Stanley, and JPMorgan Chase, among other banks, to be the underwriters for the IPO; after some subtle jockeying, Morgan Stanley won the fight to become Facebook's lead underwriter, followed by JPMorgan Chase, and Goldman Sachs claimed the third underwriter spot. The banks stand to make $40 million from their deals with Facebook, and they could make even more if other tech companies like Twitter decide to include them in their own future IPOs.
Facebook's shares break down like this: COO Sheryl Sandberg owns 1.9 million shares (0.1 percent of the company), seed investor Peter Thiel owns 44.7 million shares (2.5 percent), and co-founder Dustin Moskovitz owns 133.8 million shares (7.6 percent). While Mark Zuckerberg only earns $1 in salary from his own company, don't worry about Zuck: He is still the social network's biggest stakeholder with 533.8 million shares (28.4 percent of the pot), representing a $28 billion stake.
[Facebook] wants to be taken seriously and viewed as a blue-chip company, said one bank official close to the situation. The banker could not offer his name because he is not authorized to make public statements.
Facebook has matured greatly in the last several years, but particularly in the last few months, Facebook has proven to investors that it has finally grown up. Recognizing how its platform was a hotbed for bullying, the company launched a suicide prevention program in December that allowed users to instantly connect with real crisis counselors through Facebook's chat messaging system. Then in March, Facebook announced a new suite of tools at the White House Conference for Bullying Prevention, in an effort to protect users from bullying and create a culture of respect among users.
Facebook is now also starting to realize its potential as an important service for connecting people with needs: On Tuesday, Zuckerberg announced a new lifesaving feature for Facebook: A new platform for organ donors. Even though the U.S. Department of Health says more than 7,000 people die each year while waiting for an organ transplant, Facebook's social network of 800 million-plus will certainly help raise awareness of the issue.
The company has also matured when it comes to business. In September, the company introduced a controversial but important change to its social network: The Timeline Profiles. It showed investors that Facebook is still experimenting with itself, but it is looking for better and better ways for people to share their own life stories. More recently, Facebook gobbled up popular photo-sharing app Instagram for $1 billion, demonstrating how the company can seek out good talent and incorporate it without necessarily assimilating it. Now, Facebook has proven it has the leverage to make big deals with smaller tech companies.
Underwriters hope to establish a fairly high offering, despite the risk factors associated with the world's largest social network. In its SEC filing, Facebook outlined 35 risk factors that could materially and adversely affect the company; the list reveals some troubling facts, including Facebook's lack of sustainability and its dependency on others to operate. Here are some of the biggest risk factors that Facebook will need to clear up with banks and investors during its roadshow next week before it goes public (investors should look very closely at No. 3, No. 13, No. 14, No. 27, and No. 32):
1. We could simply lose users, or fail to add new ones.
2. We could lose advertisers - and new technology may let users block ads.
3. Facebook's mobile platform doesn't show ads - so the more that grows, the worse for us.
4. The platform for Facebook apps might not be successful.
5. The competition from Google, Microsoft and Twitter could heat up - not to mention other social networks around the world.
6. More governments could restrict access to Facebook.
7. Users could turn their noses up at new products.
8. The Facebook culture is all about rapid innovation and getting users engaged - and that could come at the cost of profits.
9. Unspecified future events could tarnish our brand.
10. Bugs might give people access to users' information that they're not supposed to see.
11. The media could turn on us.
12. Our quarterly financial results could be difficult to predict.
13. Zynga accounts for 12% of our revenue. If we part ways, that could seriously hurt us.
14. Our revenue grew by 88% last year - and that's simply not sustainable. Growth is bound to decline.
15. The U.S. laws and regulations we're governed by could change or be reinterpreted.
16. If our patents and copyrights aren't granted - or aren't effective - it could seriously hurt us.
17. We have some patent lawsuits on our hands that could end badly.
18. We're also involved in class-action lawsuits, and we could lose them too.
19. Mark Zuckerberg has a massive amount of shares, which concentrates power in the hands of one man.
20. There's a complicated tax liability connected to a particular kind of stock unit we gave out - one that will be taxed at 45%.
21. If we need more rounds of investment, the terms might not be reasonable.
22. Costs might grow faster than revenue.
23. A lot of our servers are handled by third parties, and they might be disrupted.
24. We've started building a lot of our own data centers to handle traffic, and we've got limited experience doing this kind of thing.
25. Our software is incredibly complex and may have a lot of bugs.
26. We can't say for sure that we'll handle our growth effectively - we have more than 3,000 employees now, and that could spin out of control.
27. If we lose our leaders, like Zuckerberg and COO Sheryl Sandberg, that would really harm us.
28. People might sue us over all sorts of stuff posted on Facebook - intellectual property, copyright, defamation, and so on.
29. Viruses, hacking, phishing and malware. Oh my.
30. Payment systems in Facebook apps could mean new government regulations.
31. We're continually expanding abroad, and we may not understand all the risks in new countries.
32. We're planning to acquire lots of other companies, which could disrupt everything at Facebook.
33. We might default on our leases or our debt.
34. Our tax liabilities, in general, are bigger than we thought.
35. U.S. tax code reform, if it happens, might hit us where it hurts.
Yet, despite these risk factors -- and the heavy emphasis on keeping top executives with the company -- Facebook is an incredibly worthwhile investment. You don't go from being a project in a Harvard dorm room to the biggest social network in the world with just luck: Zuckerberg is a genius, and he is consistently finding the right people to carry out his message. While his network has fallen in and out of favor with worldwide audiences on a regular basis, the bottom line is this: People do leave, but they almost always come back. That's a very powerful message for one company to boast.
If Facebook goes on to the biggest IPO in history, it won't ultimately matter for the company. From Zuckerberg on down, Facebook's employees will be much richer later this month than they were in April, but this should be a time to celebrate for Facebook: The company continues to grow, and more importantly, learn from its mistakes. It would be vastly different without Zuckerberg at the helm, but hopefully, we won't have to imagine a Zuckerberg-less Facebook -- like we now deal with a Jobs-less Apple -- for some time. Zuckerberg is young and healthy, and so is his eight-year-old company. With so many users and so much potential, it's going to be exciting to see what Zuckerberg's team does next.
The company's S-1 paperwork, which was filed with the Securities and Exchange Commission (SEC) on Feb. 1, is embedded below.
© Copyright IBTimes 2023. All rights reserved.
FOLLOW MORE IBT NEWS ON THE BELOW CHANNELS