Fake Clown Terror Continues In France, Teenager Arrested After Attempting To Attack Woman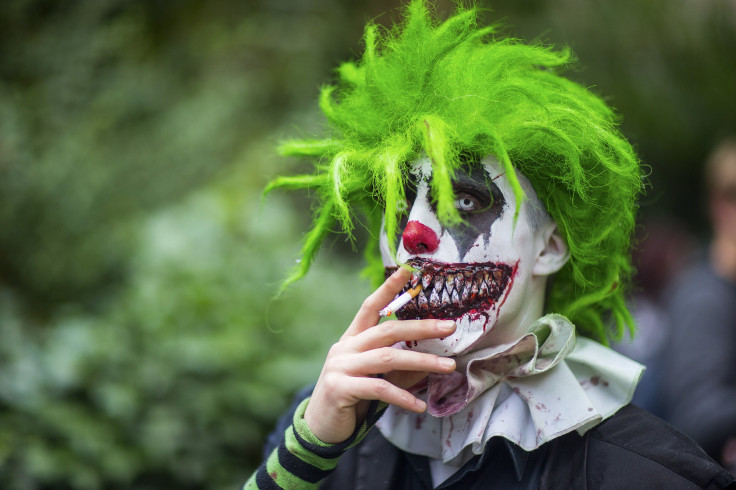 A 14-year-old teenager dressed as a clown was arrested Monday for attacking a woman near Paris, in the latest incident of fake clowns terrorizing residents in southern France, according to media reports. At least 14 teenagers, carrying pistols, knives and baseball bats, were reportedly arrested over the weekend in related incidents.
The "armed clowns" reportedly caused unrest in various parts of the country by threatening and assaulting pedestrians. On Monday, a woman was reportedly attacked with a fake axe by two people dressed as clowns, The Telegraph reported. The incident reportedly took place in Chelles, an eastern suburb of Paris. Another teenager, who was arrested on Saturday, was reportedly sentenced to four months in prison in the southern city of Montpellier on Monday for hitting a pedestrian dozens of times with an iron bar.
"Since mid-October, a rumor inspired by videos published on the Internet has created the presence of threatening and aggressive clowns in France. Symptomatic of the impact of the Internet, this phenomenon can lead to damaging individual acts and disturbances to public order," a statement from local police said, RT News reported.
In another incident, a dozen fake clowns reportedly attacked three people and stole their mobile phones at a station in Melun, a northeastern suburb of Paris, police sources said, according to The Telegraph.
The fake clowns have been "mostly spotted outside schools, but also on public roads, in bushes, in a square. Their targets are often young children or teenagers, but also adults," a police source in northern France told Agence France-Presse.
The statement from the police also reportedly cautioned that "despite numerous reports made to police, there have been only a few sightings of people dressed as clowns having fun scaring passers-by."
© Copyright IBTimes 2023. All rights reserved.