Family Research Council Shooting: Gunman Opens Fire Inside Building, Possible Connection To Group's Anti-Gay Stands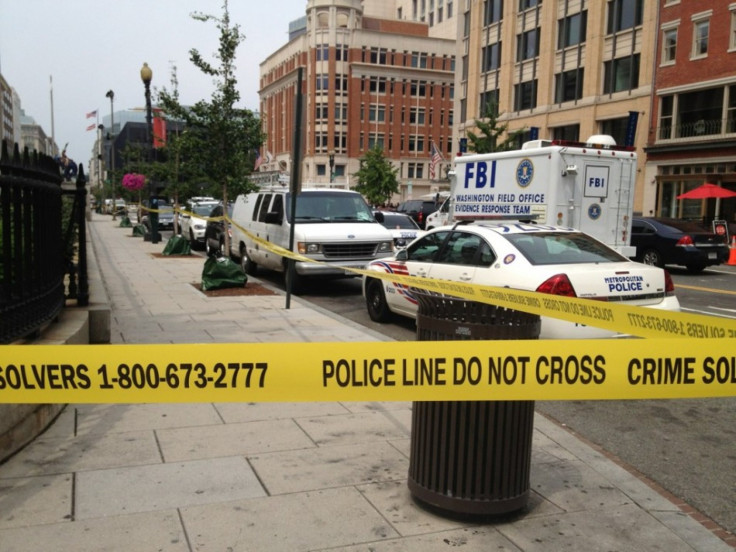 A security guard was shot Wednesday at the Family Research Council headquarters in Washington after an unidentified gunman opened fire, police said.
According to reports, a man in his late 20s entered the building around 10:45 a.m. and was stopped by a security guard from going further into the building.
After being stopped, the man made some remarks about the Family Research Council and then pulled out a handgun and fired at the guard, wounding him in the arm. The injury is not believed to be life-threatening.
The District of Columbia police and the Federal Bureau of Investigation were looking into what is being probed as a possible case of domestic terrorism. The suspect, who was not immediately identified, was taken into custody by the FBI.
In further developments, officials said they were investigating whether the attack was motivated by the council's well-publicized conservative stands on issues such as gay marriage and abortion.
"We don't know enough yet about him or his circumstances to be able to determine his connection to this group or to the business or to what, you know, mentally what he's doing or thinking. So we're going to try to sort it all out, and pull the evidence together, do as many interviews as we can, and get it all together," said FBI Assistant Director James McJunkin.
The FBI's Jacqueline Maguire said the case is being investigated jointly by the FBI and the Metropolitan Police Department "to determine motive/intent and whether a hate crime/terrorism nexus exists," CNN reports
"Our first concern is with our colleague who was shot today. Our concern is for him and his family," Family Research Council President Tony Perkins told reporters.
The council made recent headlines when Perkins defended the chief executive of restaurant chain Chick-Fil-A, who made comments critical of gay marriage. "All Chick-Fil-A did was refuse to be bullied by the politically correct crowd," Perkins said in a radio commentary.
© Copyright IBTimes 2023. All rights reserved.