Fans React To Kate Moss' Appearance At Johnny Depp vs. Amber Heard Trial
KEY POINTS
Kate Moss gave evidence in support of Johnny Depp and denied claims that he had ever assaulted her
The model's voice and appearance caught the attention of social media users
Moss also received praise for taking the time to testify for Depp 24 years after their split
Kate Moss received praise from fans and social media users this week after the model testified for Johnny Depp in his ongoing defamation trial against his ex-wife Amber Heard.
The British model, who was in a relationship with Depp from 1994 to 1998, appeared virtually at the hearing at Fairfax, Virginia, as she gave evidence in support of the "Pirates of the Caribbean" actor and denied claims that he had ever assaulted her.
As Moss was giving her testimony, her voice and appearance apparently drew the attention of social media users.
"I can listen to her speak all day. Kate Moss has such a soothing voice," one person tweeted.
Another fan said: "Kate Moss should do audiobooks. I could listen to her pixie voice for hours."
"Kate Moss is still absolutely gorgeous! I'm so glad she's doing well. We miss seeing her. 90's flashback here," another wrote on Twitter.
Other users praised Moss, who wore a white patterned pussy-bow blouse with a black blazer for her testimony, for appearing in court and testifying for Depp despite her hatred of interviews and her claim that she was heartbroken for years following her split from the actor.
"It says a lot for such a private person like Kate Moss to agree to testify and defend Johnny Depp while she's in England," one person commented on a video of Moss' testimony uploaded to YouTube.
Another wrote, "I love her. Very straight to the point. Even though she's very private and probably very busy, she did this and helped Johnny and his team a whole ton."
"This is how someone who has nothing to hide testifies, [straight] to the point and no theatric scenes. Well done, Kate," a third user said.
"Kate Moss and Johnny Depp broke up 24 years ago, but she took the time to voluntarily give testimony in support of him. Amber Heard subpoenaed three of her former partners (Tasya [van Ree], [Elon] Musk and [James] Franco), and not one of them was willing to back her up in court. Speaks volumes, doesn't it?" another person tweeted.
Depp's team called in Moss as a witness after Heard said on the stand that she thought about a rumor that the actor had pushed the model when the "Aquaman" star and her sister Whitney Heard Henriquez were in an alleged altercation with Depp near a set of stairs.
"She threw herself in the line of fire. She was trying to get Johnny to stop. Her back was to the staircase, and Johnny swings at her. I don't hesitate and wait - I instantly think of Kate Moss and stairs," Heard said.
However, Moss testified Wednesday that she accidentally slipped down a flight of stairs and injured her back after a rainstorm as she and Depp were in Jamaica for a vacation.
"I screamed because I didn't know what happened to me and I was in pain. [Depp] came running back to help me and carried me to my room and got me medical attention," the model said under oath. "He never pushed me, kicked me or threw me down any stairs."
Depp is suing Heard for $50 million over a 2018 Washington Post op-ed in which she wrote about being a domestic abuse survivor. Though he is not mentioned by name in the piece, the actor claims that it damaged his reputation and ruined his career.
Heard is countersuing him for $100 million, alleging that Depp launched a smear campaign against her to discredit her claims.
The trial's closing arguments are set for Friday, after which the jury will begin deliberations.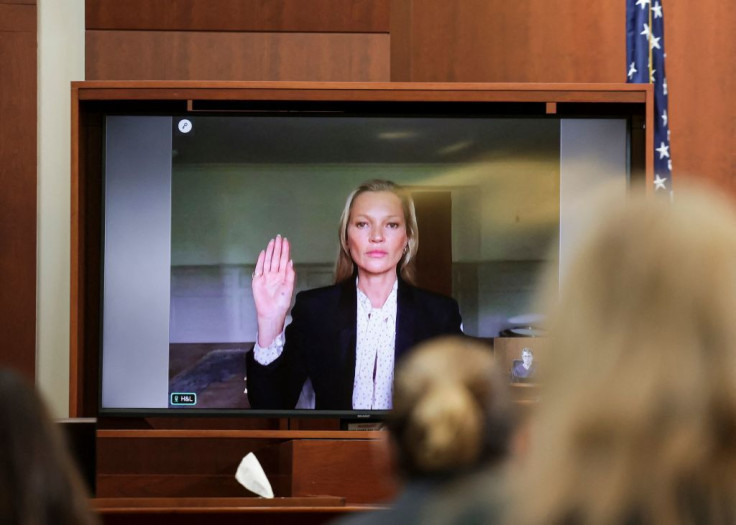 © Copyright IBTimes 2023. All rights reserved.