FedEx Profit Beats Street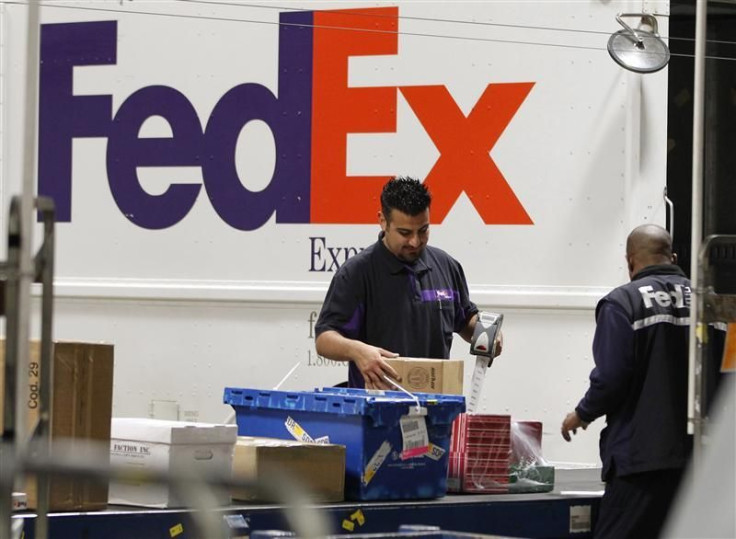 (REUTERS) -- FedEx Corp. reported a higher-than-expected quarterly profit and said it is buying 27 new Boeing aircraft to update its fleet for fuel efficiency and cost savings.
The company also said it is deferring delivery of some Boeing freighter aircraft, adjusting for slowing volume out of Asia.
FedEx shares jumped more than 3 percent after the world's No. 2 package delivery company reported fiscal second-quarter net profit of $497 million, or $1.57 per share, up from $283 million, or 89 cents per share, a year ago. Analysts had been expecting a profit of $1.52 a share.
FedEx also affirmed its fiscal 2012 guidance for $6.25 to $6.75 per share, after trimming it in September on tepid global economic growth and high fuel costs.
Our improved performance was largely a result of effective yield management programs and strong demand for FedEx Home Delivery and FedEx SmartPost services, FedEx Chief Executive Officer Frederick Smith said in a statement. With the healthy growth in online shopping this holiday season, demand is increasing for these residential delivery services.
Revenue rose 10 percent to $10.59 billion. Analysts, on average, expected revenue would rise to $10.61 billion, according to Thomson Reuters I/B/E/S.
The massive volume of goods moved by FedEx make its shipping trends a bellwether of consumer demand and the economic climate.
The value of packages that it handles in its trucks and planes each is equivalent to about 4 percent of U.S. gross domestic product and 1.5 percent of global GDP.
FedEx Express has signed an agreement with Boeing Co to buy 27 new 767-300F aircraft, replacing some that are more than 40 years old.
The company said the 767s will provide similar capacity as the MD10s being retired, with about 30 percent more fuel efficiency and a minimum 20 percent reduction in unit operating costs.
Three of the planes will arrive in fiscal 2014, then six per year between 2015 to 2018.
FedEx Express is also delaying the delivery of 11 777F aircraft, reducing capital spending and adjusting to slowing volumes out of Asia.
FedEx Express took action during the quarter to adjust its network, particularly in Asia, as recent inventory destocking trends have impacted demand for our FedEx Express services, Alan Graf, FedEx chief financial officer, said in the statement.
FedEx share were up 3.3 percent in premarket trading at $79.90.
The shares before the open had fallen 17 percent so far this year, lagging the 7 percent drop in the Dow Jones transportation average <.DJT>, but up 20 percent from this year's lows in October,
(Reporting by Lynn Adler; Editing by Derek Caney, Dave Zimmerman)
© Copyright Thomson Reuters 2023. All rights reserved.