Ferguson: Generations Of Economic Inequality Fuel Violent Protests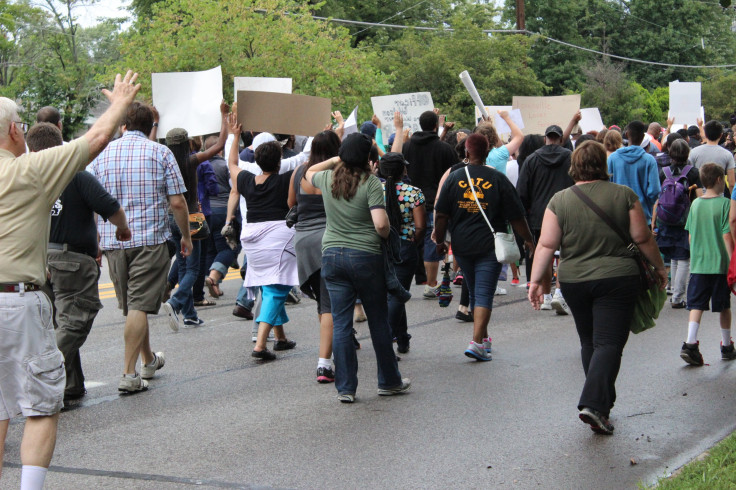 Ferguson, Mo. -- The racial tensions that sparked violent clashes between residents and police in the wake of the shooting death of Michael Brown in the small St. Louis suburb of Ferguson, Missouri, also are evident in the economic inequalities that separate whites from blacks. In one of the most segregated cities in the country, where a mostly white police force serves a majority black population, black residents of Ferguson are far more likely to be unemployed than their white neighbors. That disparity and economic hopelessness have helped fuel the frustrations of residents rallying in the streets for a more just community.
"The barriers are invisible. You can't see it, but they're there," said Darren Seals, 27, who lives a few blocks from the intersection where police and protesters faced off Friday night. He was unemployed for three years before recently landing a job at General Motors, and is the only man in his family with regular work, he said.
His situation isn't unique. Census figures for 2012 in St. Louis County, which includes Ferguson, show 47 percent of African-American men are unemployed while the same rate for white men is just 16 percent.
"What people don't realize right away is that the greatest disparities are at the economic level," said Judy Ferguson Shaw, 64, who has lived in Ferguson for 54 years.
"A lot of people assume it's just a bunch of guys going crazy, but really it's something that's been brewing for generations," said John Knowles, 25, who is white, works two jobs and has lived in Ferguson for 15 years. "There's no work around here at all. It's especially bad for the black population because they tend to live in lower-income areas to begin with."
In the census tract where Brown, 18, lived, median income is less than $27,000 and just half of the adults are employed. Brown, a black 18-year-old student, was killed by a white police officer last week, prompting days of protests and looting in Ferguson.
Shernale Humphrey, 21, who works at the McDonald's on West Florissant, where protesters have been gathering nightly, said she thinks education is also a factor. "A lot of black families aren't in good school areas, so that makes it hard," she said.
Humphrey said she participated in the national fast food workers' strikes last year aimed at raising the minimum wage because "I had to do something. We need to make this community better for the next generation."
Until the 1940s, black people were barred from buying houses in many parts of St. Louis County, which kept many parts of cities like Ferguson almost exclusively white. But in the 1980s white families left the area to move to further suburbs, clearing the way for African-American families.
Since 2000, the median household income has fallen by 30 percent, and the city is still struggling after the recession, which left few jobs and increasing frustration.
"I can't help but think the anger was intensified by a feeling of powerlessness, and it's hard to ignore the ways in which the economy of the past few years has been hard on the north St. Louis County," St. Louis Post-Dispatch reporter David Nicklaus wrote Sunday. "If police tactics were the spark that set off the explosion in Ferguson this week, then poverty and hopelessness were the tinder."
© Copyright IBTimes 2023. All rights reserved.