Ferguson Violence: Oath Keepers Take Up Posts To Help Keep Peace In Ferguson
Who Are The Oath Keepers?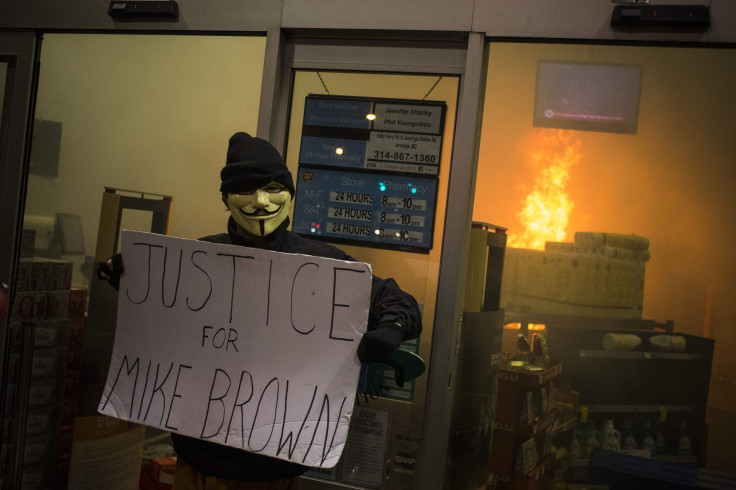 Volunteers associated with a national organization called Oath Keepers took up posts with police blessing on the roofs of buildings in Ferguson, Missouri, to try to help keep the peace in the community wracked by violence in the wake of the Michael Brown shooting and decision by a grand jury not to indict the police officer involved, the St. Louis Post-Dispatch reported. But after reporters asked about the sentries, police ordered the Oath Keepers to vacate their posts.
Steward Rhodes, a Yale Law School graduate and libertarian who founded the group in 2009, told the Post-Dispatch his members "back the protesters." Speaking by phone from his home in Montana, Rhodes told the newspaper the Oath Keepers is not anti-government and many of its members are former government employees and first responders.
A 2010 story about the group in Mother Jones said the group is hard to define, embracing everything from conspiracy theorists to intellectuals.
Ferguson exploded in violence following the announcement Monday a grand jury decided against indicting Officer Darren Wilson for the shooting death of Brown, who was unarmed but, according to grand jury testimony, had assaulted Wilson. Numerous stores were burned and looted and scores of protesters were arrested.
Following Monday's grand jury decision, Oath Keepers asked members from across the country to go to Ferguson. There was no word on the number of volunteers who showed up but the Post-Dispatch said they came from Nebraska, Texas and Indiana as well as Missouri.
"We are here to volunteer our time and make sure everybody stays safe," said John Karriman of Joplin, Missouri, who lamented the group's inability to show up sooner. In addition to stationing armed sentries on rooftops, Oath Keepers boarded up broken windows and kept buckets of water and fire extinguishers handy.
© Copyright IBTimes 2023. All rights reserved.