FIFTY FIFTY's Agency Sues 'Cupid' Producer; Ahn Sung Il, The Givers Countersue
KEY POINTS
Ahn Sung II and his production team responded to Attrakt's criminal complaint
FIFTY FIFTY's label Attrakt filed a criminal complaint against the "Cupid" producer
FIFTY FIFTY members are taking legal action against their agency for an alleged breach of trust
Producer Ahn Sung Il and his production team, The Givers, announced that they will countersue FIFTY FIFTY's agency, Attrakt, for the spread of false information.
The counter-lawsuit is their response to Attrakt's criminal complaint against The Givers, reportedly accusing Ahn Sung Il of being the "outside force" to poach the members of the South Korean girl group FIFTY FIFTY.
Hwawoo law firm issued an official statement Thursday to represent Ahn's production team.
According to the statement, The Givers began participating with FIFTY FIFTY in June 2021, after Attrakt CEO Jeon Hong Joon requested the production team's planning, production and management services.
The statement also clarified that The Givers was only working with Warner Records for FIFTY FIFTY's global promotion, per Attrakt's request. This opposed Attrakt's previous claims that a third party approached Warner Music Korea to sell FIFTY FIFTY, where The Givers was identified as the third party.
"However, since June 23, Attrakt has mentioned the interference of an 'outside force' in matters related to the company's ongoing legal dispute with its artists through various press releases and interviews. On Monday, news of an 'outside company' that attempted to poach the members of FIFTY FIFTY made various headlines, resulting in numerous media outlets asking for confirmation from The Givers as to whether or not this company was responsible," the statement read.
It continued to clarify that the company made no attempt to interfere in matters between Attrakt and FIFTY FIFTY, and any rumors of poaching have nothing to do with it as well.
"Since Attrakt's very beginning until now, The Givers has earnestly fulfilled all services requested by the client per business contract. Even when Attrakt received a legal notice from the members of FIFTY FIFTY requesting the suspension of their exclusive contract, CEO Ahn Sung Il of The Givers, accompanied by his legal representative, met with CEO Jeon Hong Joon of Attrakt in order to play a mediator role between FIFTY FIFTY and the group's agency."
Regarding the copyright claims to FIFTY FIFTY's songs, The Givers reportedly obtained them through a fair, legal process. The statement further clarified that the song "Cupid" was in possession by the company long before the FIFTY FIFTY project.
"The Givers has hired law firm Hwawoo and will now proceed with legal action," the company ended its statement, as a counterclaim to Attrakt's police report.
In related news, all four members of FIFTY FIFTY have taken legal action against their label Attrakt over an alleged breach of contract and betrayal of trust.
Aran, Sio, Saena and Keena, through their legal representatives, applied for temporary suspension of their exclusive contracts with Attrakt Wednesday.
The members alleged that their label violated their exclusive contract, claiming that the company failed to listen to their pleas, disclosed a member's health condition and surgery unauthorized, failed to be transparent with financial documents and pushed them to promote as a group despite health issues, according to a statement obtained by E-Daily Korea.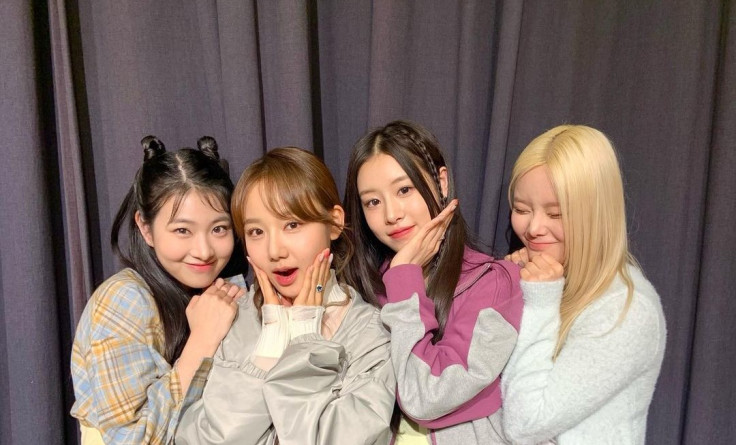 © Copyright IBTimes 2023. All rights reserved.