First Bodies Of MH17 Victims Arrive In The Netherlands; Australia Mourns Its Dead With Melbourne Memorial Service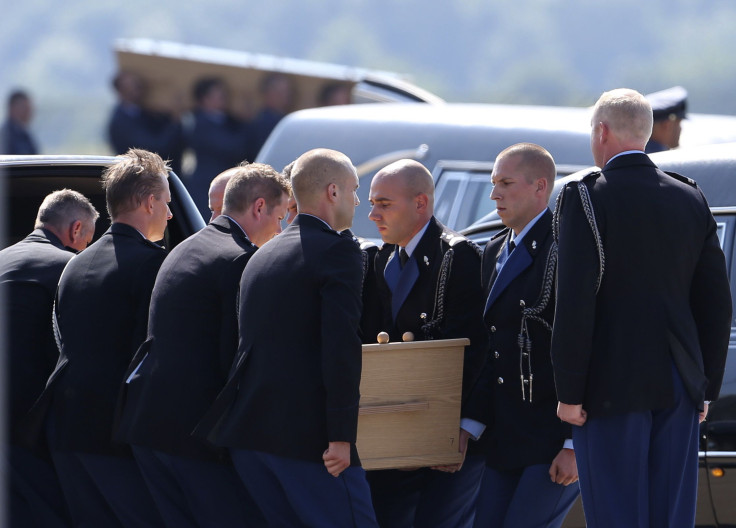 The Netherlands observed a national day of mourning Wednesday when the first bodies from MH17 arrived at a Dutch military base, as Australia also paid tribute to its dead with a memorial service Thursday.
King Willem-Alexander and Dutch Prime Minister Mark Rutte were at the base in Eindhoven as the 40 bodies came home in wooden coffins, Reuters reported. The country observed its first national day of mourning since the death of then-Queen Wilhelmina in 1962.
Onlookers observed a moment of silence as the coffins were loaded onto hearses stationed at the base's runway. Some of the victims' families attended the event but were kept away from the media.
The bodies then began a 62-mile trek to a military base at Hilversum, where they will stay until they are identified in a process that may take months.
Motorists along the route got out of their cars to watch the procession. Others clapped in honor of the victims and some threw flowers at the hearses.
MH17, which took off from Amsterdam en route to Kuala Lumpur, was downed in a rebel-held area of eastern Ukraine last Thursday; all 298 people on board were killed. A majority of the dead -- 193 -- were from the Netherlands, mostly tourists. Some on the plane were AIDS experts who planned on attending the 20th International AIDS Conference in Melbourne, Australia.
The Netherlands is reeling from the tragedy as investigators begin to determine what caused MH17 to crash. Ukraine and Western intelligence sources say the plane was shot down by pro-Russia separatists who mistook the Malaysia Airlines plane for a Ukrainian army aircraft.
Amsterdam resident Jikkie van der Giessen reflected on the incident to Reuters.
"Think of all the people who were flying away on holiday, all the young people who had just finished their final school exams," she said. "They were looking fully toward the future and then you're shot down. Whether it was an accident or on purpose, the fact is it's horrible."
Australian siblings Mo Maslin, 12, Evie Maslin, 10, and Otis Maislin, 8, along with their grandfather, Nick Morris, were on the doomed flight. They were among 27 Australians who died on MH17. A memorial service was held Thursday morning in Melbourne for the victims.
"Our pain is intense and relentless. We live in a hell beyond hell," the children's parents said in a statement, according to Perth Now. "Our babies are not here with us -- we need to live with this act of horror, every day and every moment for the rest of our lives."
© Copyright IBTimes 2023. All rights reserved.