Five Android Beasts That Could Deal Sucker Punch to Apple iPhone 5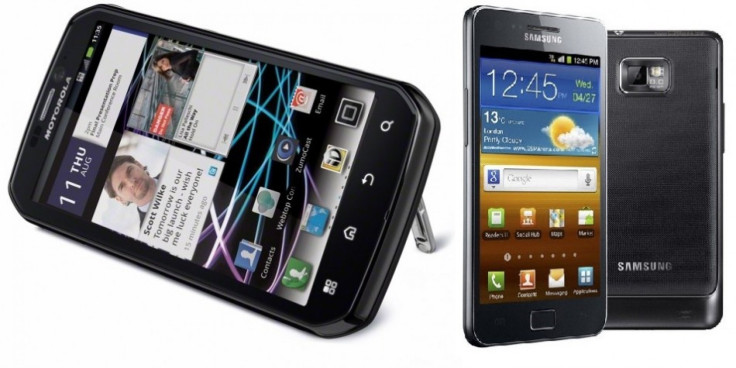 Apple Inc. is tight-lipped about the release date of the most-anticipated smartphone, iPhone 5. However, when the device is launched, probably in early October, it is expected to have a bloody nose as Android devices like Samsung Galaxy S2, Motorola Photon 4G, Atrix 4G, HTC Sensation 4G and EVO 3D have become extremely popular in the market.
Apple's silence over the release of its next-generation iPhone has caused raging rumors about its specifications. It has confirmed details about the software that will grace iPhone 5 by launching its iOS 5 at WWDC, while the industry speculates over the hardware features.
To stay in the smartphone race where the Android breed of smartphones have the critical minimum hardware specifications, Apple needs to match the rumored features with that of the iPhone 5, which is speculated for an October launch.
The rumored features of iPhone 5 includes: iOS 5, an improved 8MP camera, 4-inch OLED type screen, A5 dual-core processor, a new design, 1GB RAM, a thinner and lighter but powerful battery, and a possible removal of the home button.
Apple has got a lot of Android smartphones to contend with. There is Samsung Galaxy S II and HTC Sensation, Android Gingerbread-based phones that pack 1.2GHz dual-core chips.
After arriving at the CES 2011 event in January, Motorola Atrix flaunted a 1GHz NVIDIA dual-core chip that was then considered a milestone. However, Galaxy S 2 and HTC Sensation have changed the benchmark and now Apple has to contend with 1.2GHz dual-core chips.
HTC Sensation, HTC EVO 3D and Motorola Photon sport a 4.3-inch screen while the Motorola Atrix sports a 4-inch screen. On the other hand, Galaxy S2 variants come with 4.3-inch and 4.5-inch. Most recently, the 4-inch display smartphone has become the norm, hence having a 4-inch model will surely boost Apple's prospects.
Apple is also packing its iPhone 5 with an 8MP camera with an improved flash as revealed by the reduction in order for Philips LED flash which is currently found in iPhone 4. Galaxy S 2, HTC Sensation and Motorola Photon sport 8MP cameras.
However, it is not just the camera pixel that Apple has to deal. HTC EVO 3D that comes with 3D camera which captures pictures and videos in 3D. It also allows users to watch 3D content sans 3D glasses. EVO 3D uses a camera which can capture stereoscopic photos (2-megapixel only) and videos. And it can also capture videos at 1080p (2D) and 720p (3D).
Another feature which Apple has to counter is the docking facility that Motorola Atrix and Photon offer. With the docking accessory, the phone's content can be accessed through a PC or a TV. The Atrix comes with an 11.6-inch laptop dock which runs on Linux OS. Both the Atrix and Photon use the Webtop software which allows them to be docked with other devices.
Apple is also due to add NFC-capable mobile payment feature to counter Google Wallet, voice recognition feature and a digital locker service through its iCloud. The iCloud is better than Google Inc.'s music locker Music Beta as it eliminates the need to upload music to the cloud. It uses a feature called scan and match. It matches the music stored on a user's device with its own catalogue of music and then allows users to download the music on to any iOS 5 device.
Here is a list of the top smartphones which can give iPhone 5 a run for its money:
Samsung Galaxy S2
Galaxy S2, which runs on the Android 2.3 Gingerbread OS and sports Samsung's TouchWiz UI, comes with an 8-megapixel camera with flash and can record HD video in 1080p offering the richest video content on a smartphone. The phone also has the front-facing 2-megapixel camera for video chat. The phone comes in 16/32GB internal memory configuration with 1GB RAM.
Galaxy S2 comes in three variant through AT&T, T-Mobile and Sprint, whose version is called Samsung Galaxy S2 Epic 4G Touch. For the Sprint's network, the Galaxy S2 variant came on Sept. 16.
The Galaxy S2 was scheduled to release on AT&T in Sept. 18 but the company decided to postpone its release for unknown reasons. According to the official AT&T website, the Galaxy S2 is now coming soon.
Samsung Epic 4G Touch on Sprint comes with a 129.5 x 68.6 x 9.6 mm dimension and weighs 129 g, while the T-Mobile version, fondly known as Hercules, has 131 x 70 x 9 mm dimension. As the AT&T version retains 4.3-inch display, it is expected to feature 125.3 x 66.1 x 8.5 mm and weighs 116 g.
T-Mobile and Epic Touch 4G version of Sprint has 4.52-inch display screen whereas AT&T version retains 4.3-inch screen of original Galaxy S2 version sold worldwide.
The Sprint and AT&T variant of Galaxy S2 is powered by a dual-core 1.2 GHz ARM Cortex-A9 Mali-400MP GPU Orion chipset, while the T-Mobile variant would be powered by a 1.5 GHz dual-core Qualcomm APQ8060 processor.
Additionally, Samsung announced its LTE version of Galaxy S2 smartphone which features a 4.5-inch Super AMOLED screen with 800x480 screen resolution. It is powered by a 1.5GHz dual-core processor and offers 16GB internal memory. The phone is 0.37-inch thick and weighs 4.6oz. Galaxy S2 LTE will also feature an 8MP rear-facing and 2MP front-facing cameras. It is fitted with a Li-on 1850 mAh battery. The phone will come pre-loaded with Android Gingerbread.
A recent Betanews poll showed that 75 percent of the 2,763 participants opted plans to buy Galaxy S2 within 3 months while almost 9 percent have decided to buy an iPhone, according to the Christian Post.
Motorola Photon 4G
Motorola Photon 4G on Sprint was launched on July 31, which is priced at $199 with a two-year contract. Motorola introduced the Photon 4G, its second 4G smartphone after Atrix 4G, which revolutionized the market with its laptop docking capabilities.
The Photon, with a dual core processor, is a world phone which allows users to have international GSM roaming so that they can access their email, calendar and contacts from anywhere.
The Photon 4G is Sprint's seventh Sprint ID-capable handset. The Sprint ID delivers number of applications, shortcuts, widgets, ringtones and wallpapers. The pack provides free-to-download stuff under its Everything Data plan, and users are allowed to download five packs at a time.
Photon 4G, which runs on Android 2.3 Gingerbread OS, has a dimension of 126.9 x 66.9 x 12.2 millimeters and weighs 158 grams. It comes with 1 GHz NVIDIA Tegra 2 AP20H dual-core processor with 1 GB RAM and 2 GB ROM.
It has a 4.3-inch qHD display with 960 x 540 pixels resolution, 8MP dual-LED flash camera with 720p video capture, secondary VGA camera, 16 GB internal storage, and up to 32 GB microSD support. The Photon 4G has Rev.A up to 3.1 Mbps along with 4G LTE support. It has Li-Po 1700 mAh battery giving up to 9 hours of talk time.
Reviews of the Photon 4G have been positive. Engadget gave the device a 8/10, saying it comes very close to dethroning Samsung's mighty Galaxy S2 as king of the Android hill. CNET UK gave the device a favorable review of 4.0/5 and described it as a Sprint iteration of the Atrix 4G because of similar specs.
Motorola Atrix 4G
Motorola introduced the powerful Atrix phone that sports 1GB RAM, a dual-core Tegra 2 processor and a 4-inch display with a resolution of 960x540. The smartphone specs have been further optimized with a Laptop Dock allowing users to access the smartphone content on laptop screen with a keypad. Once the phone is placed in the laptop dock, the WebTop app automatically launches giving access to the phone content via the laptop.
With this feature Motorola is allowing integration of its device with other complimentary devices like laptop. It is extending the ecosystem around Atrix to include other accessories like the HDI Multimedia dock that connects the phone to a HD TV. It also has multiple ports to connect keyboard, USB or mouse.
The Motorola Laptop Dock sports an 11.6-inch screen, full keyboard, speakers and a 36Wh three-cell battery that provides up to eight hours of battery life. PC Magazine reported that when the Atrix is docked into the laptop, its Linux OS comes into play and runs only three apps -- Firefox for browsing, a file manager and Android apps in a window.
The laptop dock is a device in itself and could probably be leveraged by Motorola to run other apps. Thus, one can use the smartphone both as desktop and smartphone, thus eliminating the need for a third device.
Atrix 4G, which runs on Android 2.3 Gingerbread OS, has a dimension of 117.8 x 63.5 x 10.1 millimeters and weighs 136 grams. It comes with dual-core 1GHz ARM Cortex-A9 ULP GeForce GPU Tegra 2 chipset processor with 1 GB RAM.
It has a 4-inch TFT capacitive display with 960 x 540 pixels resolution, 5MP LED flash camera with 720p video capture, secondary VGA camera, 16 GB internal storage, and up to 32 GB microSD external storage. The 3G speed of Atrix is HSDPA up to 14.4 Mbps and HSUPA up to 5.76 Mbps. It has Lithium 1930 mAh battery giving up to 9 hours of talk time and up to 250 hours standby.
HTC Sensation 4G
HTC, the Taiwanese technology giant, rolled out HTC Sensation 4G on June 15. HTC has wrapped the aluminum frame around the sides, back, and even in the small portion of the Sensation's front.
HTC Sensation 4G has lived up to its name and has continued to receive rave reviews for its incredible performance in terms of nice screen, beautiful design, good camera and HTC Sense.
Sensation 4G, which runs Android 2.3 Gingerbread OS with HTC's Sense 3.0 user interface, has a dimension of 126.1 x 65.4 x 11.3 mm and weighs at 148 grams. It is powered by 1.2 GHz dual-core Adreno 220 GPU Qualcomm MSM 8260 Snapdragon processor.
HTC Sensation 4G comes with the S-LCD capacitive touchscreen with the resolution of 960 x 540 pixels on a 4.3-inch curved high-resolution qHD Gorilla glass display, 8MP dual-LED flash camera with 1080p HD video recording capabilities, and a VGA front-facing shooter for video calling. The phone sports a 768 MB RAM and 1GB internal memory with support for microSD up to 32GB.
HTC's phone will have T-Mobile's HSDPA 14.4 Mbps and HSUPA 5.76 Mbps support. It has Wi-Fi 802.11 b/g/n, DLNA, Wi-Fi hotspot support along with Bluetooth version 3.0 with A2DP and microUSB version 2. There is a Li-Ion 1520 mAh battery found in Sensation 4G which can give up to 8 h 20 min of talk time.
HTC EVO 3D
The HTC EVO 3D is the first glasses-free 3D smartphone, which makes the phone an adventure for early adopters. It is the successor to the original HTC EVO 4G, most probably the only hit among the smartphones that gave very stiff competition to Apple's iPhone.
HTC EVO 3D, which runs on Android 2.3 Gingerbread OS, has a dimension of 126 x 65 x 12.1 mm and weighs 170 grams. It is powered by a 1.2 GHz dual-core Adreno 220 GPU Qualcomm MSM8660 chipset processor.
The smartphone comes with 4.3-inch qHD 960 x 540 pixels 3D LCD capacitive touchscreen display. It has common input features like accelerometer sensor for UI auto-rotate, multi-touch input method and proximity sensor for auto turn-off. It also comes with HTC Sense's latest version, touch-sensitive controls and Gyro sensor.
The camera found in EVO 3D is a 5MP 2560?1920 pixels camera along with autofocus, dual-LED flash, Stereoscopic photos (2 MP only) & videos and a 1.3-megapxiel secondary camera. EVO 3D captures video of 1080p at 24fps (2D) and 720p at 30fps (3D).
HTC EVO 3D has 1 GB RAM and 1 GB of internal storage. It supports HSDPA 14.4 Mbps and HSUPA, 5.76 Mbps on Sprint network. It has a Flash-enabled web browsing experience that takes advantage of the speed of the Sprint 3G/4G network.
There is a Li-Ion 1730 mAh battery found in EVO 3D which can give up to 7.5 hours of talk time. It has Wi-Fi 802.11 b/g/n, WiMAX 802.16 e, DLNA, Wi-Fi hotspot, Bluetooth version 3.0 with A2DP, EDR and has microUSB version (MHL) 2.0. HTC EVO 3D extra features include TV-out via MHL A/V link, MP3/AAC+/WAV/WMA player, MP4/Xvid/H.263/H.264/WMV player and Picasa integration.
© Copyright IBTimes 2023. All rights reserved.