Floyd Mayweather Claims He 'Schooled' Manny Pacquiao In Their First Fight
Undefeated boxing champ Floyd Mayweather has claimed that he easily "schooled" Manny Pacquiao during their first fight.
One of the greatest things about boxing is the way fighters trash-talk against each other. And arguably, the most talented trash-talker in boxing today is still Mayweather. For more than a decade now, Mayweather has been known for verbally destroying his opponents before and after the fight, in simpler terms, for being Mayweather.
Just recently, before attending this past weekend's sold-out welterweight unification clash between Errol Spence Jr. and Shawn Porter, Mayweather held an autograph signing and reminisced on his victory over Pacquiao.
In a video uploaded by FightHype.com, it clearly showed that when a fan handed Mayweather a picture from his fight with Pacquiao, the future Hall of Famer looked at the camera and said he "schooled Pacquiao easy."
"I really schooled him easy," Mayweather said after signing a picture of him and Pacquiao inside the ring.
The video then jumped into a recent press conference where Mayweather could be seen addressing Pacquiao as his greatest rival. According to Mayweather, fans can't be mad at him for doing what he normally does. Based on his perspective, the Filipino legend was never on the same level as him.
"I went out there and did what I normally do. It was just so much hype behind Manny Pacquiao. And they just really believe that this guy is on the same level as me, and I'm always saying it's not. It's totally different once you get inside the ring with me," Mayweather explained.
Meanwhile, Pacquiao just confirmed that the much awaited Mayweather vs. Pacquiao rematch is already under negotiations.
In a recent interview with The Manila Times, the eight-division title holder stated that both camps are already in talks of a possible rematch.
"My team and his team are talking right now. This is just about negotiations, about the formal discussions. So I don't know what will happen," Pacquiao stated.
Prior to Pacquiao's confirmation, a video of Mayweather saying that he is on his way to Saudi Arabia to finally discuss about Pacquiao rematch.
"I want to say thank you, it's an honour to come to Saudi Arabia to sit down with you guys to talk about the Mayweather vs. Pacquiao rematch. Saudi Arabia, Floyd 'Money' Mayweather, I'm on my way," Mayweather said.
However, shortly after the video went viral, the truth was uncovered and it has been confirmed that the said video was taken a few years ago.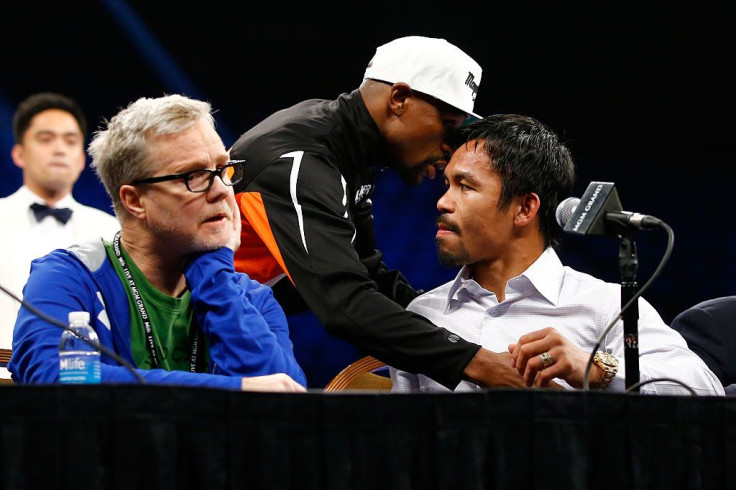 © Copyright IBTimes 2023. All rights reserved.